The original use of Building 550, designed by FFKR and completed in 1993, was to house all of the clinical and research functions of the Department of Ophthalmology at the University of Utah Hospital. When the Department of Ophthalmology vacated the building in 2006, the university determined that it would become the new home of the Neurology and Neurosurgery departments, forming the Clinical Neurosciences Center.
The renovation work encompassed nearly the entire building. Because the original design provided flexibility, major building central plant systems were reused, but entire floors were reconfigured. The completed facility is organized as follows:
Level 1 – 3 Tesla MRI Suite and Education Center
Level 2 – Neurosurgery and Interventional Radiology Floor
Level 3 – Research Laboratories
Level 4 – Outpatient Clinics
Level 5 – Administrative Offices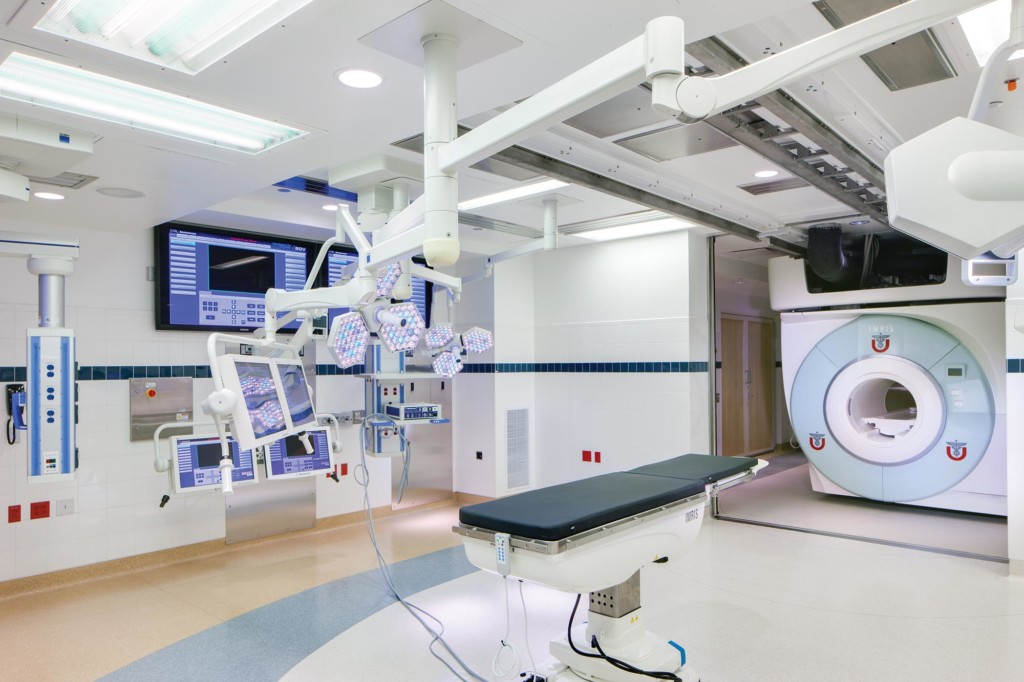 Neurosurgery Operating Room
The 3 Tesla MRI magnet is able to be moved into the neurosurgery operating room during a surgical procedure to provide real time imaging of a patient and then moved back out of the room to allow the surgical procedure to continue. The operating room table pivots so it can be positioned as required for a surgical procedure and aligned with the magnet for imaging.
Level 2
Level 2 of the Neurosciences Center houses the neurosurgery suite including a neurovascular interventional radiology suite. The neurovascular interventional radiology suite is comprised of three interconnected patient treatment spaces, an MRI diagnostic room, a neurosurgery operating room and a biplane angiography treatment room.  The 3T MRI magnet is suspended from rails above allowing it to move between the three rooms.  Shown here is the biplane angiography treatment room.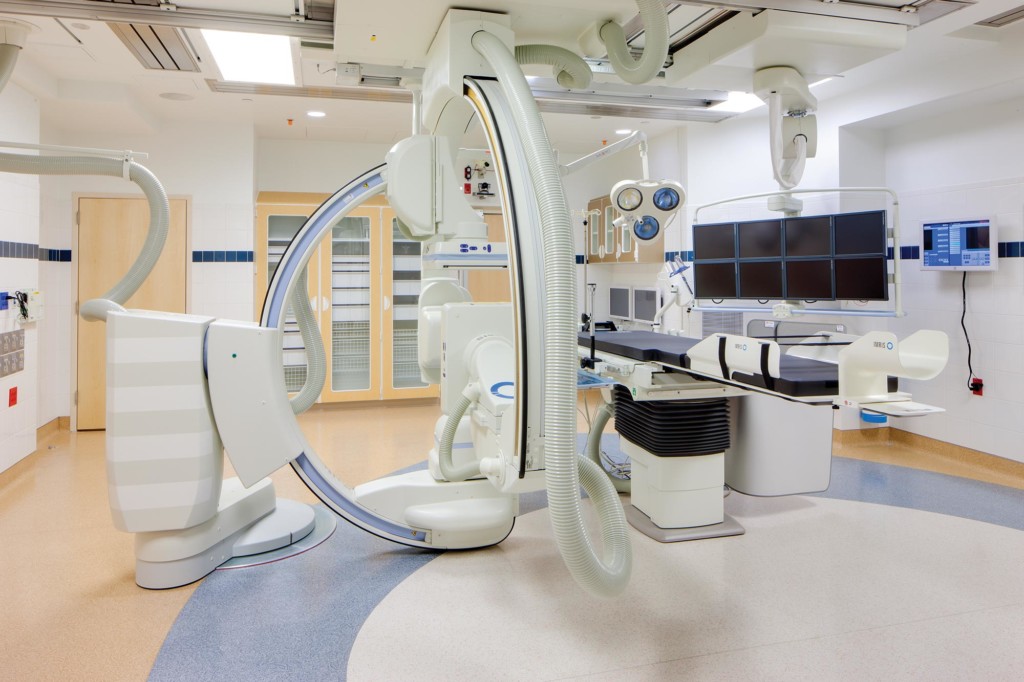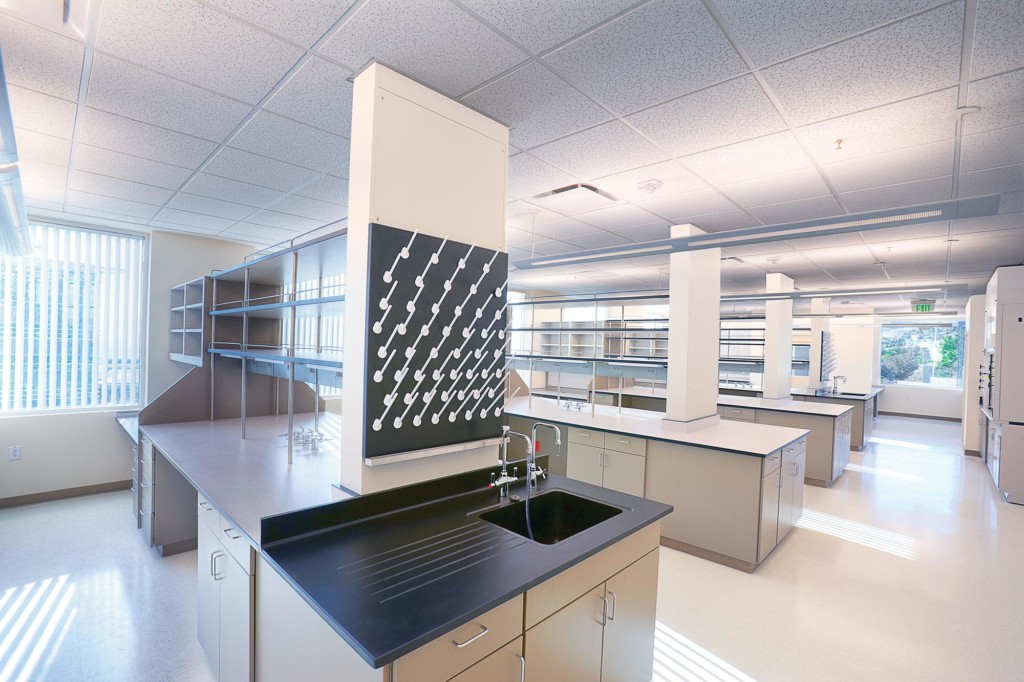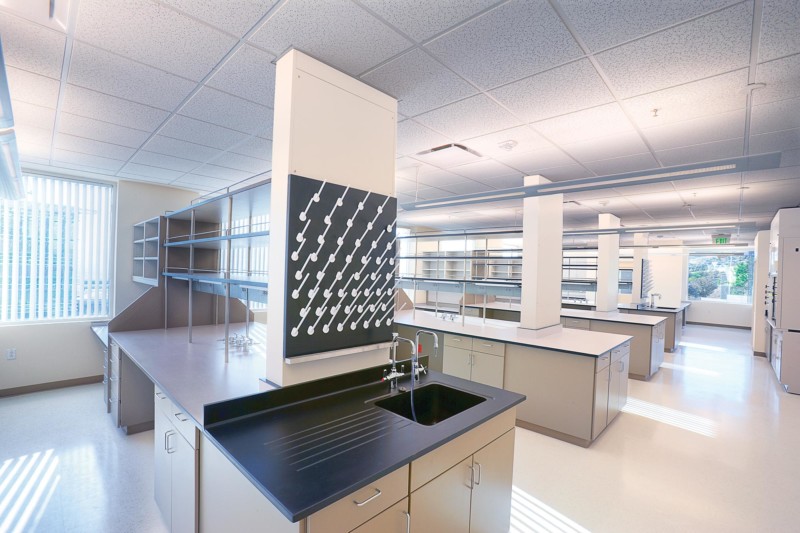 The Lab
The Neurosciences Research space located on Level 3 of the Neurosciences Center, provides open, flexible lab bays for maximum collaboration between research teams. The lab space achieves a light welcoming feeling with indirect lighting and abundant natural light. The desk workspaces are oriented along the perimeter windows to allow maximum natural light and views to the exterior.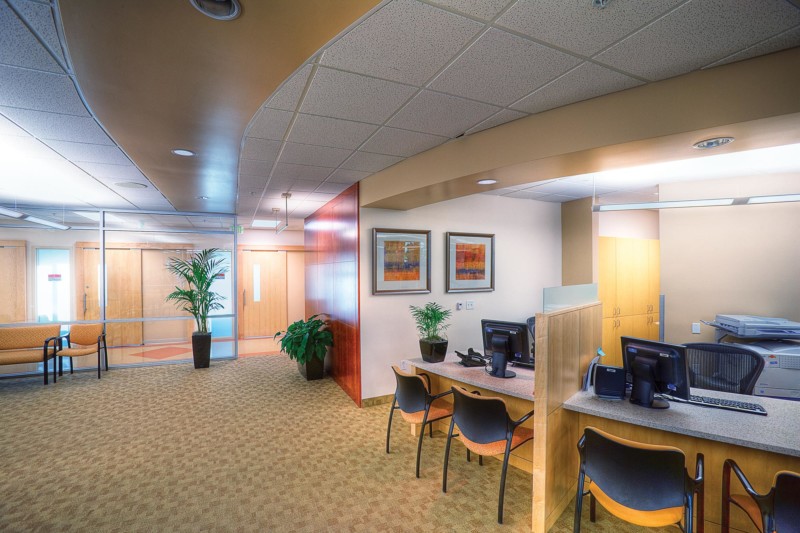 Clinical Areas
The outpatient clinical function of the Neurosciences Center is located on Level 4 of the Neurosciences Center directly accessible from the main entrance on the east side of the building. The remodel of the clinical areas moved the exam spaces to the perimeter of the floor with direct access to exterior windows and natural light. The new exam rooms utilize sliding barn doors to maximize the available care space within the exam rooms.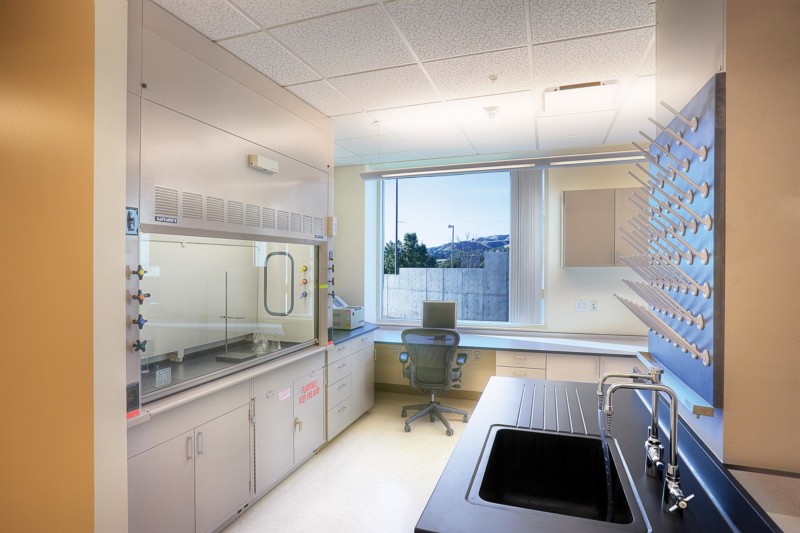 Isolation Space
In addition to open lab bench space the research area also provides small dedicated rooms isolated from the main lab area for specialized research. These areas are equipped with large fume hoods, wet bench areas and access to ultra-pure water. The various heights of work surfaces allow flexibility for how the dedicated rooms can be used.