Hillcrest High School has stood as a monument to the community for over half a century. Originally constructed in 1960, it is reimagined with inspirational architecture and expression of Husky pride. A phased reconstruction spanning three years shifts the school toward 900 East with an impressive four-story classroom wing. New amenities to the original program include a vibrant student common with stunning mountain views, a black box theater, and an athletic field house with a banquet hall space overlooking the stadium.
The interiors represent the school's history in preserving beloved original elements from the gymnasium floor to the famed "senior bench." The blend of old and new welcomes faculty and students with a fresh design, while school pride has been incorporated through the simplicity and sophistication of color. The motif of a static gradient is carried throughout the school, creating a clean look that speaks to the digital age the students are a part of and will professionally be entering. The brighter, modern design, complete with daylit touchdown and collaboration areas, is a more conducive learning atmosphere for students as they work individually and as teams.
Programs of excellence at Hillcrest include an International Baccalaureate program and an award-winning Performing Arts department. An important part of the school story, special consideration, and creative design solutions were employed to further enhance and support these programs and elevate their prominence within the school. The new design provides a place for everyone within Hillcrest's diverse student body, telling them they are an important part of the journey together.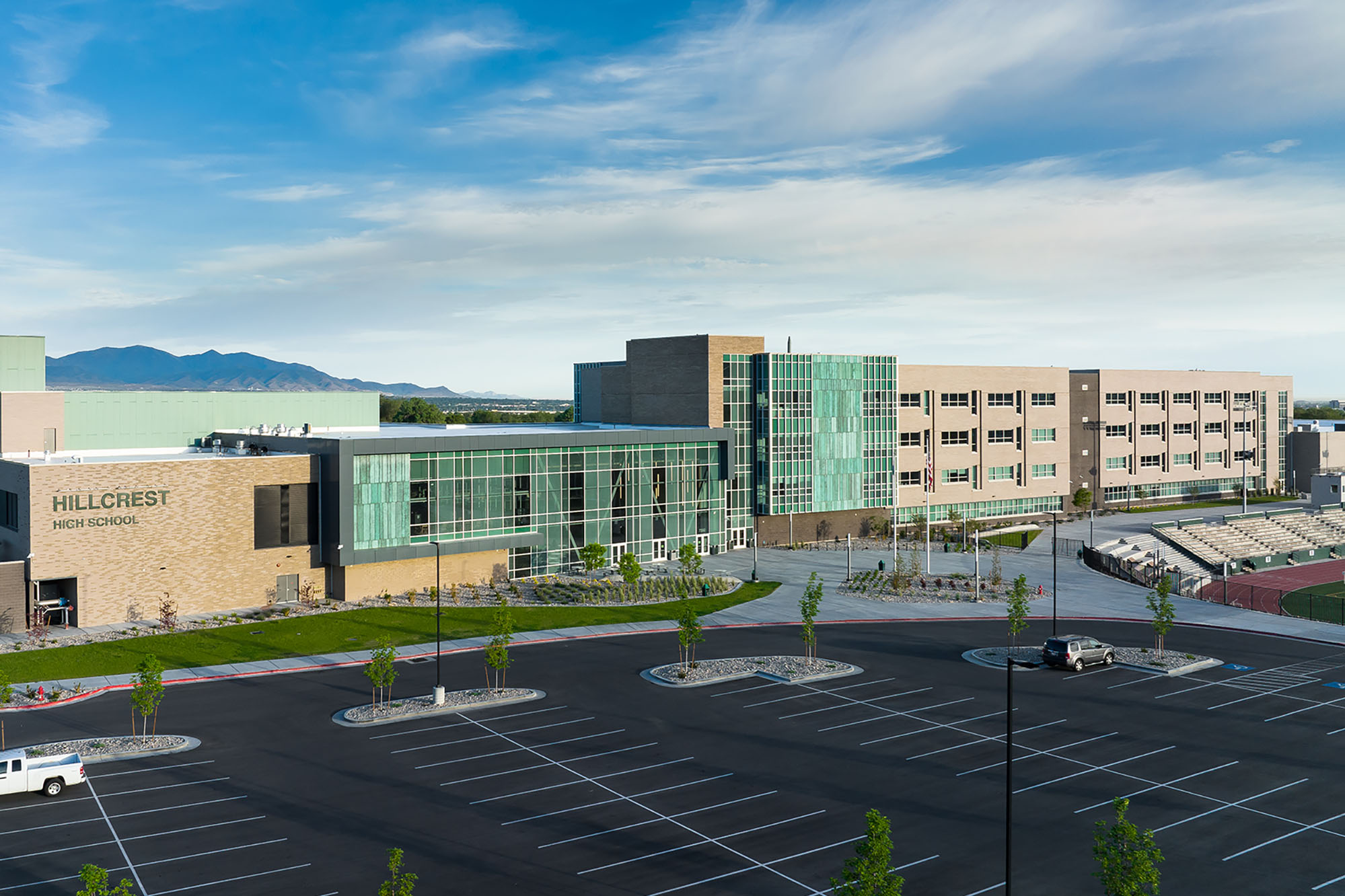 Community Pride
Tucked behind a hill mid-campus, the original building lacked presence and visibility. For the rebuild, Principal Leavitt envisioned a more prominent location visible from well-traveled 900 East. The resulting design solution is an impressive academic tower and performing arts center with school pride on display
Arrival Experience
Engaging outdoor areas encourage student interaction and citizenship. STEM education and science classrooms are highlighted with accentuated patinaed copper panel.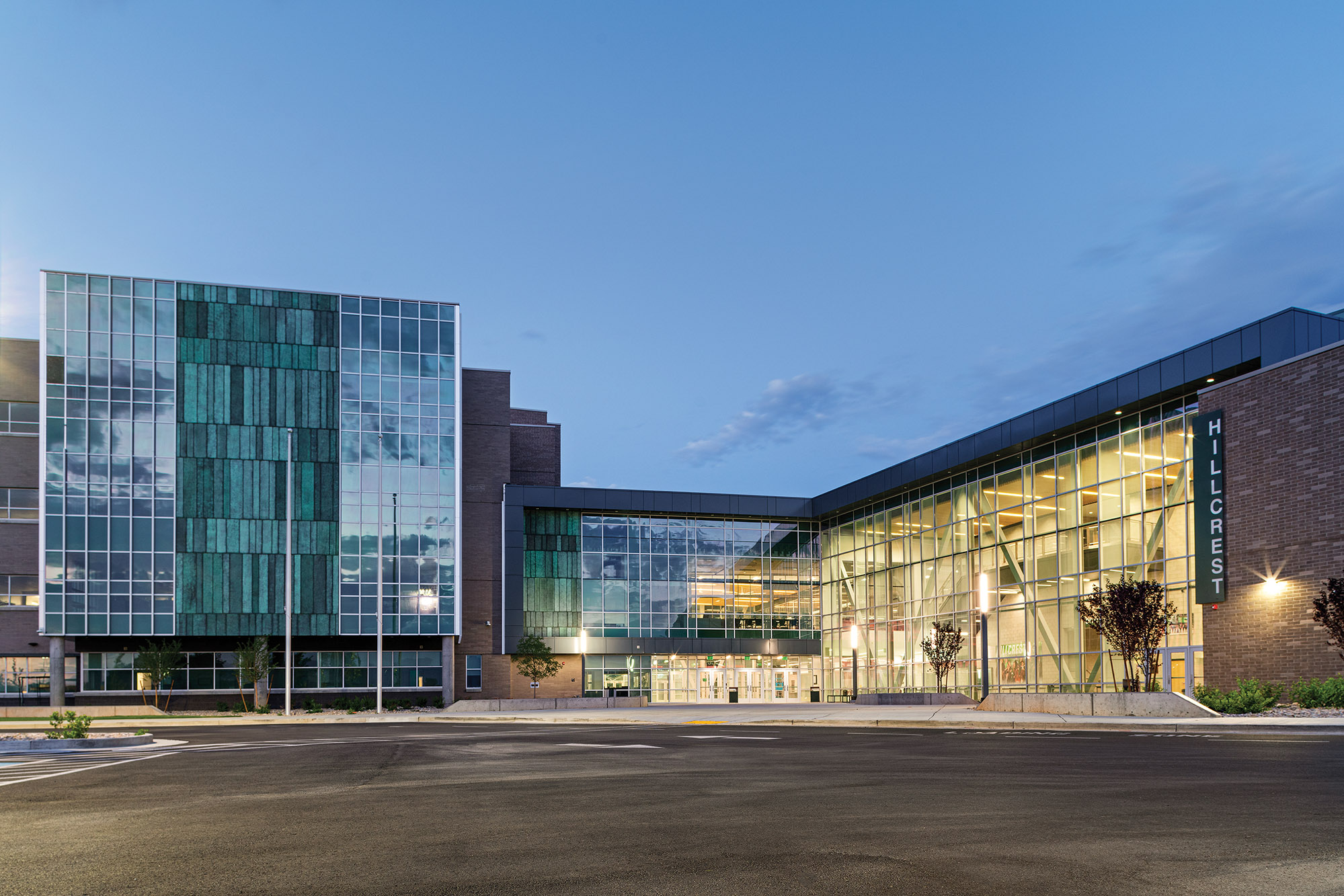 Student Gathering
A fresh materials palette in sophisticated shades of green speaks to the history of the school. The gradient is carried throughout the school along with biophilic wood elements creating a warm look. The famed "senior bench" anchors the space while inviting social-emotional learning.  
Open Space
The inclusive campus offers views of nature and transparency within the school. The International Baccalaureate program collaborative study space is visible from the main floor commons.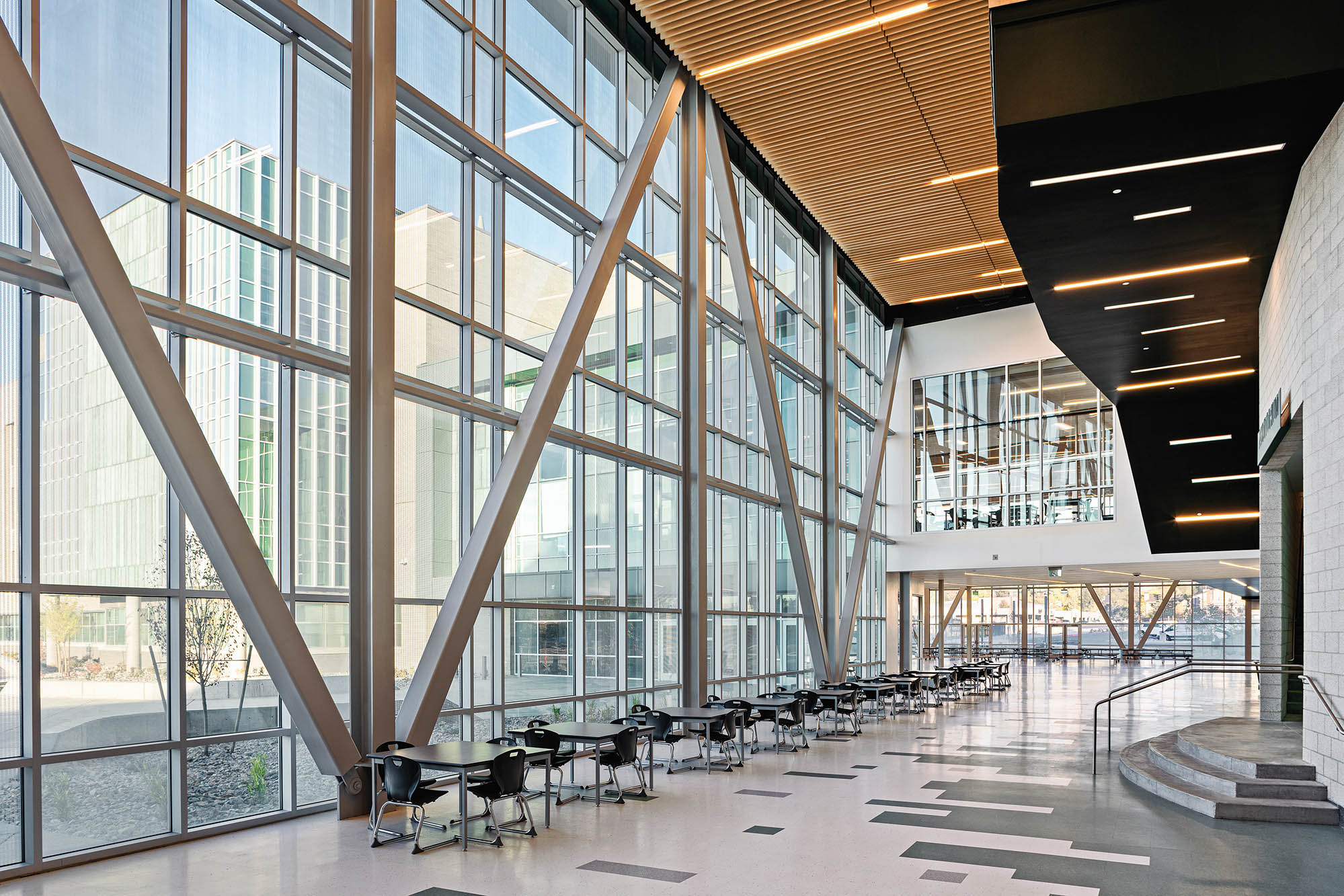 Award-winning Performing Arts Department
Known regionally for excellence in performing arts, the caliper-style auditorium was designed to connect the balcony and house floor. An expanded stage and proscenium accommodate casts of up to 300 performers. The full fly loft with professional rigging system makes stage crew students career ready.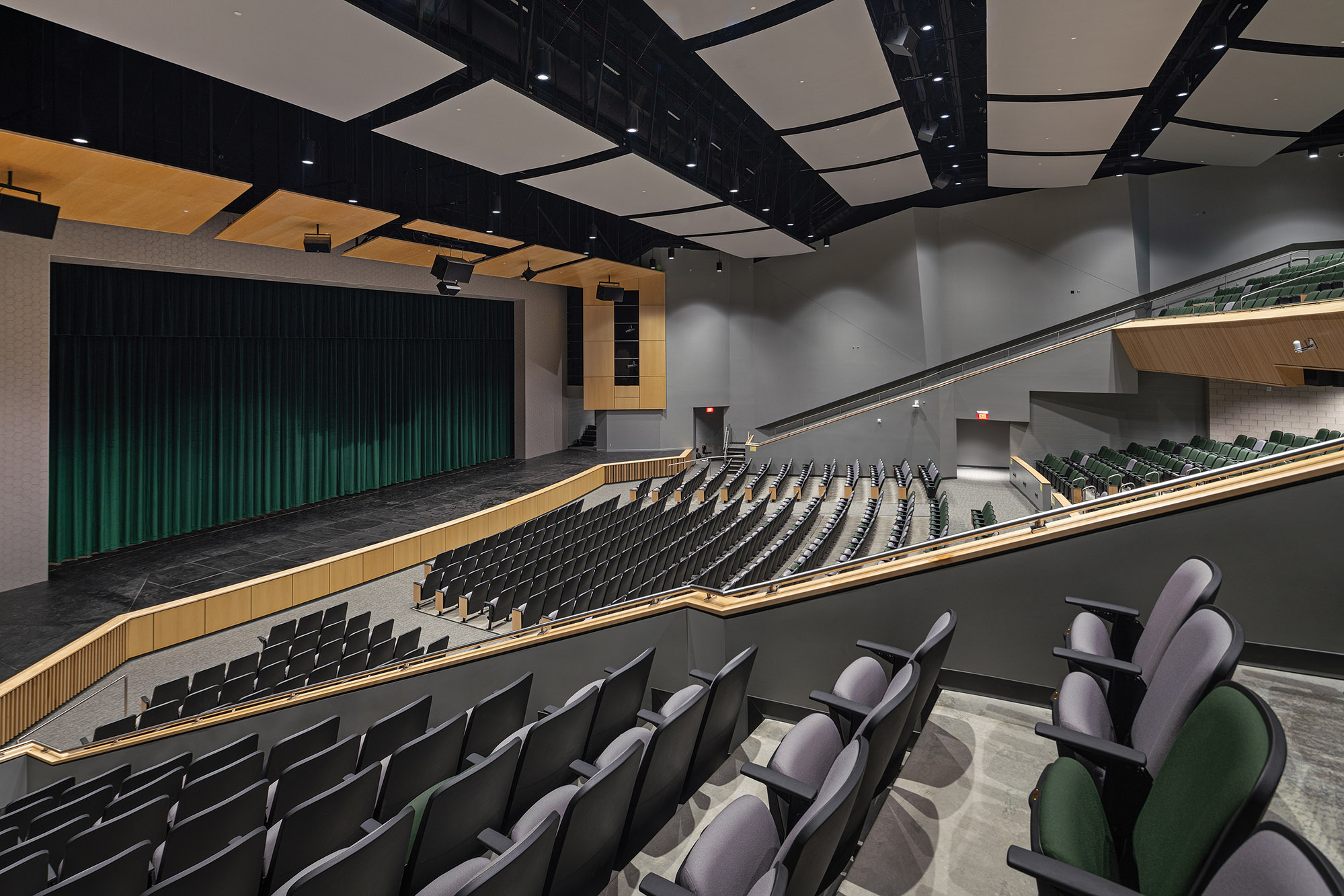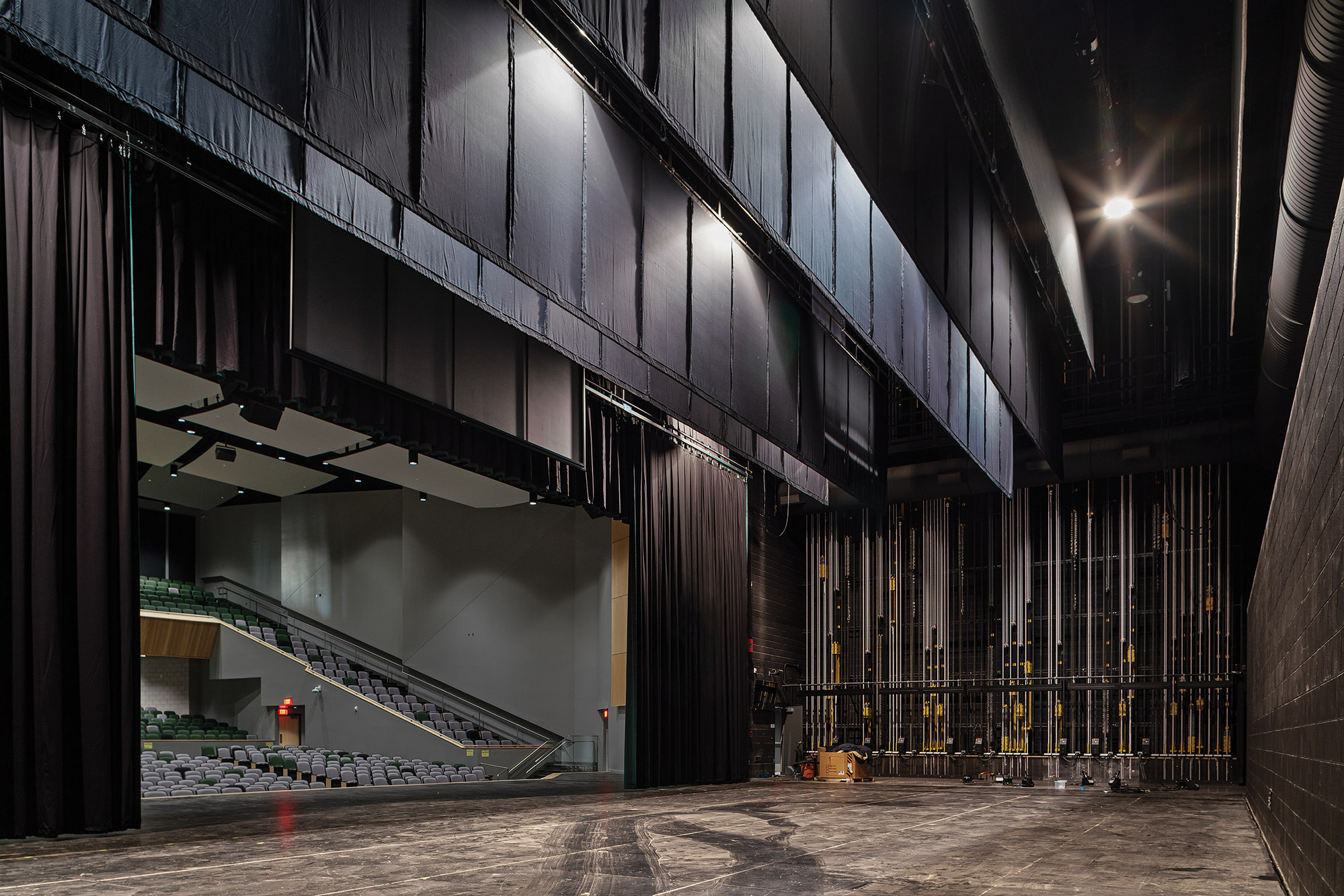 Dance Program
A nationally renowned and award-winning performing arts program features a generous dance studio matching the dimensions of the auditorium stage.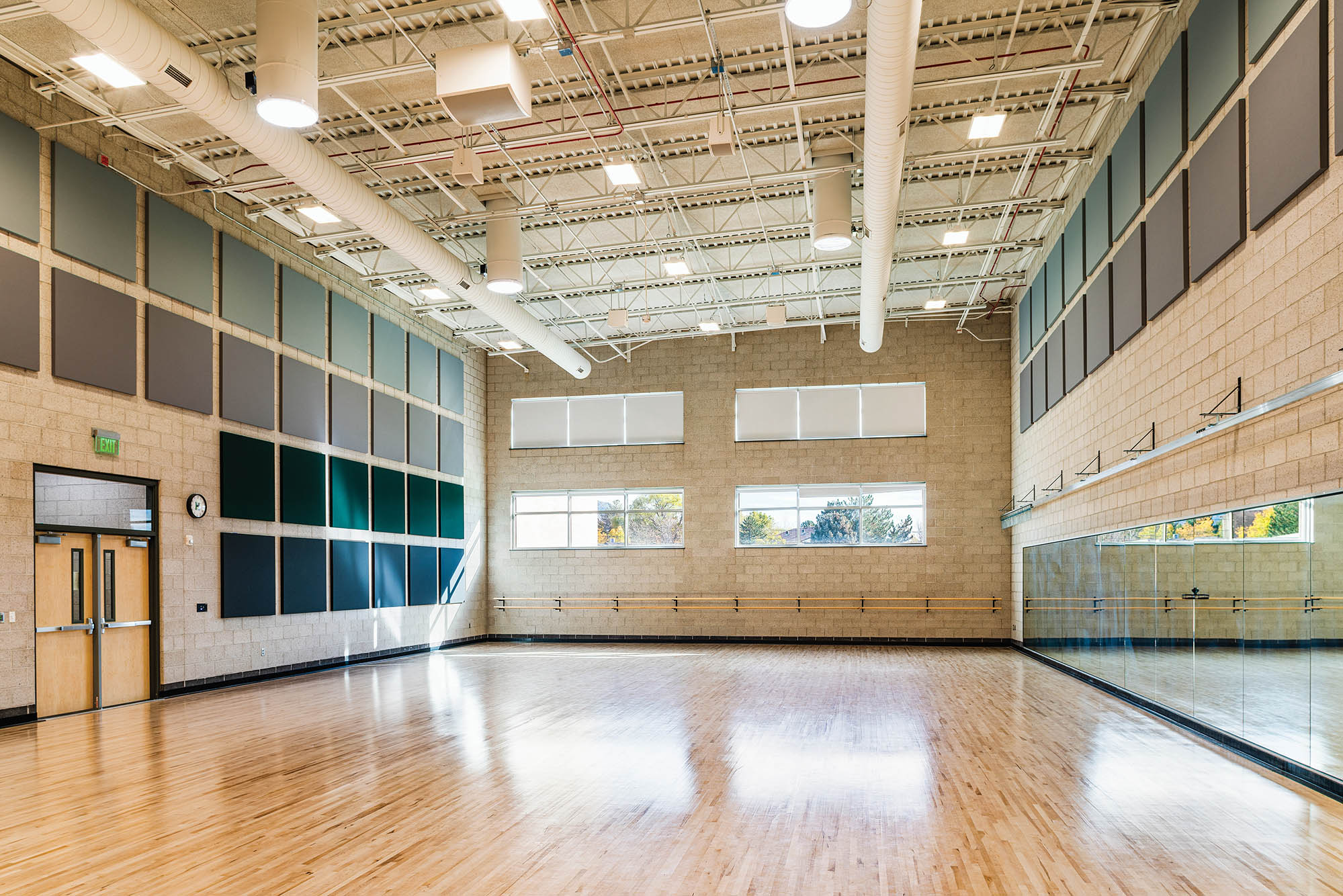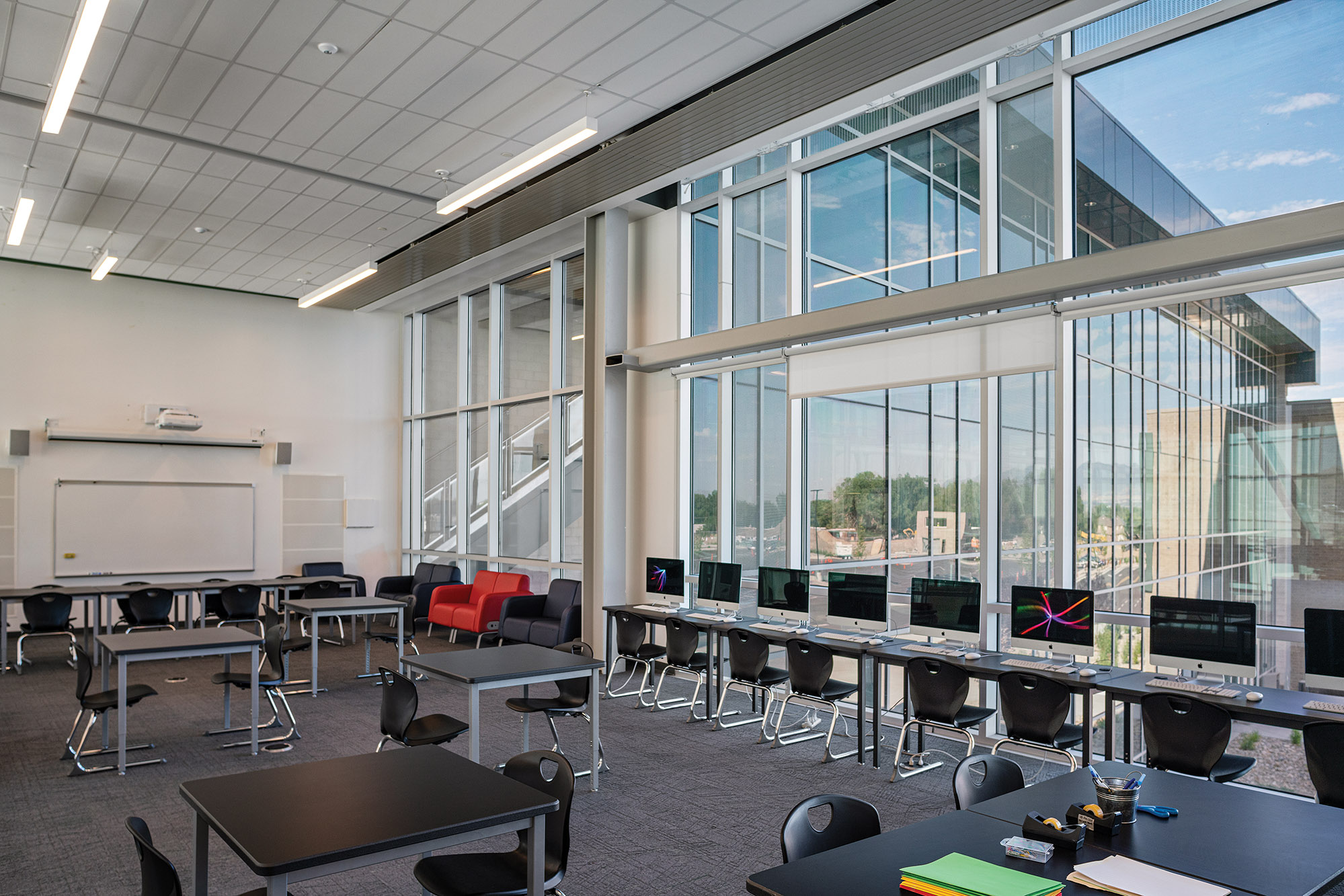 School Excellence
School pride involves a place of belonging and inclusion. Students are drawn to programs of excellence at Hillcrest, including an International Baccalaureate.
Academic and Collaboration
Break-out spaces adjacent to classrooms provide flexible areas for group work, team presentations, and projects. Sunlight and framed mountain views fill learner collaboration areas with natural light and spark social-emotional learning.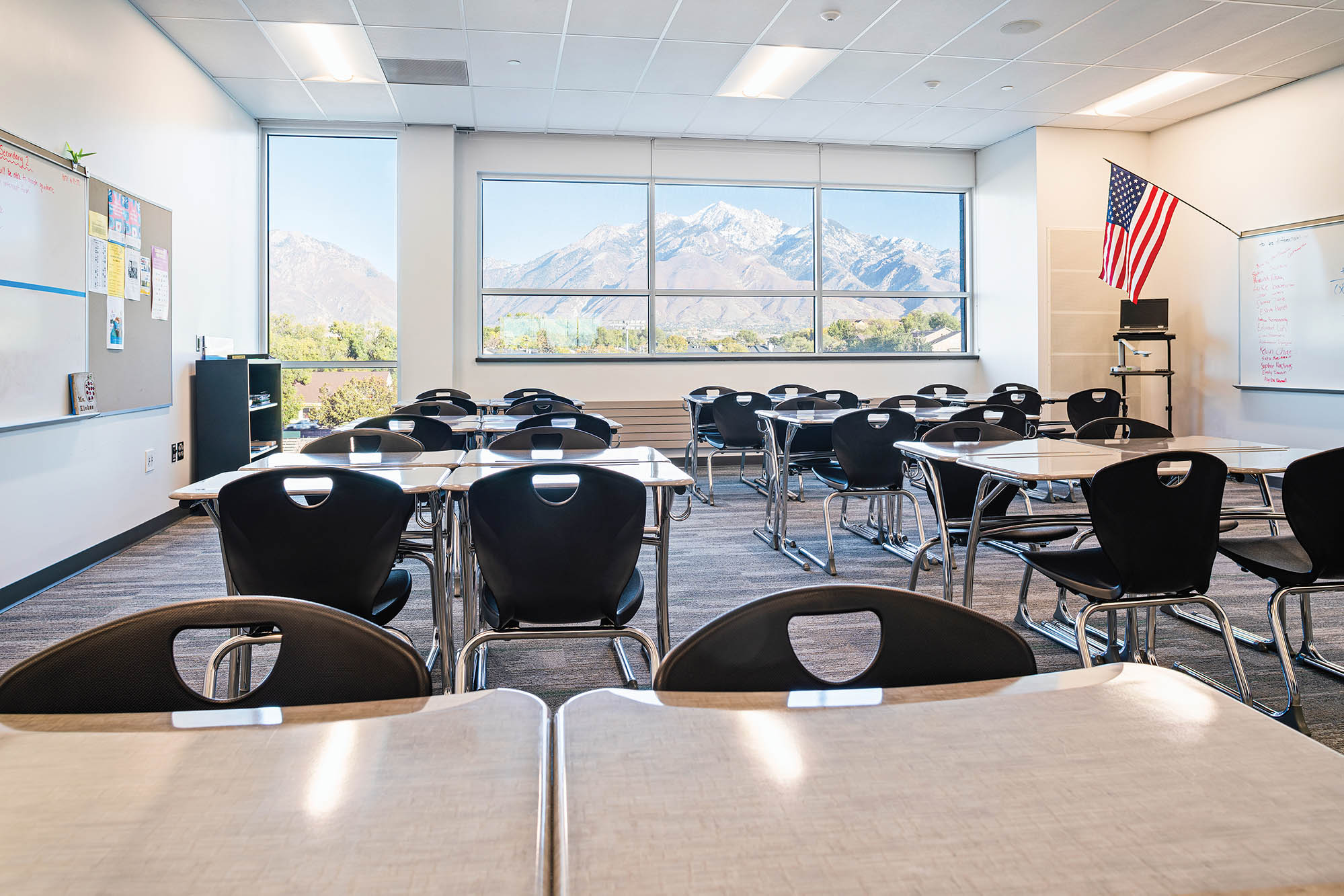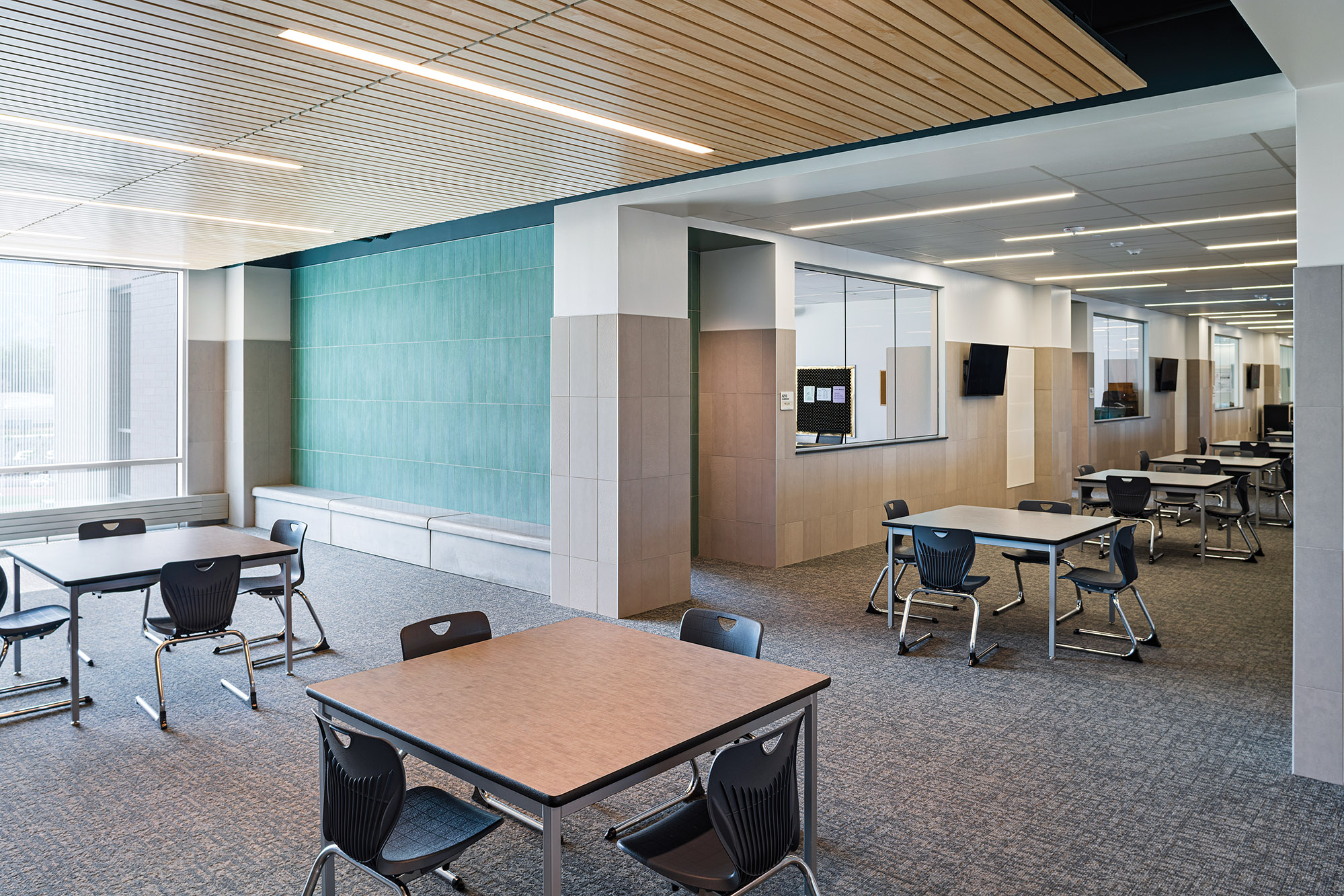 CTE
High-tech trade programs are well-equipped and easily supervise-able.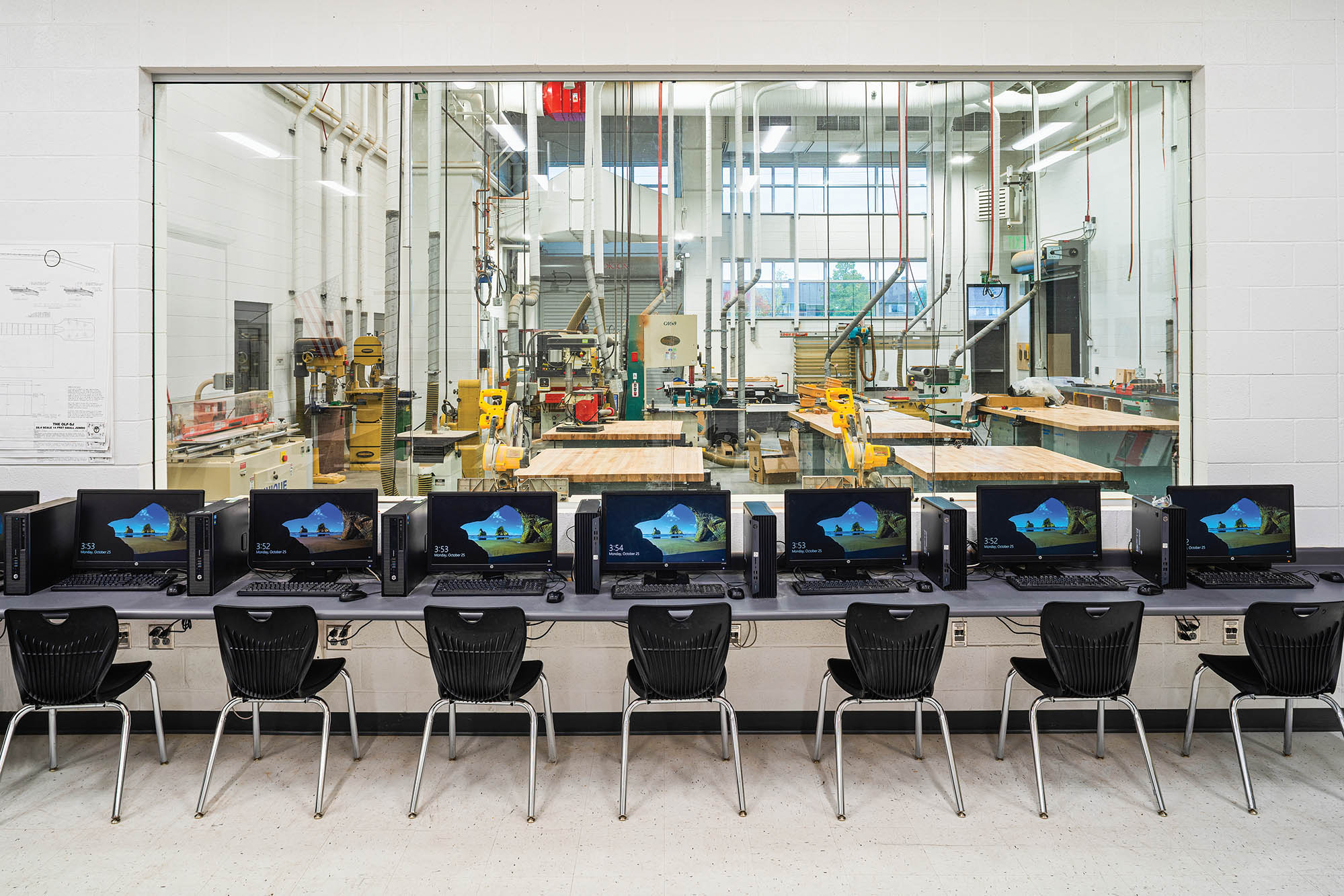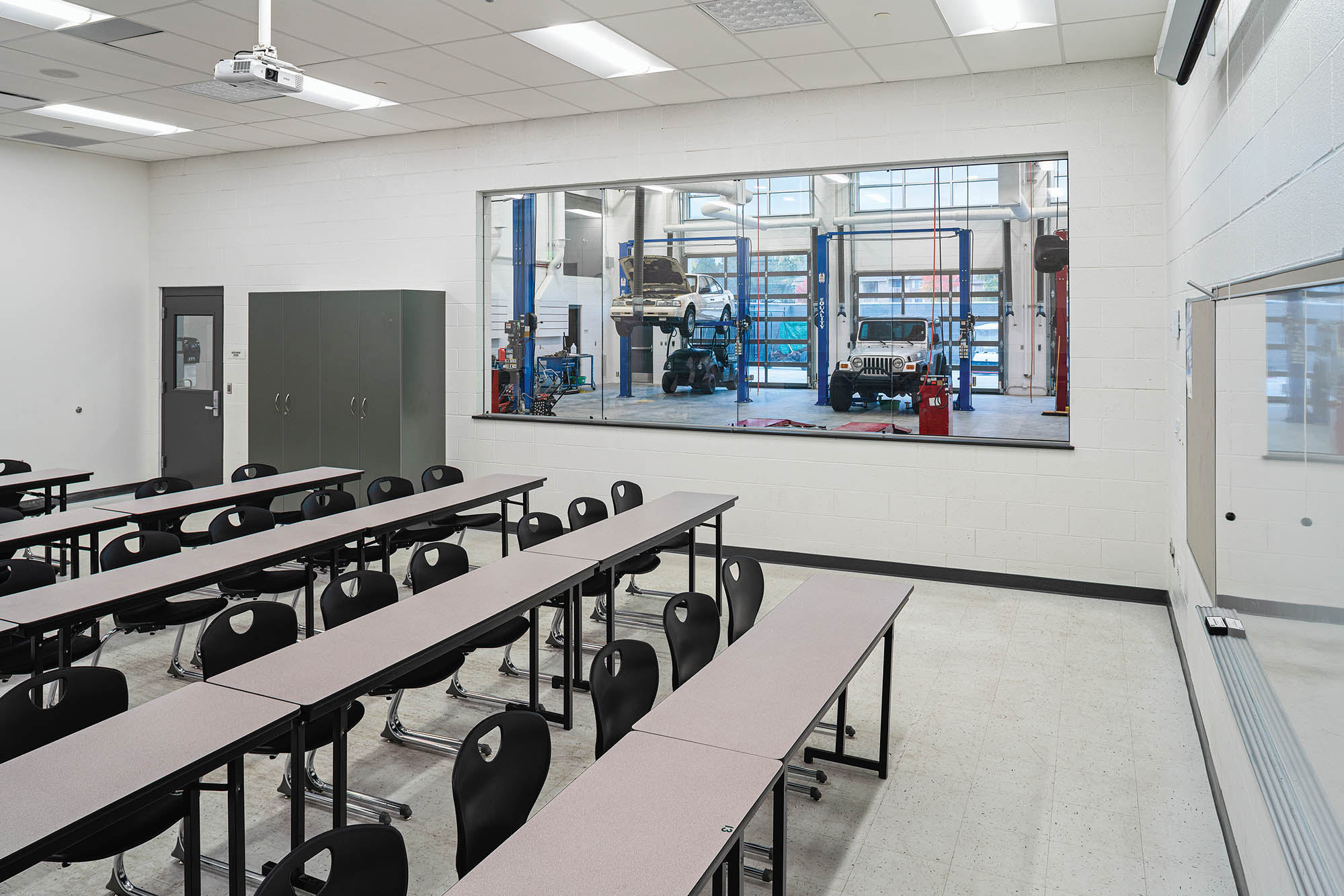 School Spirit
The student athletic lobby is made timeless with the use of natural materials. This inclusive space brings student athletes and spectators together.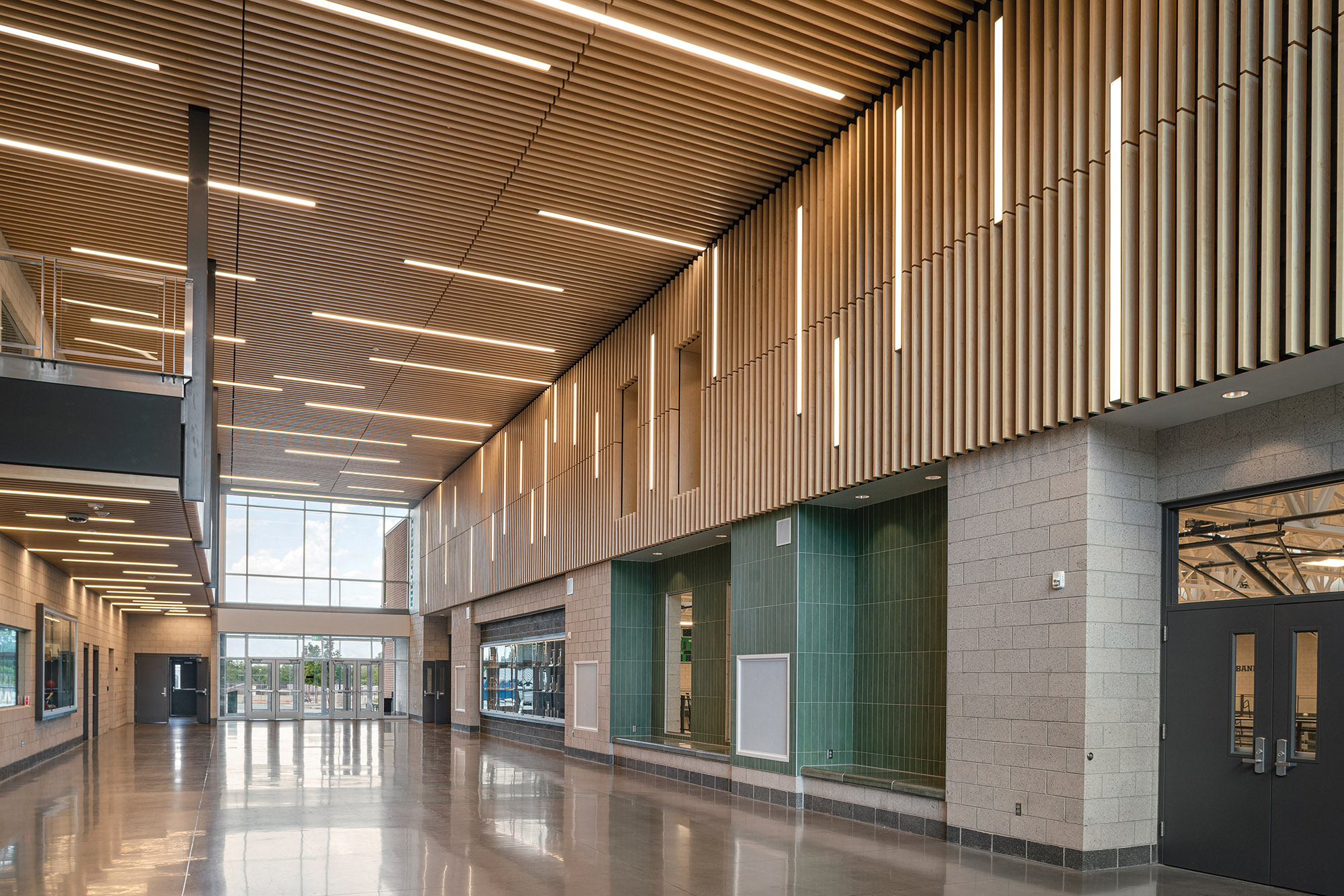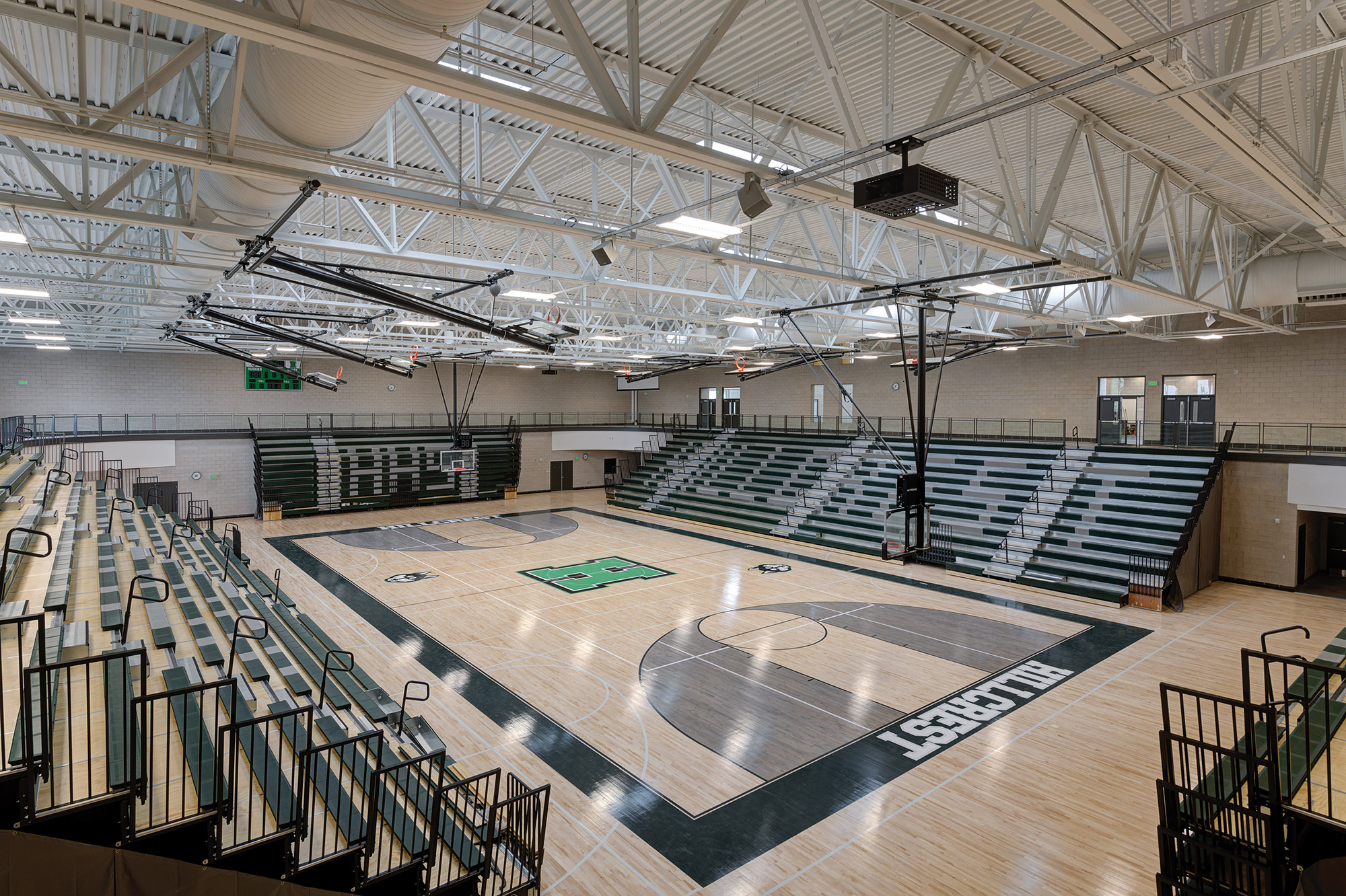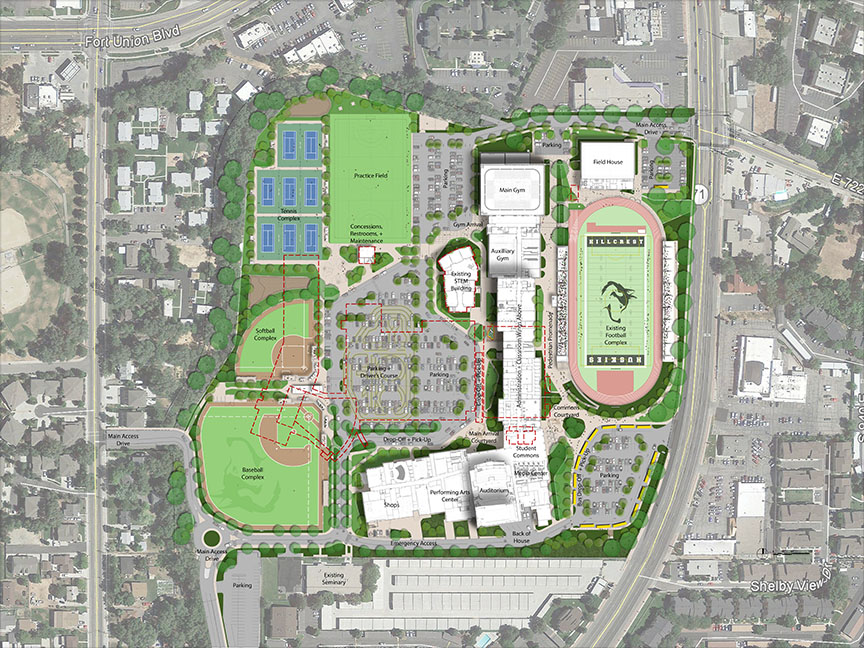 Campus Plan
The new site design dramatically improves access to the campus with two additional entry points to 900 East, increasing safety by separating bus, student, and parent traffic. A new traffic light at the intersection of South Union Avenue further increases safety with additional crosswalks.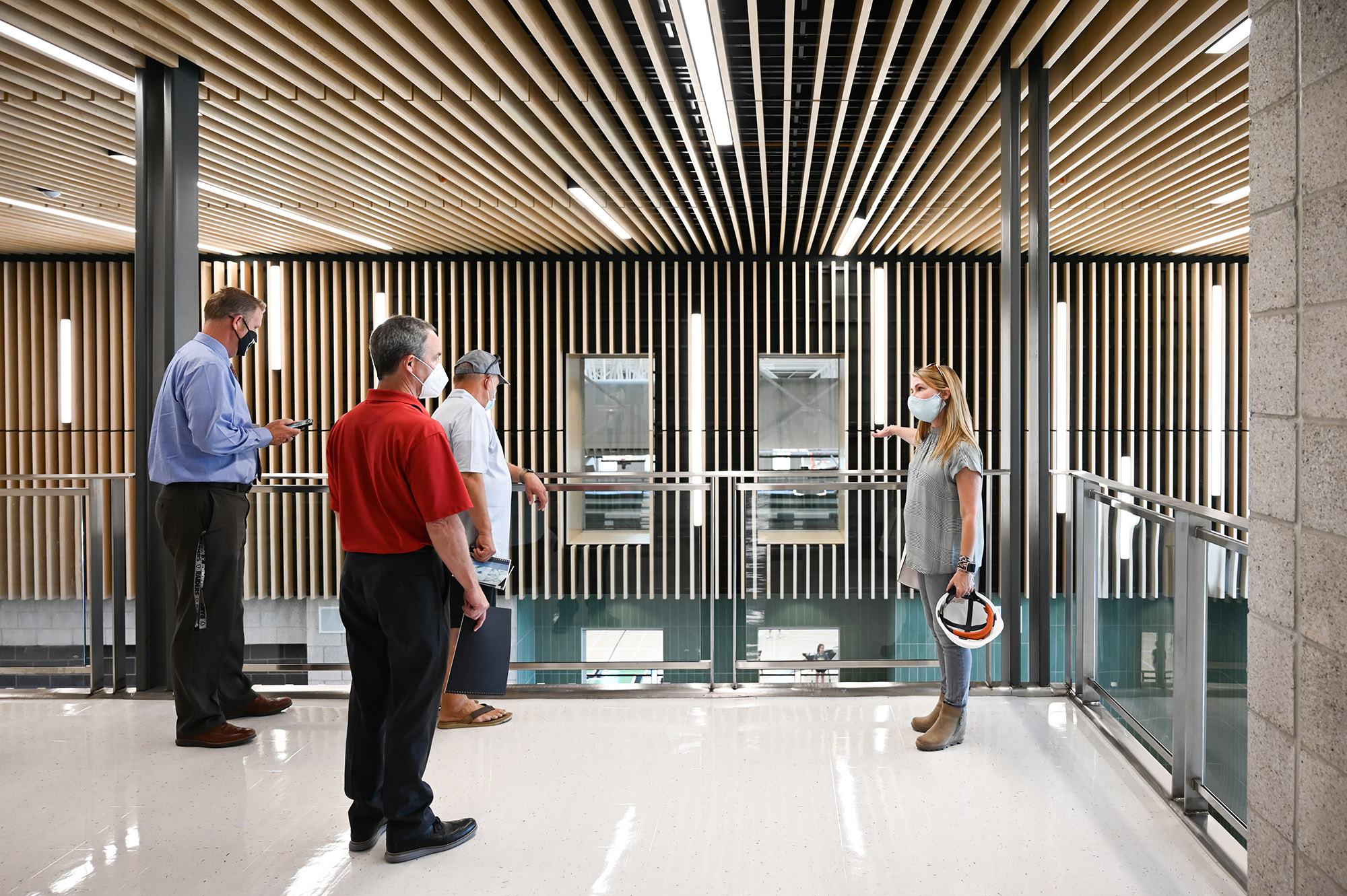 Client-centered
"We've walked everybody [in the District] through this new facility, this gym and field house and they just shake their heads; they're just in awe. The functionality of it beyond the look is just amazing. It's working great."
-Principal Leavitt, Hillcrest High School