BioFire Diagnostics is a Salt Lake City-based biomedical research, development, and production company originally housed in four buildings in the University of Utah's Research Park. In 2013 BioFire merged with bioMerieux, a French company that is a world leader in the field of in vitro diagnostics. The FilmArray system invented and produced by BioFire has set a new standard in molecular diagnostics, and BioFire's association with bioMerieux will facilitate worldwide growth. The anticipation of continued rapid growth, combined with the inefficiencies inherent with operations spread over four separate buildings, has necessitated the development of a new facility.
BioFire's new facility houses all of their research, development, administrative, and production facilities, including space for growth. The large footprint of the facility is driven by the need to have 90,000 sf of biomedical manufacturing space on a single floor. On other floors, office space is organized in bars surrounding engineering, electronics manufacturing, wet labs, BSL-3 labs, PCR array rooms, and other functions that are less desirous of natural light. Collaborative gathering spaces are located at the intersections of the office bars, where they are afforded expansive views of the stunning landscape surrounding the site. Office spaces are carefully designed to be collaborative, yet provide a working environment conducive to focused concentration.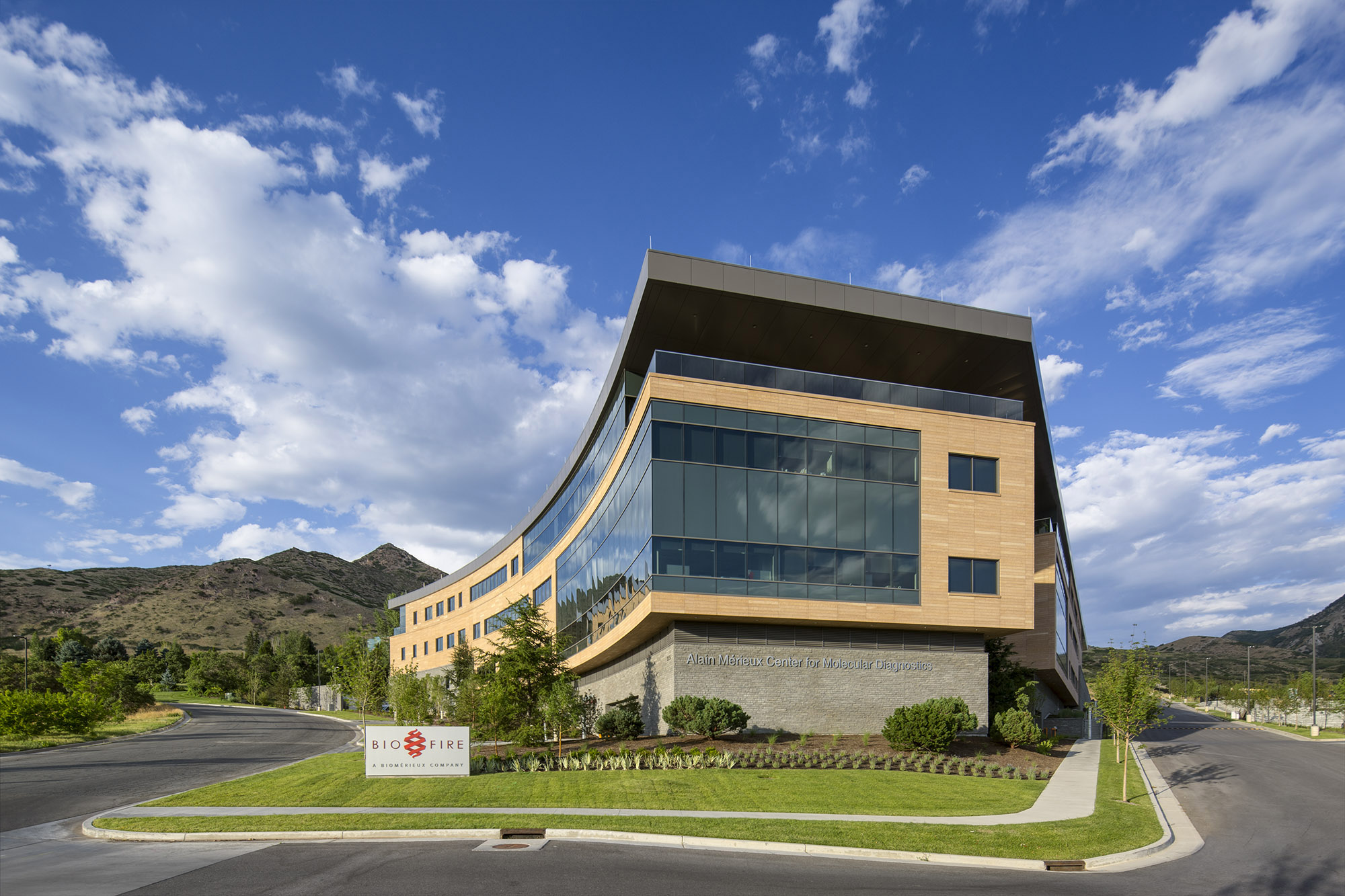 Curbside Appeal
The building's soft curve echoes the roadside. Crisp, locally-quarried sandstone masonry walls with large windows offer a glimpse of the activity within, providing natural light, harmony with the site and views of the city and mountains. The open-air balconies are popular spaces and are used frequently by employees and visitors.
Biosafety Labs
BioFire's Biosafety level 2 (BSL-2) lab is where any work with pathogenic or infectious organisms is conducted. All procedures that could cause infection from aerosols or splashes are performed within biosafety cabinets. All waste from the lab is decontaminated in dual sided autoclaves prior to disposal.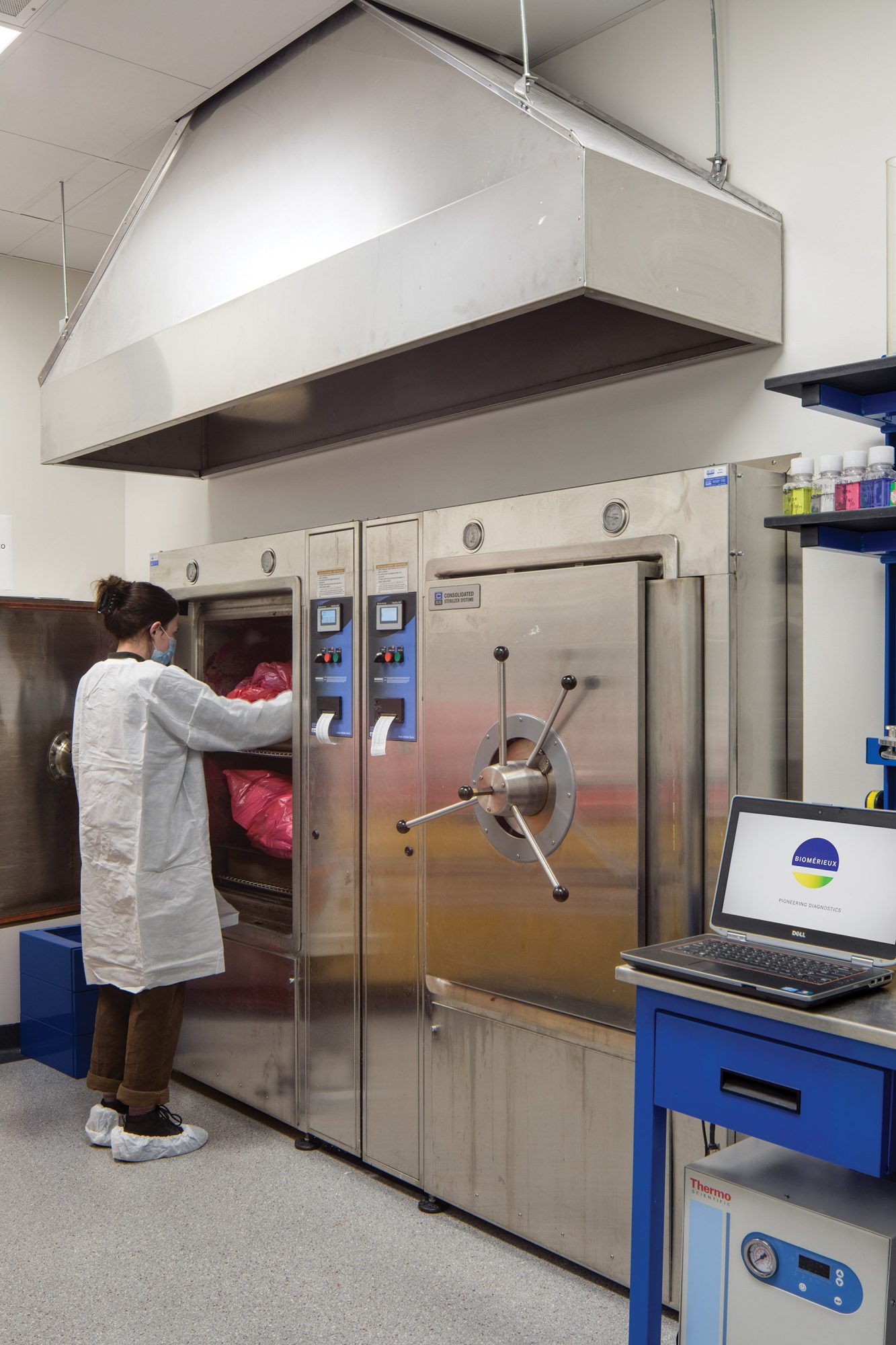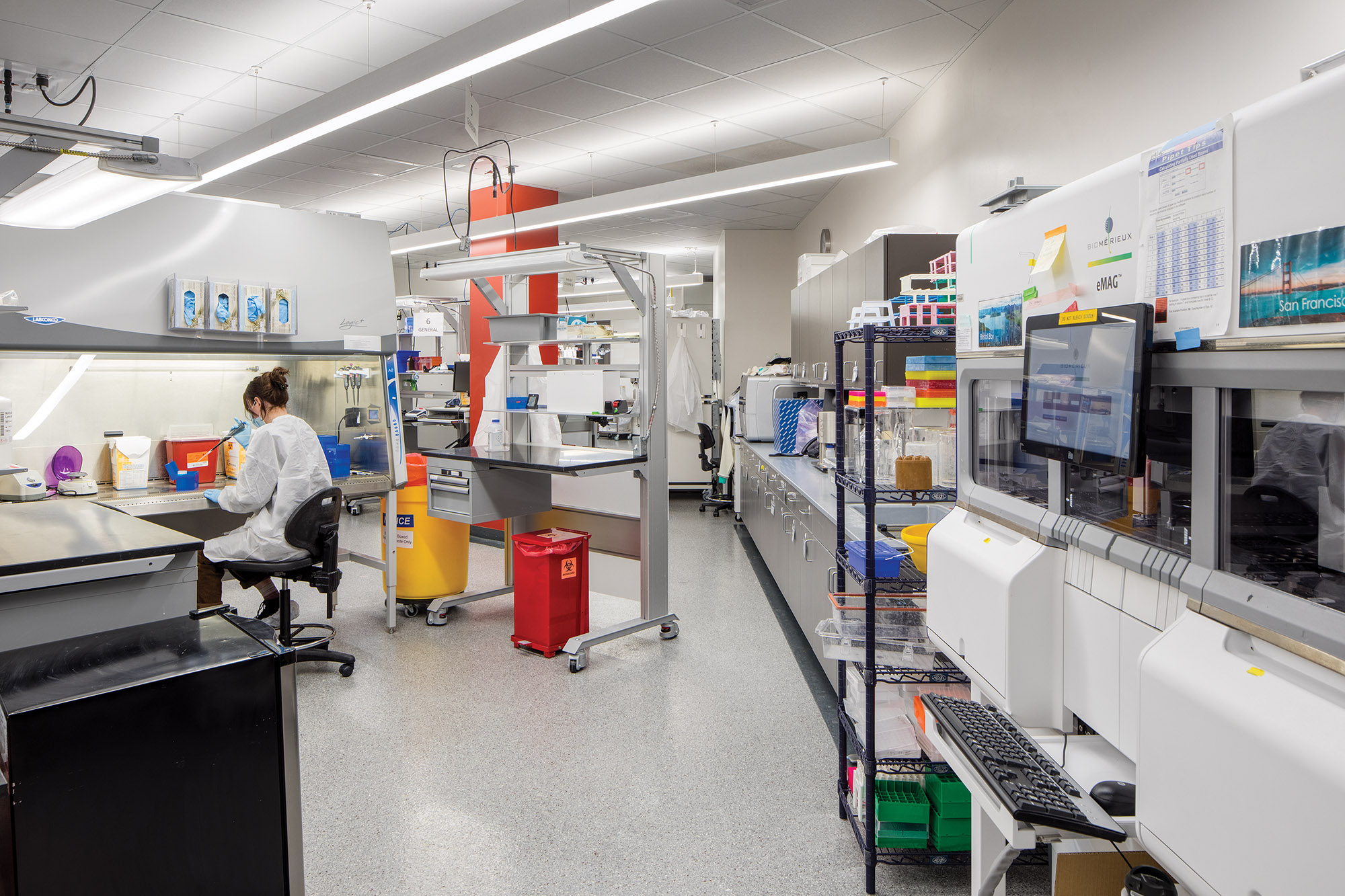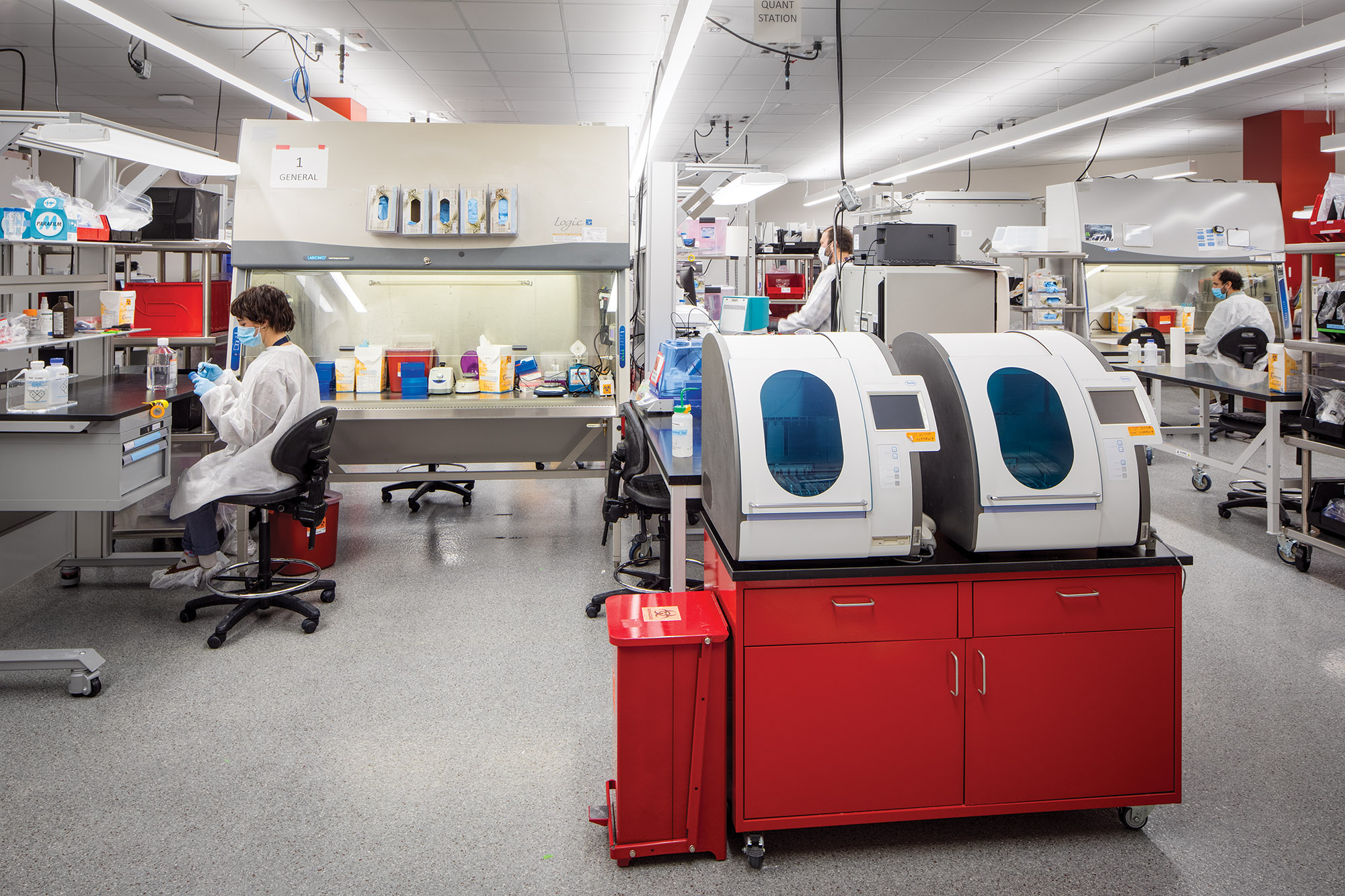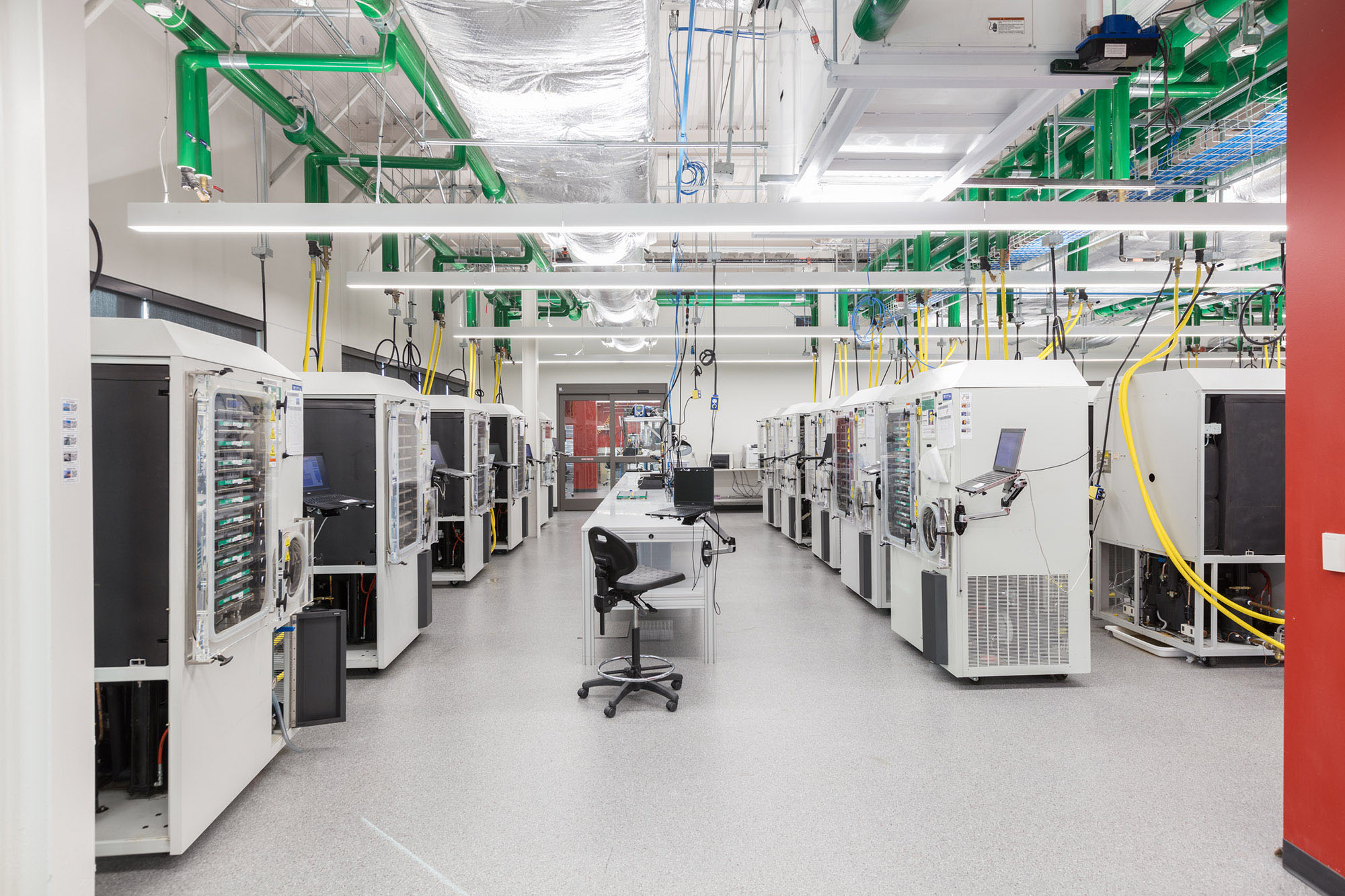 Freeze Drying
The 7,600 square foot freeze dry room is designed to accommodate up to 74 liquid cooled freeze dryers; each connected to overhead power and dedicated chilled water. Trench drains have been designed between each double row in the freeze dryer array to receive the condensate from each machine.
Manufacturing Space
Each production tent on the 90,000 square foot clean manufacturing floor is supplied with its own ISO 7 air supply connection. The space was designed to be modular and flexible for growth in mind. Power, data, supply air, and compressed air are all available overhead for each production process as necessary.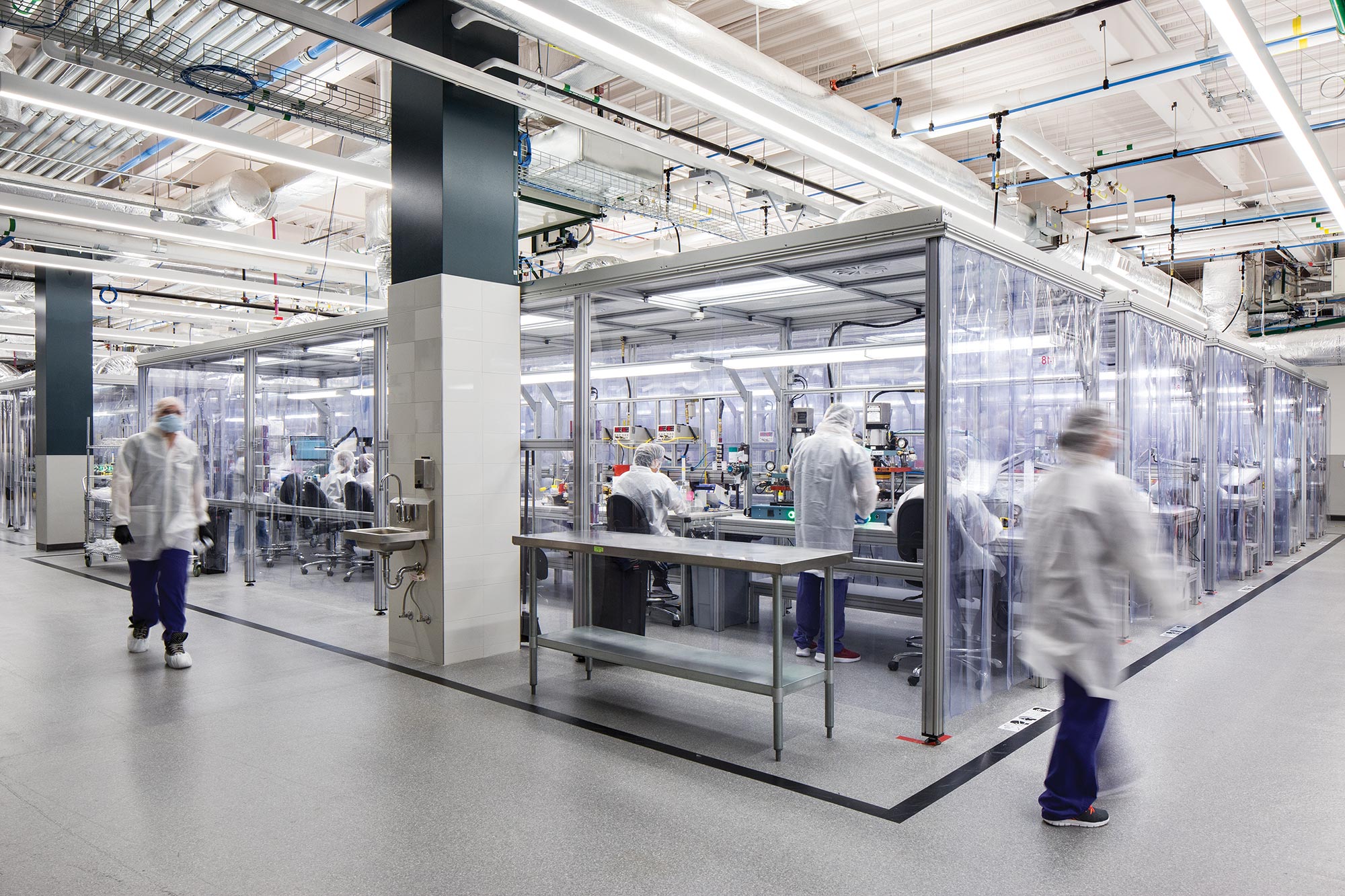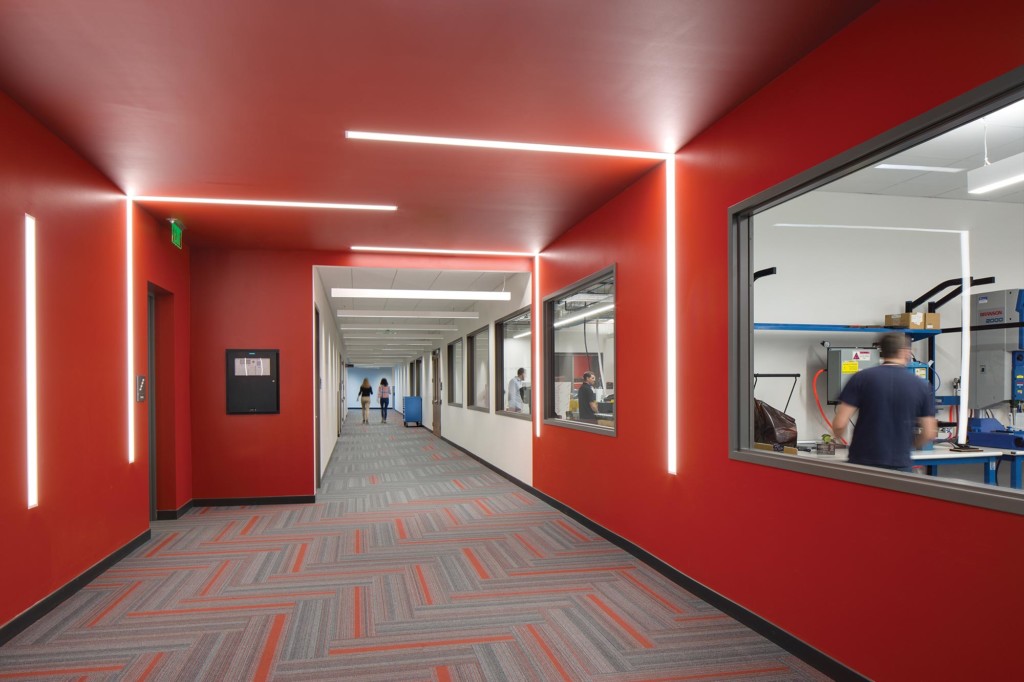 Corridor and Engineering and Electronics Assembly Areas
Opening up engineering and electronics assembly space to be more visible and providing abundant light improves collaboration and enhances circulation. Color defines way-finding through the building while emphasizing the company's corporate branding identity.
Entry Lobby
Casual seating in the reception area welcome the visitors with natural light. Concrete, stone, wood, glass and steel join together for visitors' and employees' dignified sense of arrival.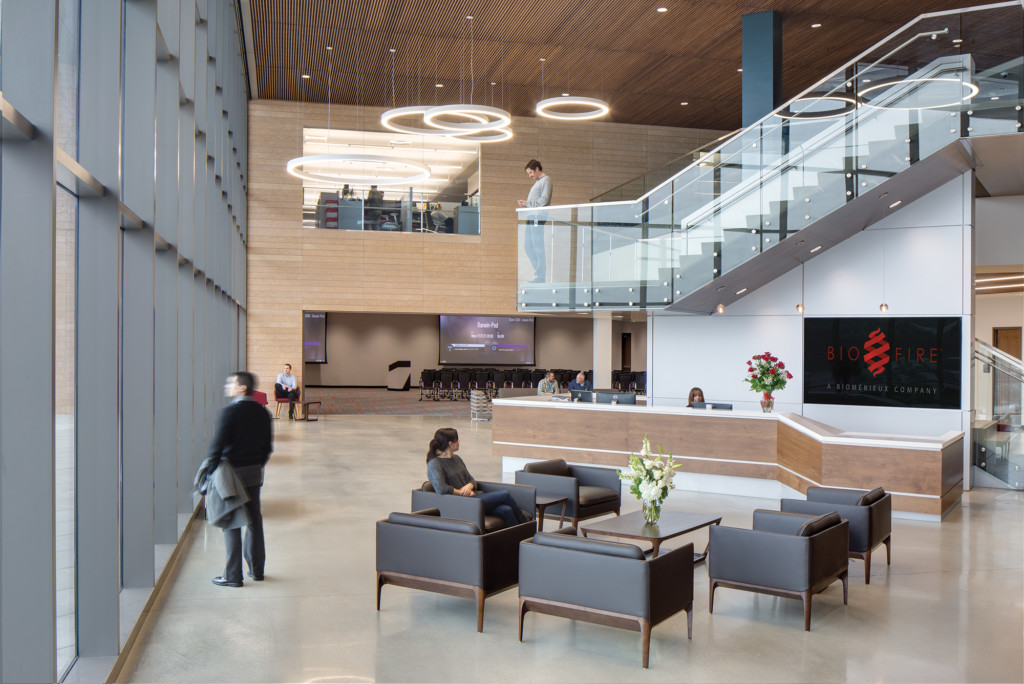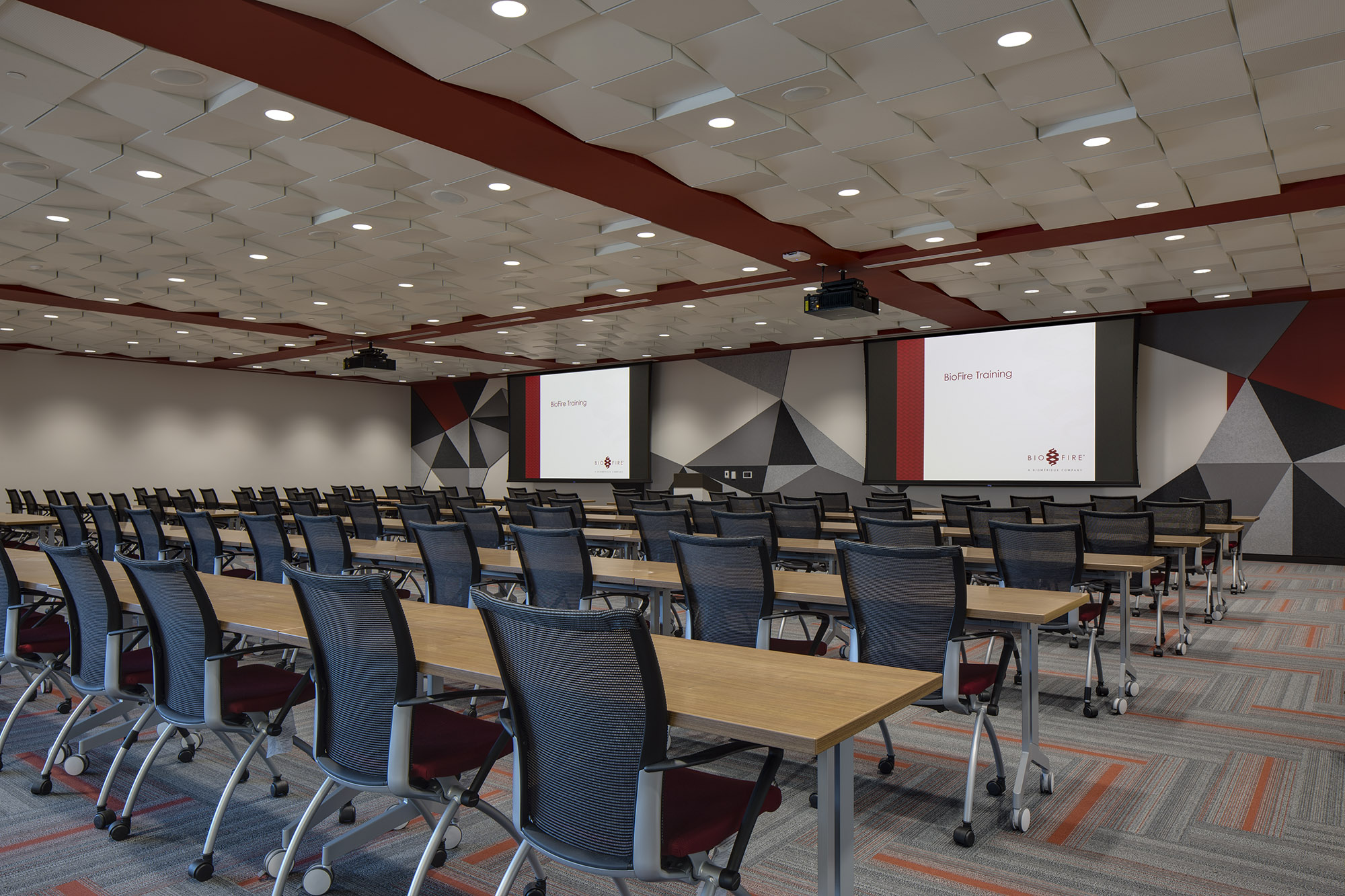 Seminar Room
The multi-function Seminar Room was designed for seminars, staff trainings, and when needed, can be opened up to the lobby for large company events
Commons Area
Open space is used for informal collaborations and comfortable seating for small meetings with exceptional views of the Salt Lake Valley and the Wasatch Front Mountains. Sandstone walls and wood ceilings create warmth and enhance workers' enjoyment and productivity in the workplace.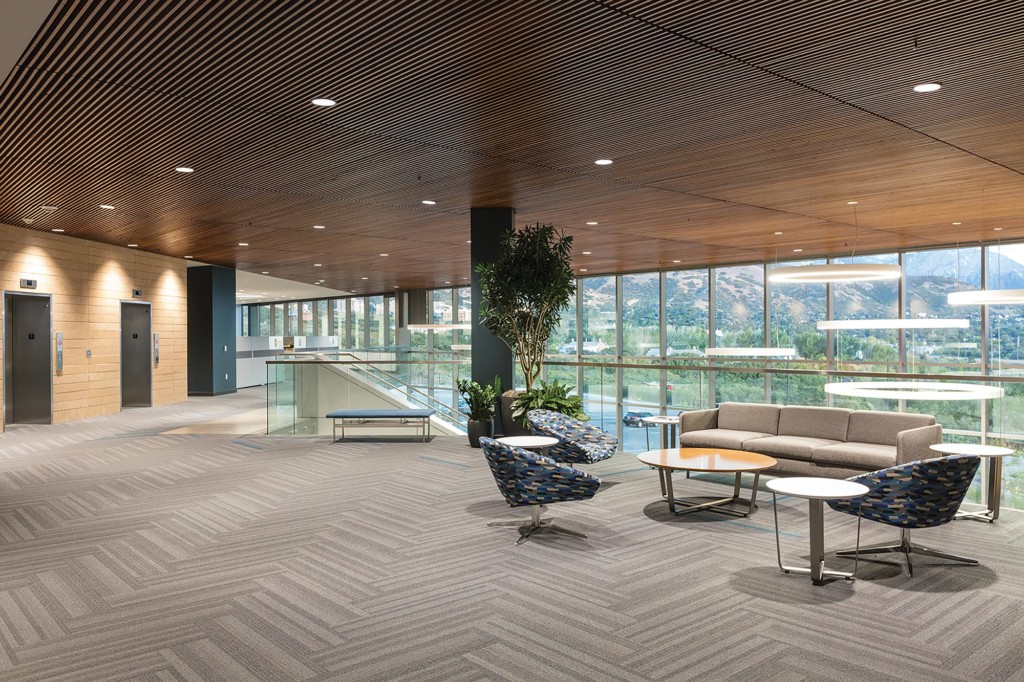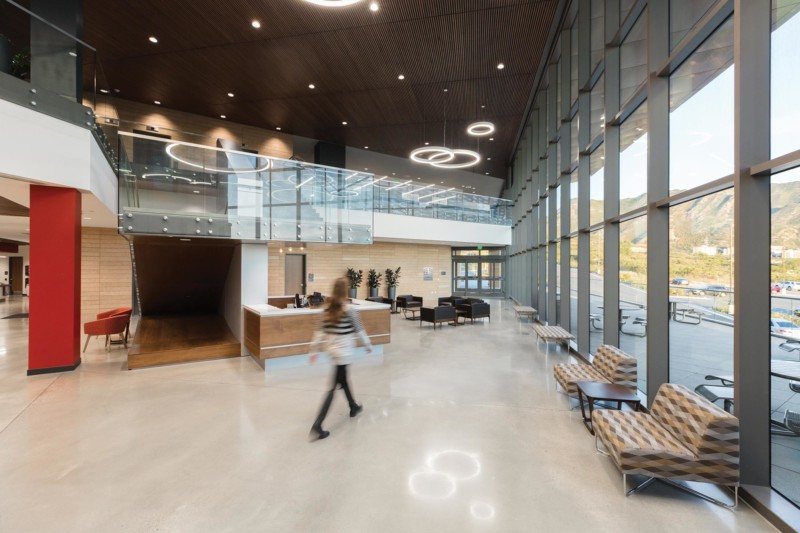 Arrival Experience
Reception desk, monumental stair, balcony and interior sandstone walls connect to the exterior mountains and valley beyond. The two-story lobby defines the main entry and is the arrival point for visitors.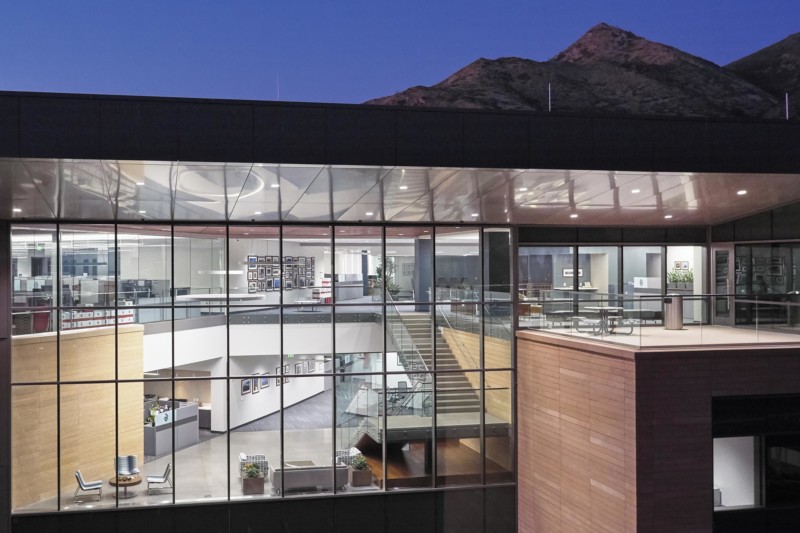 Exterior Nighttime View
A second West Lobby, Balcony and Commons Area offer an expansive view of the mountains and valley beyond while the spacious windows provide natural light. This space serves many functions ranging from informal collaboration to hosting corporate events.