The Clinical Neurosciences Center is home to the Departments of Neurology and Neurosurgery at the University of Utah Health Sciences Center.  From this unified home, the Departments provide world-class, patient-focused care, innovative clinical and laboratory research, and specialized academic training. The project entailed a complete renovation of an 80,000 sf building adjacent to the University of Utah Hospital.  Building highlights include:
Three room interventional radiology suite with mobile 3T MRI.
16,000 flexible outpatient neurology and neurosurgery outpatient clinic.
Four room surgical suite designed specifically for neurosurgery.
16,000 sf translational research laboratory.
Administrative and teaching facilities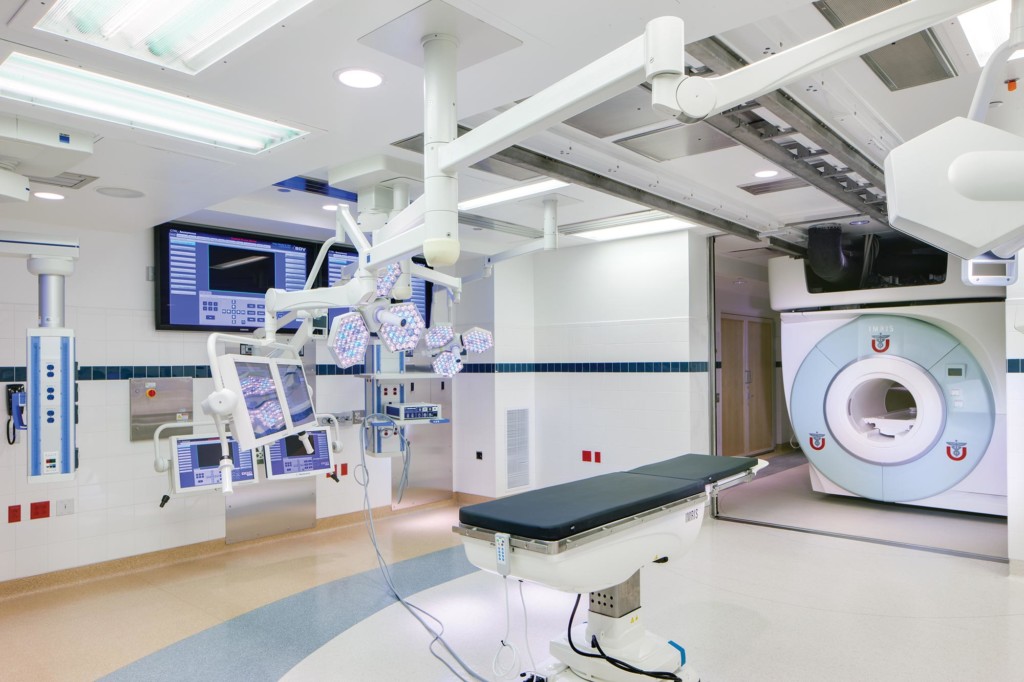 Interventional Radiology Suite
The Interventional Radiology Suite utilizes an overhead rail mounted 3 Tesla magnet which can be moved from a central MRI exam room to a neurosurgery operating room – shown here – or to a biplane angiography room, allowing real-time imaging of a patient. The operating room table pivots so it can be positioned as required for a surgical procedure and aligned with the magnet for imaging.  Shielded sliding doors allow the MRI magnet to be used for clinical tests while stored between procedure rooms.
Image-Guided Biplane Angiography
Guided by real-time 3T MRI imaging, the Clinical Neuorsciences Center's neurointerventional radiologists perform a wide range of minimally invasive procedures to clear blockages and stop excessive bleeding in the brain. They also perform other procedures on the bones and joints of the spine to deliver medications to relieve pain and improve function.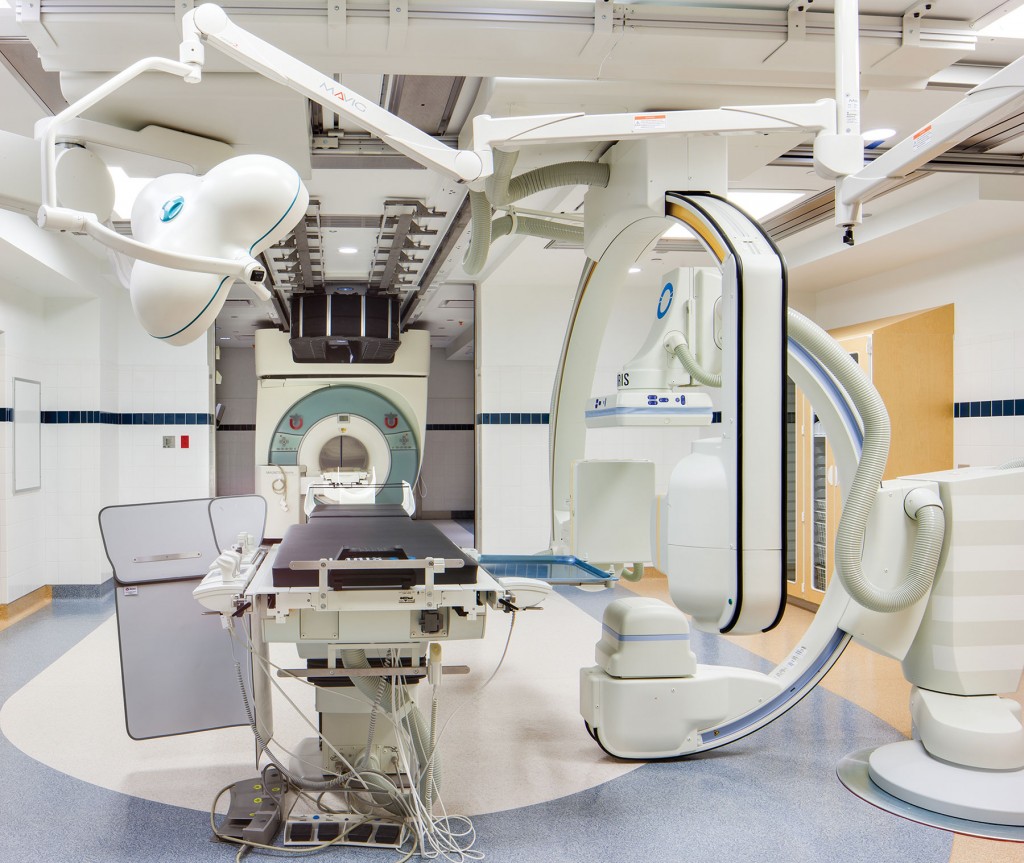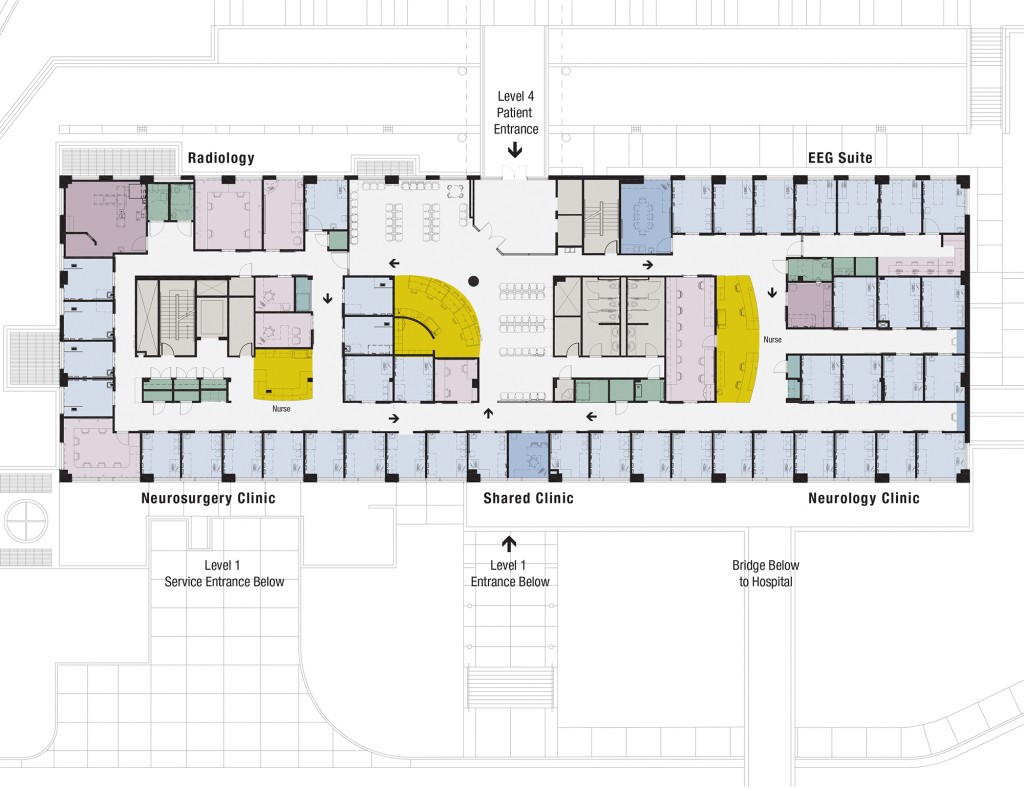 Outpatient Clinical Planning
Outpatient clinics for both Neurology and Neurosurgery are located on Level 4. Working within the constraints of the existing building, the plan creates a core clinic area for each department on opposite ends of the floor and provides shared clinic space between the two core clinics which can flex to accommodate disparity of patient volumes on a given day. Patient flow begins and ends at a common check-in desk.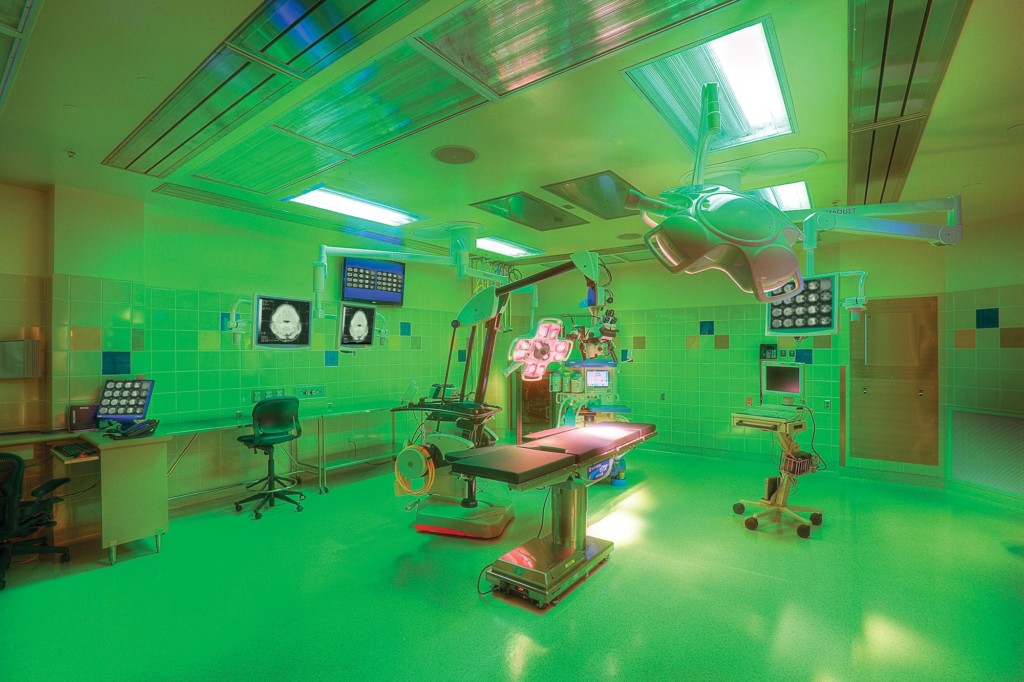 Neurosurgery Operating Room
These large ORs are designed specifically for neurosurgical procedures. They include extensive image monitoring capabilities and specialized lighting to reduce visual strain and enhance imagery.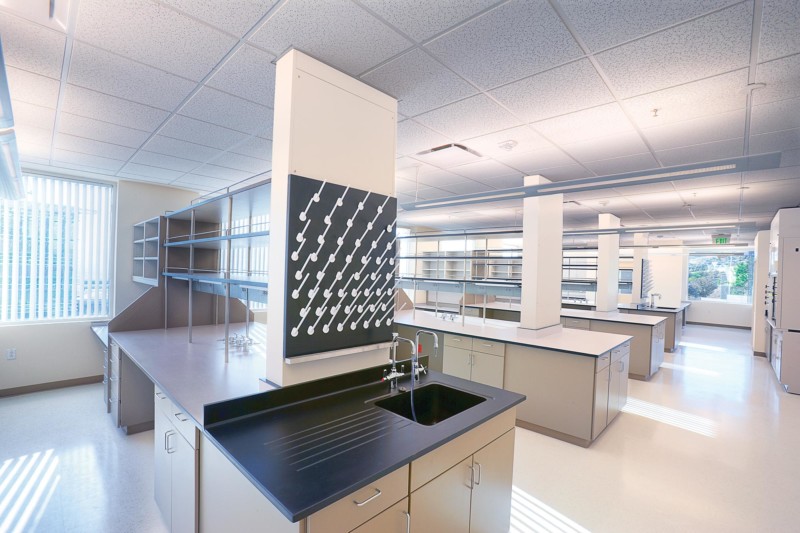 Translational Science
Translational research is integral to the mission of the Clinical Neurosciences Center. Research laboratory planning included distinct zones for each Principal Investigator, with shared equipment ghost corridors, and adjacent shared specialty labs. The open planning brings natural light and views into each main lab space.