Ogden School District tasked FFKR's K-12 Education Studio to integrate 21st-century teaching pedagogy into the renovation and addition of the original Polk School, which was constructed on Ogden's east bench in 1926. For the past year, our team has worked with the district, administrators, teachers, and community to create a design solution that complements the existing school and creates a bridge to the future of learning.
The existing structure is limited in flexibility and requires significant structural upgrades that will compress the already small classrooms. Because of these limiting factors, the design quickly focused on placing the flexible learning suites in the building's addition and re-purposing the existing facility for administration and specialty classrooms such as art, music, and maker spaces.
Flexible learning suites capture natural daylight, promote public practice through transparency, and focus on safety with their ability to be isolated from the rest of the school. The use of natural materials and colors provide biophilic environments tied to better student performance. The addition design includes photovoltaic panels on the roof.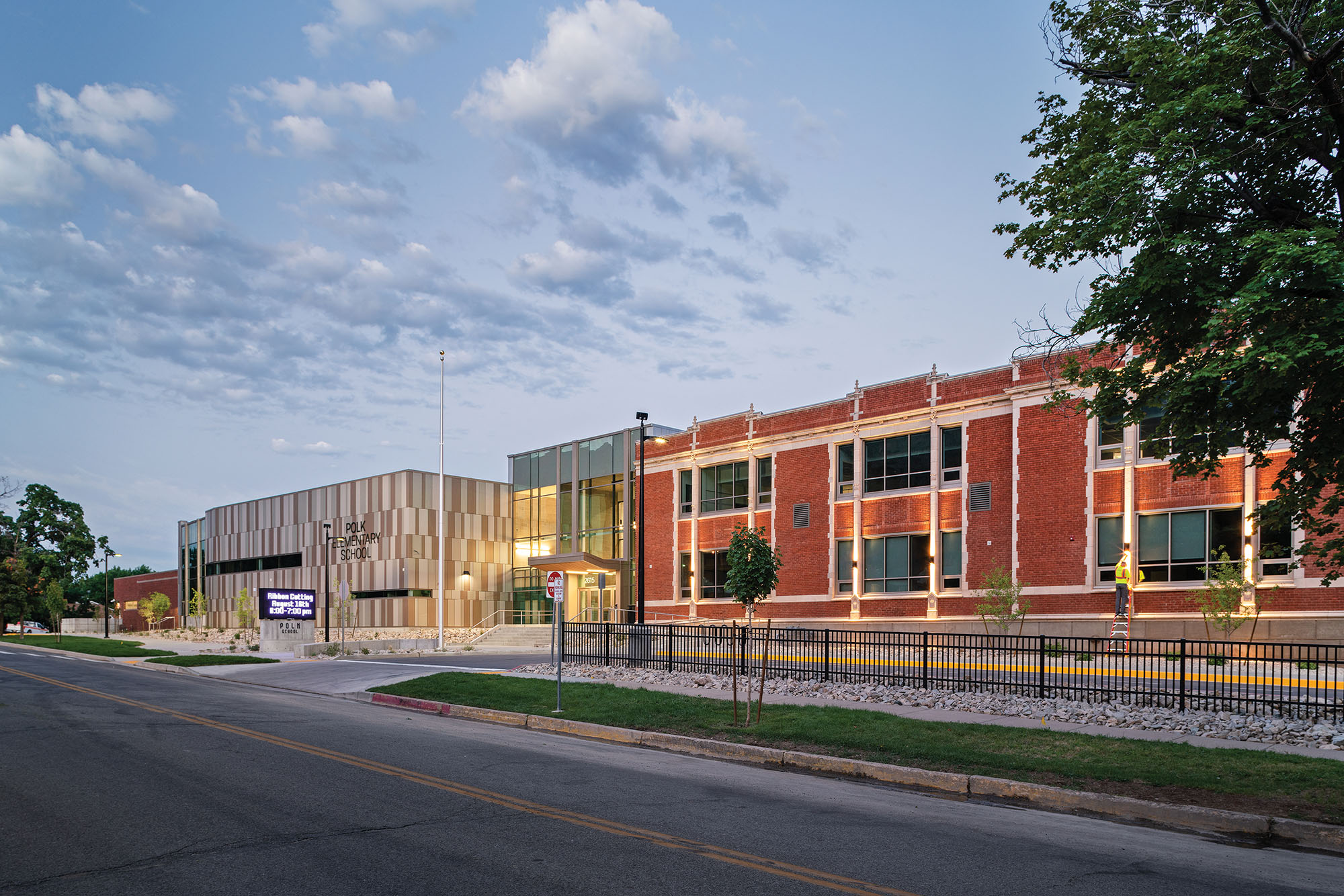 Old Meets New
Using cues from the 1926 building, the addition employs similar details and materials with a modern take that complement rather than compete with the existing building. The result is a design that allows the existing building to continue to stand as a historic jewel in the community and the added square footage to represent the changes in teaching and learning of the modern time.
Commons for Connection
The interiors of Polk's new addition use gradients of purples, blues, and greens layered with custom murals and textural materials like concrete block, natural maple, ceramic tile, painted pressed fiber panels, perforated steel, and dichroic glass.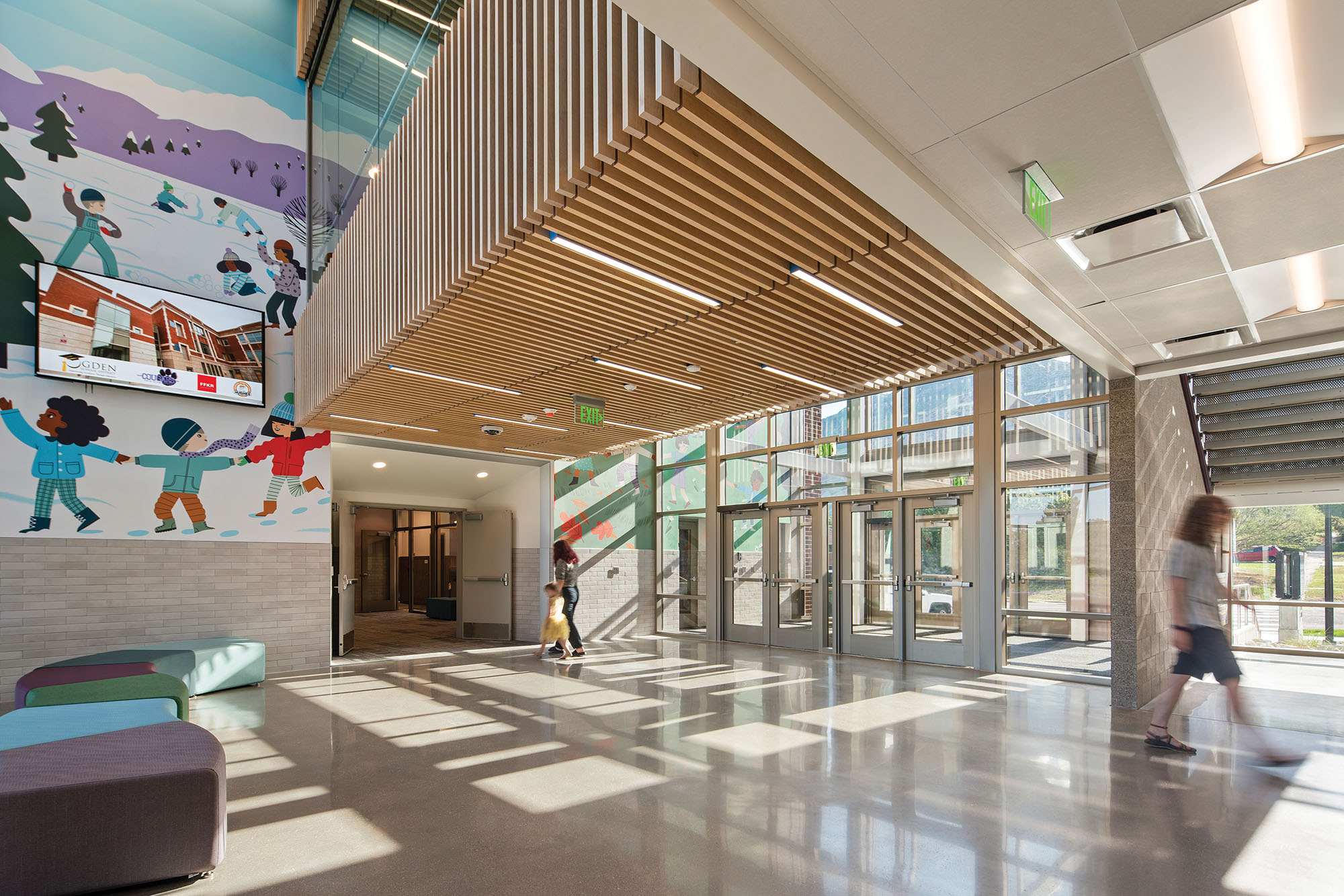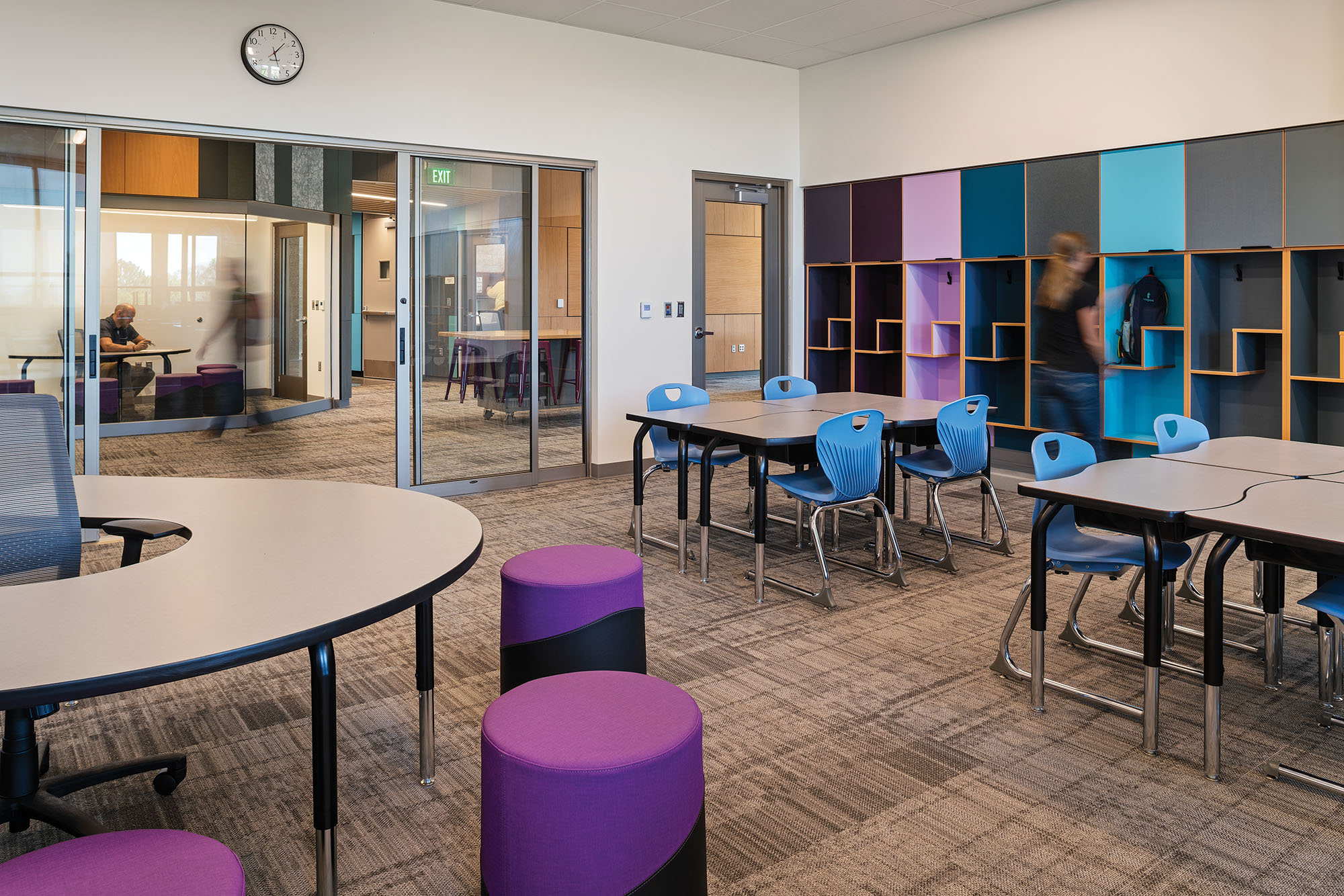 Sophisticated Learning
Adding complimentary modern pieces, materials, and designs to the original aesthetic of the 1926 school building results in an unexpectedly elegant and sophisticated interior for an elementary school.
Safe, comfortable, and Functional
The goal of the site design was to provide safe and comfortable spaces while providing a variety of exterior environments that encourage social, physical, and mental learning and growth. In addition, maintaining the look and feel of the existing mature tree canopy, while providing landscape and site design that is both attractive and functional while environmentally and maintenance friendly was a key design principle.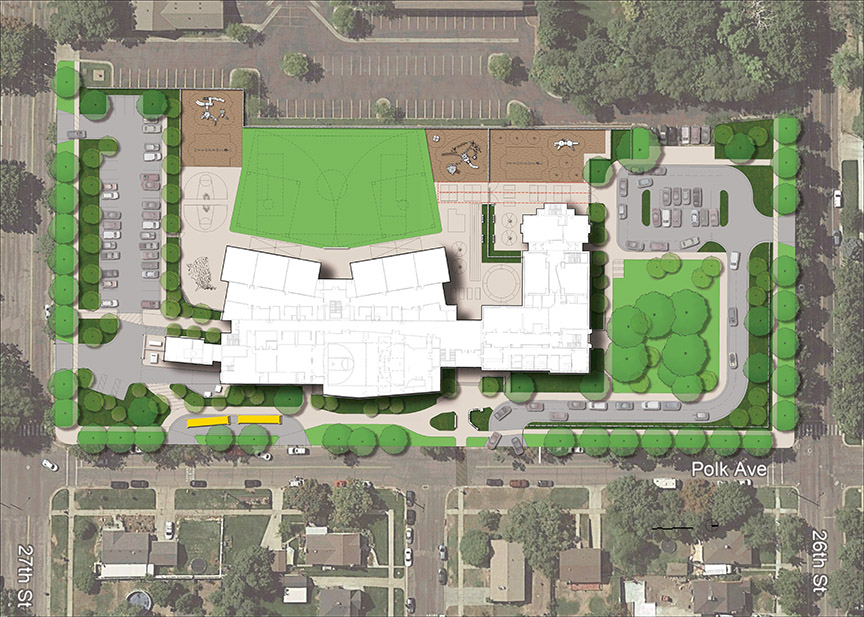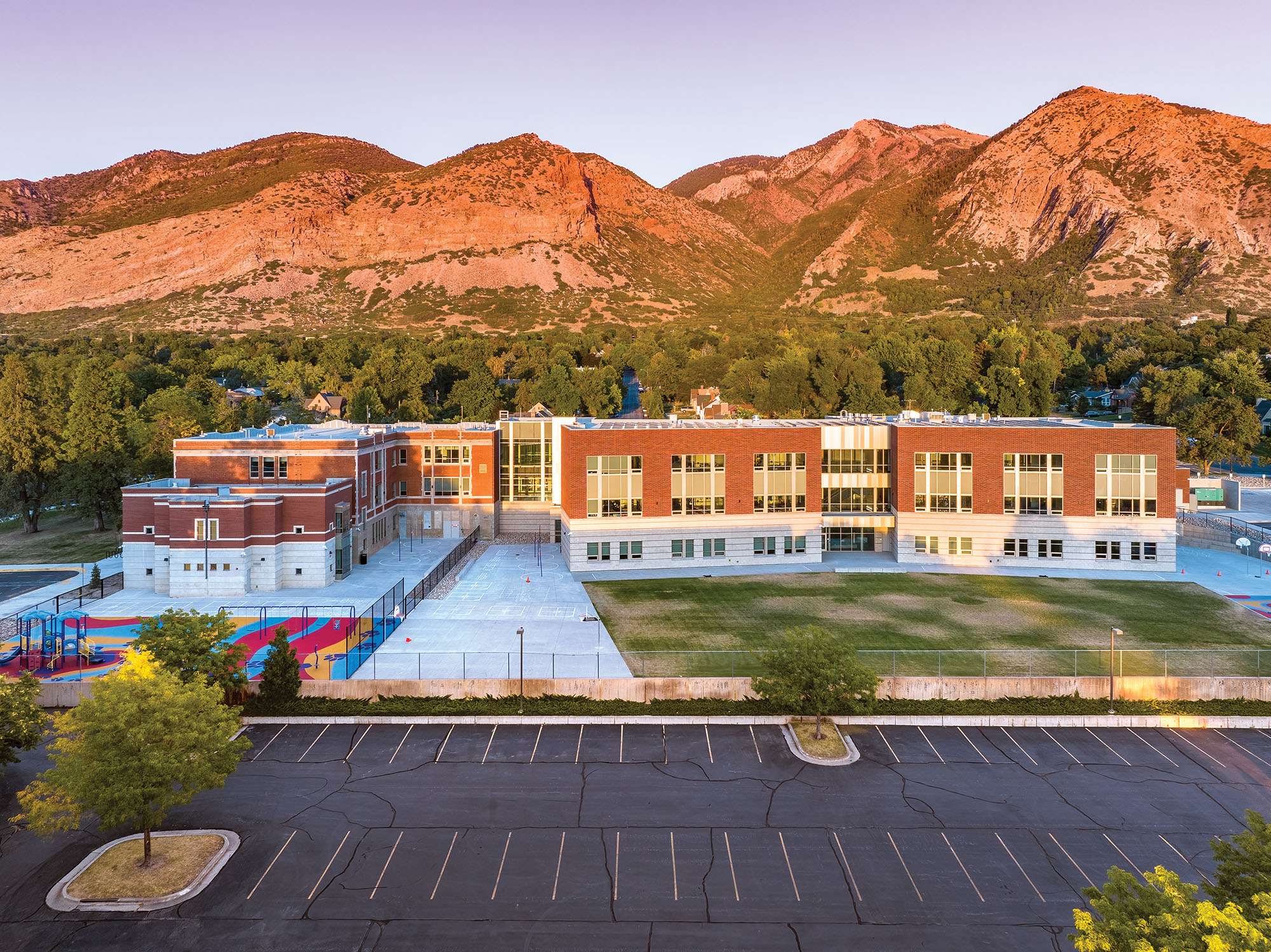 Creating Modern Educational Spaces
The historic Polk Elementary was disassembled to its primary elements and made structurally sound. The open interior space was then adapted to allow for modern educational methodologies. Original atypical classroom constraints gave way for opportunities for flexibility, reimagined uses, and unique interiors. The new addition transitions seamlessly with a new lobby and corridor.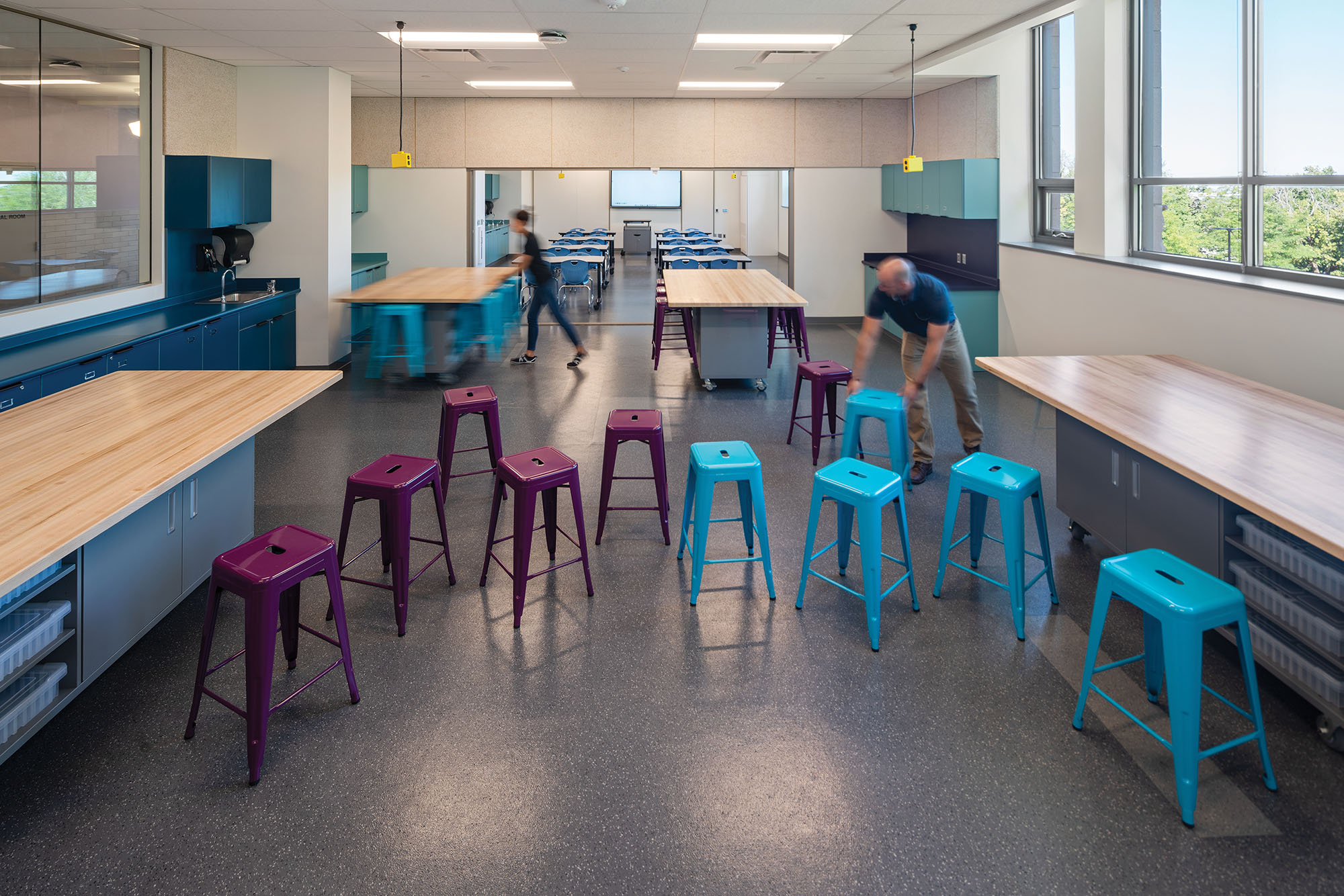 Flexible and Adaptive Learning Spaces
Academic spaces were designed to be adaptable with moveable furniture to easily transition between instruction and collaborative or peer-to-peer learning environments.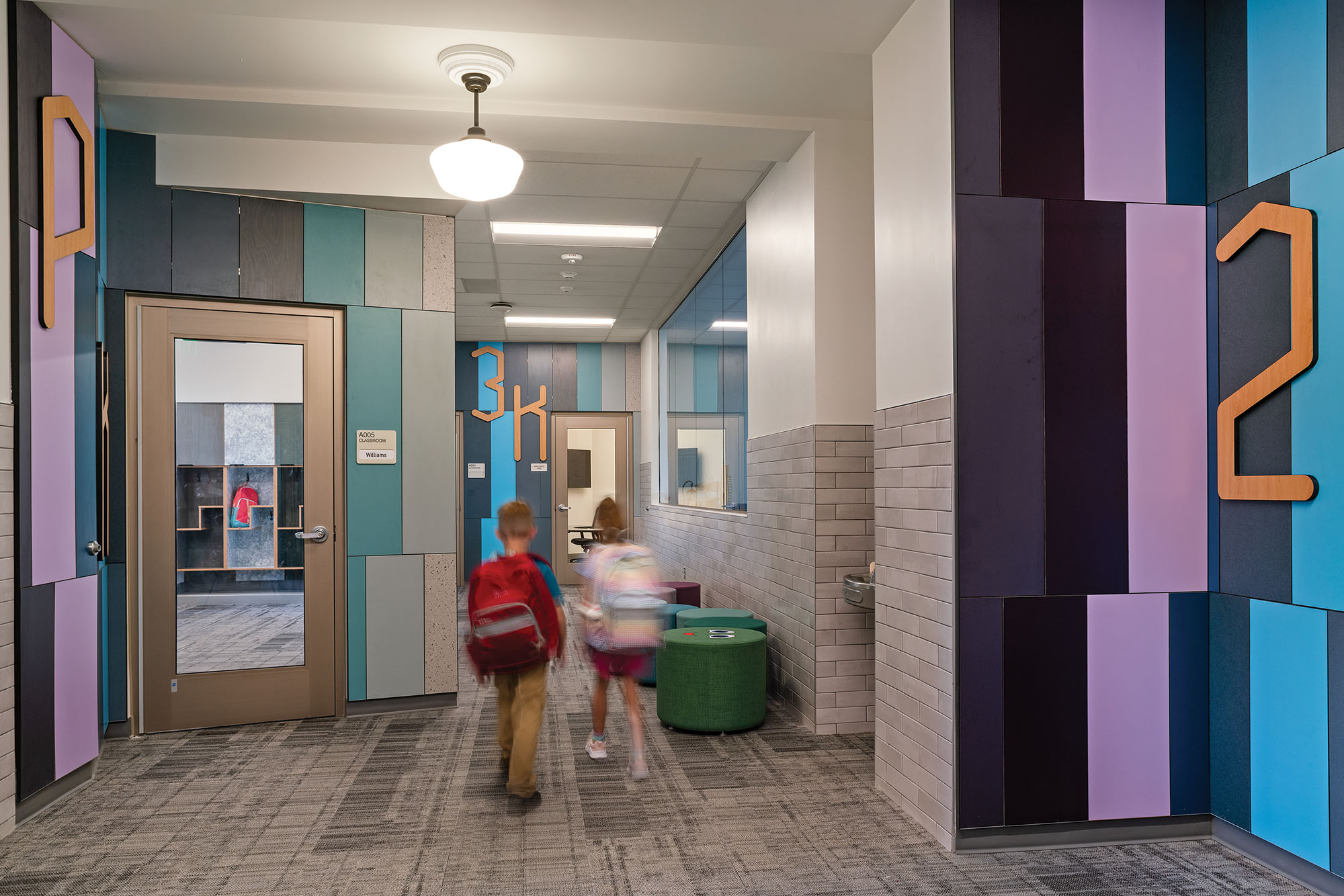 Color for Education
The selected color palette is infused into the materials, murals, and furniture. Colorful classrooms are cheerful, interesting, and include biophilia.