Mayo Clinic's world famous care attracts large numbers of visitors which created a demand for adjacent, quality modern hotel accommodations in Rochester, Minnesota. With an ideal corner right across the street from Mayo's St., the developer carefully worked with the neighborhood, the hospital, and the city planning department to make a high density but appropriately scaled hotel, Dual Brand EVEN + Staybridge, that would be best in its class in Rochester.
At the busy corner a block of guestrooms cantilever over the entrance to a prime retail rental space. On the quieter North side the massing is broken up into lower scale volumes with pitched roofs precisely designed to avoid casting a shadow on the adjacent residences. The 250 guestrooms are split between a new brand EVEN Hotels that emphasizes health and wellness and Staybridge Suites, an extended stay flag known for their hospitality and comfort. Amenities include an indoor pool, an upgraded gym, a bar with full kitchen, and meeting rooms all connected by the spacious lobby and a courtyard plaza.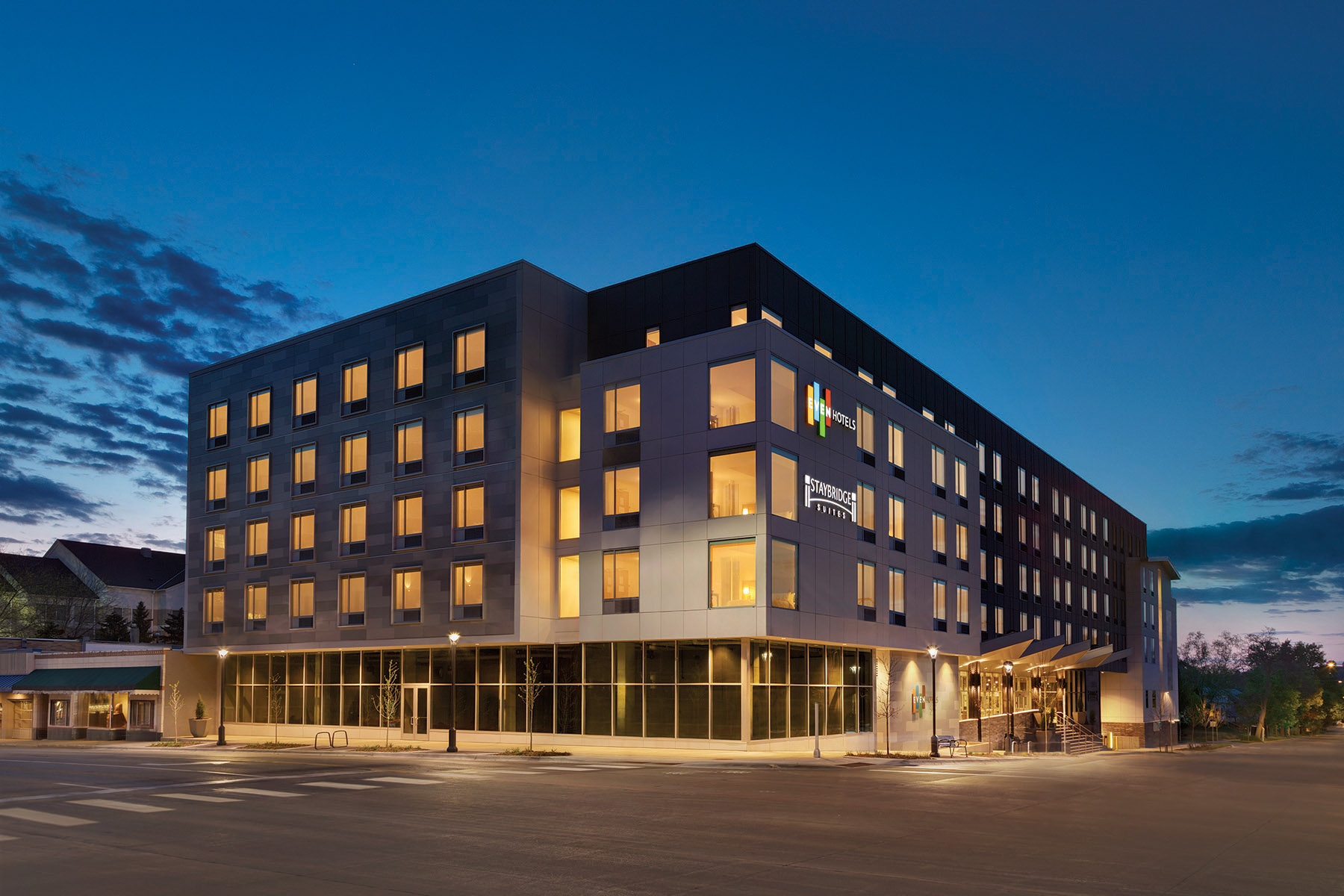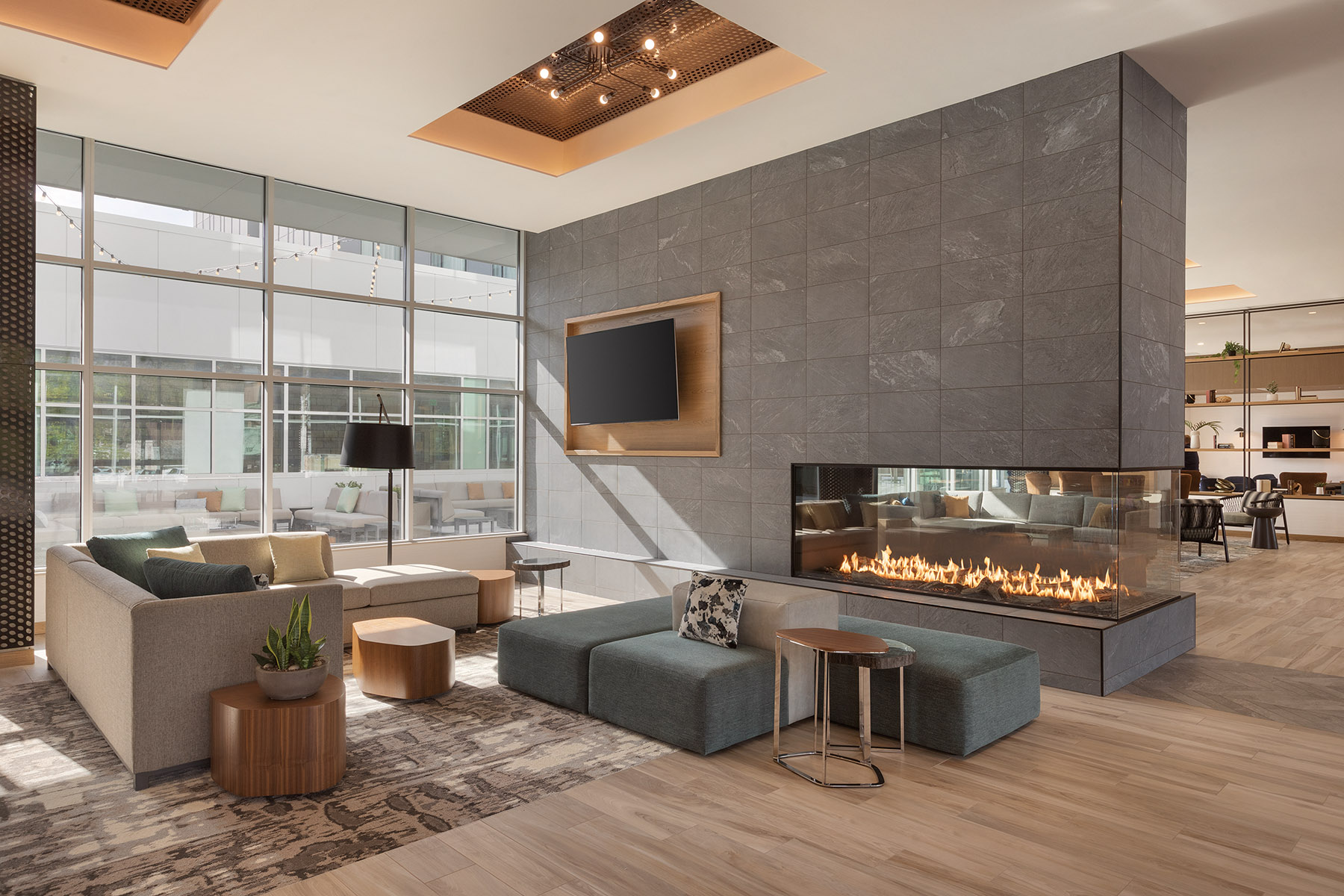 EVEN Lobby
The lobby design is homey and comfortable during all seasons in Minnesota. The large fireplace was key to providing ambiance and warming up a large space during those winter months. Low furniture helps all guests to enjoy the views.
EVEN Guestroom
Wellness is at the center of the EVEN guestroom experience. It provides in-room equipment with TV streaming of personal training to start your day with a workout and relaxation techniques to get centered after a long day.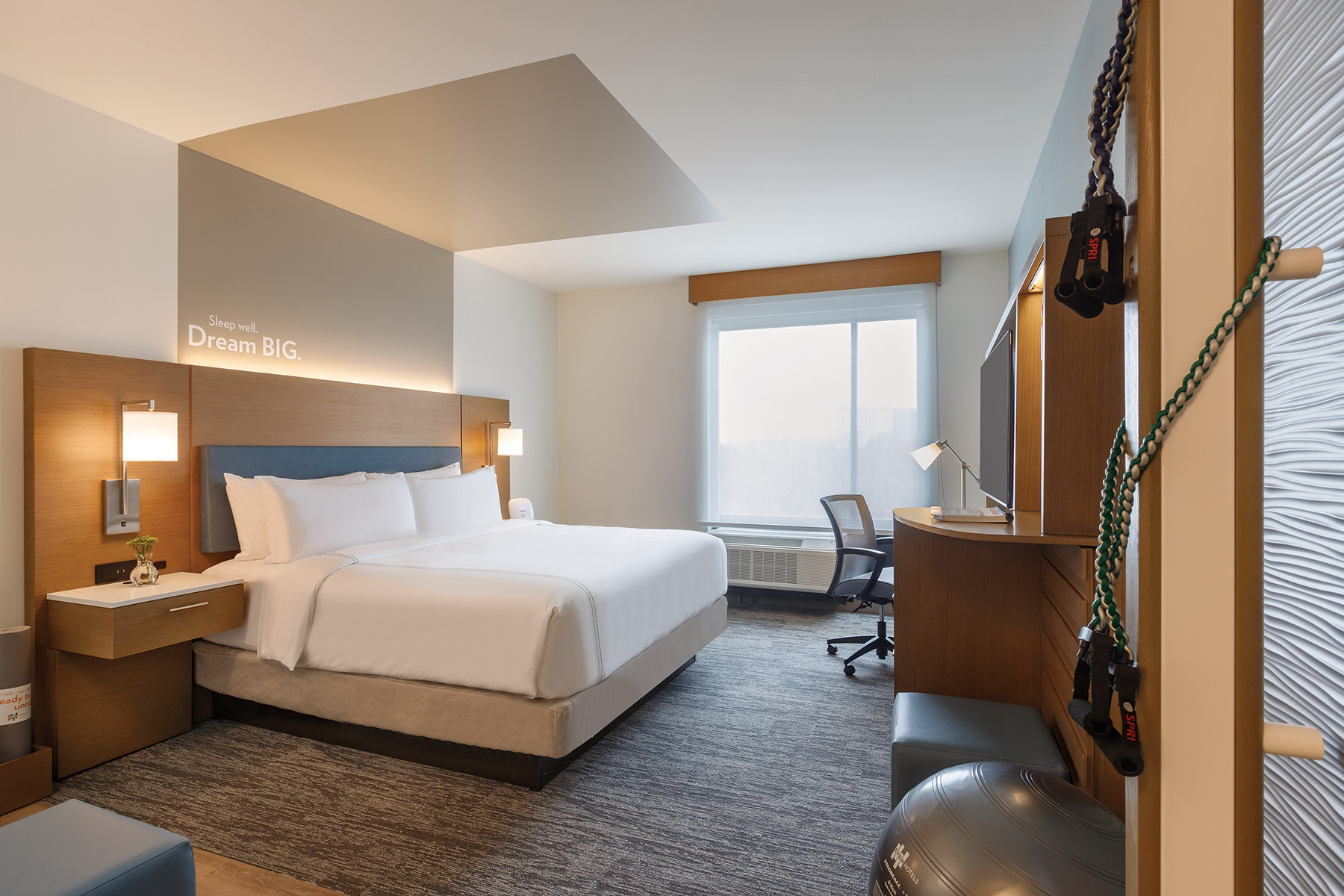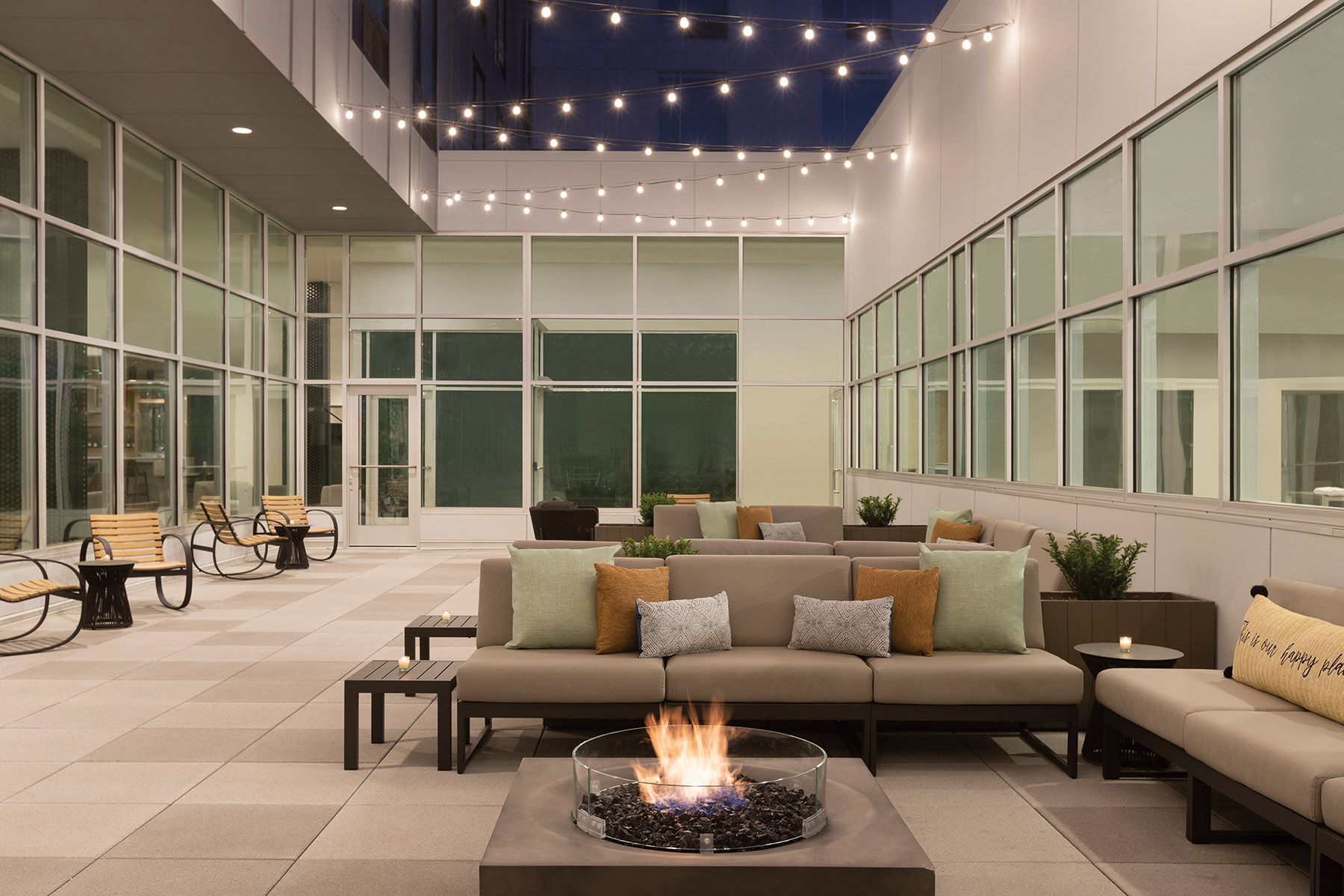 Outdoor Fire-pit
Creates a relaxing home-like atmosphere for guests to enjoy the outdoors and participate in hotel activities like wine tastings.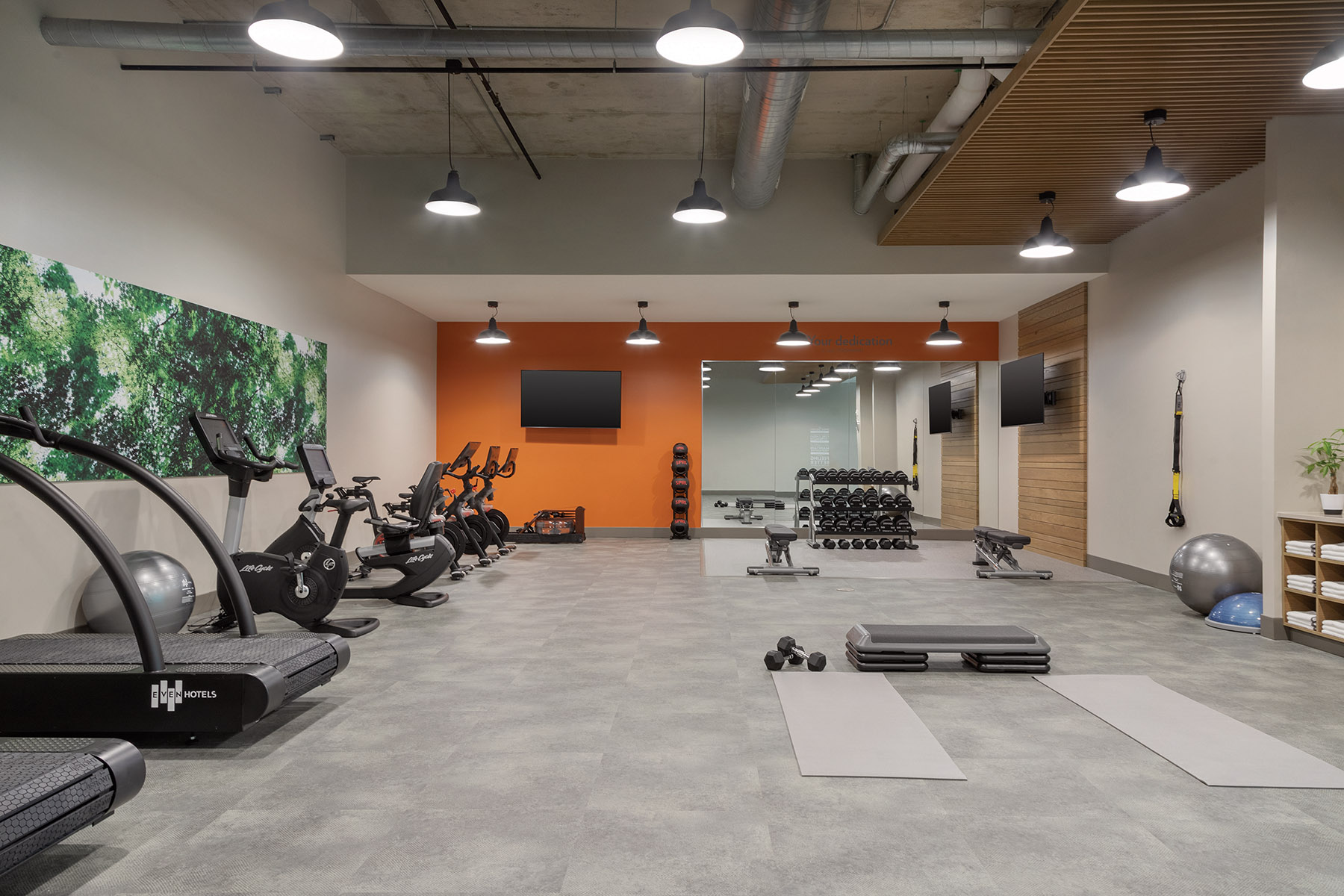 Fitness Center
A fully decked-out fitness center provides multiple workout options and equipment, accessible ice and water, towels, yoga mats to ensure the guests have a convenient experience.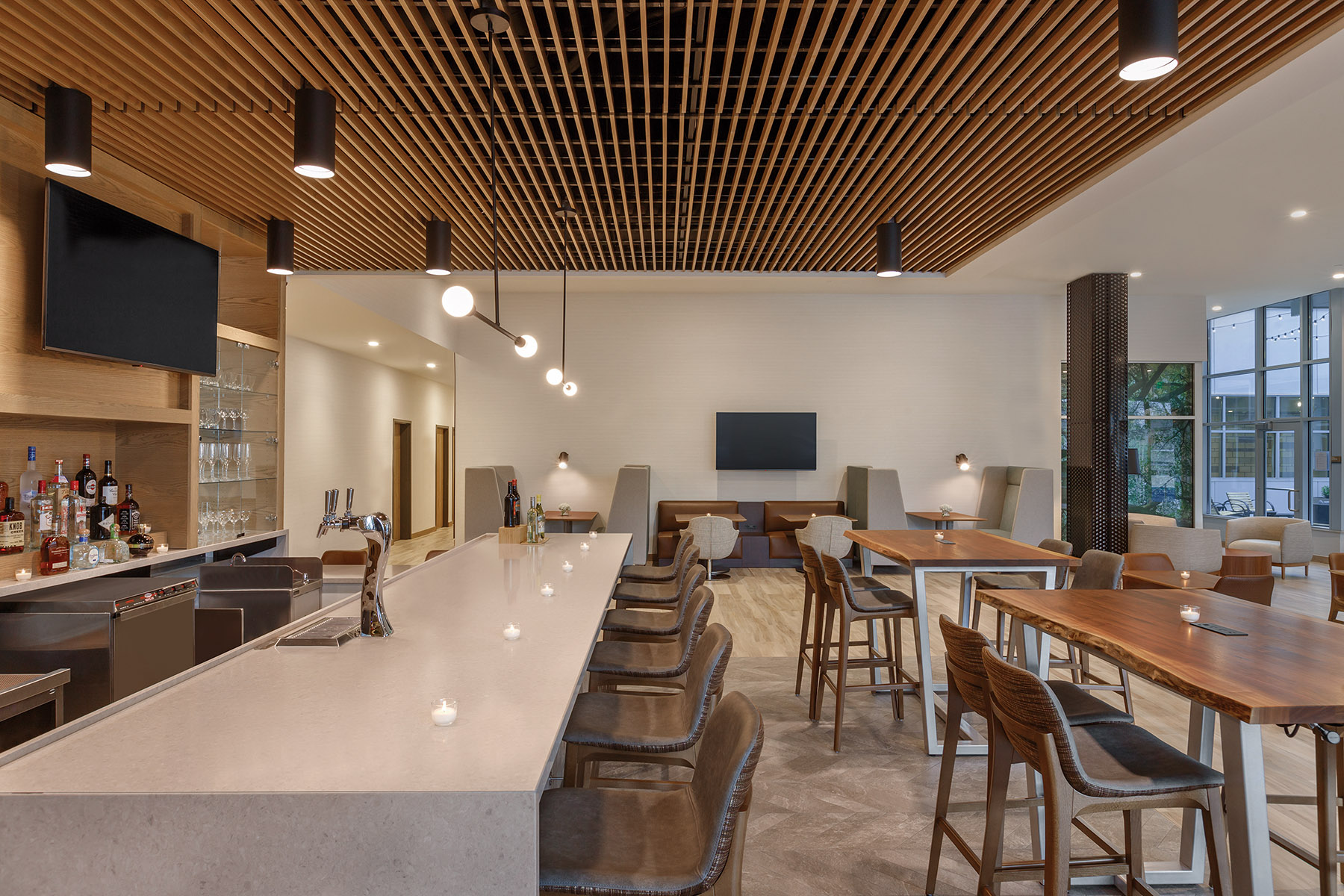 Cork and Kale Bar
The bar provides a modern space to unwind. The dining area offers a variety of seating, creating the opportunity for various tasks, like plugging in and settling down for some work, a quick bite, or a friendly chat.
Staybridge Lobby
Expanding on the home-like feel, this lobby depicts the library room with game tables that invite families and guests to stay in a while when visiting the city.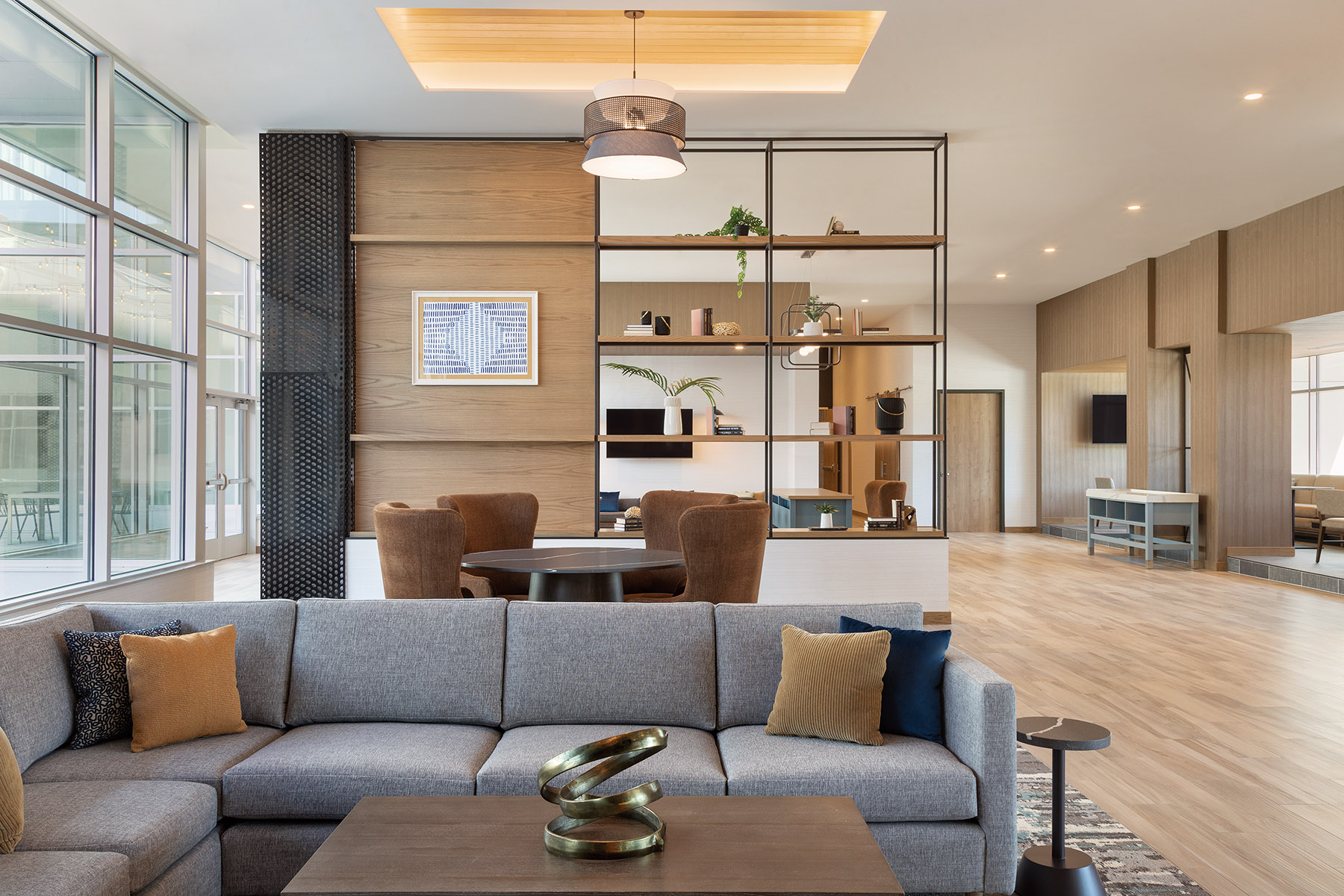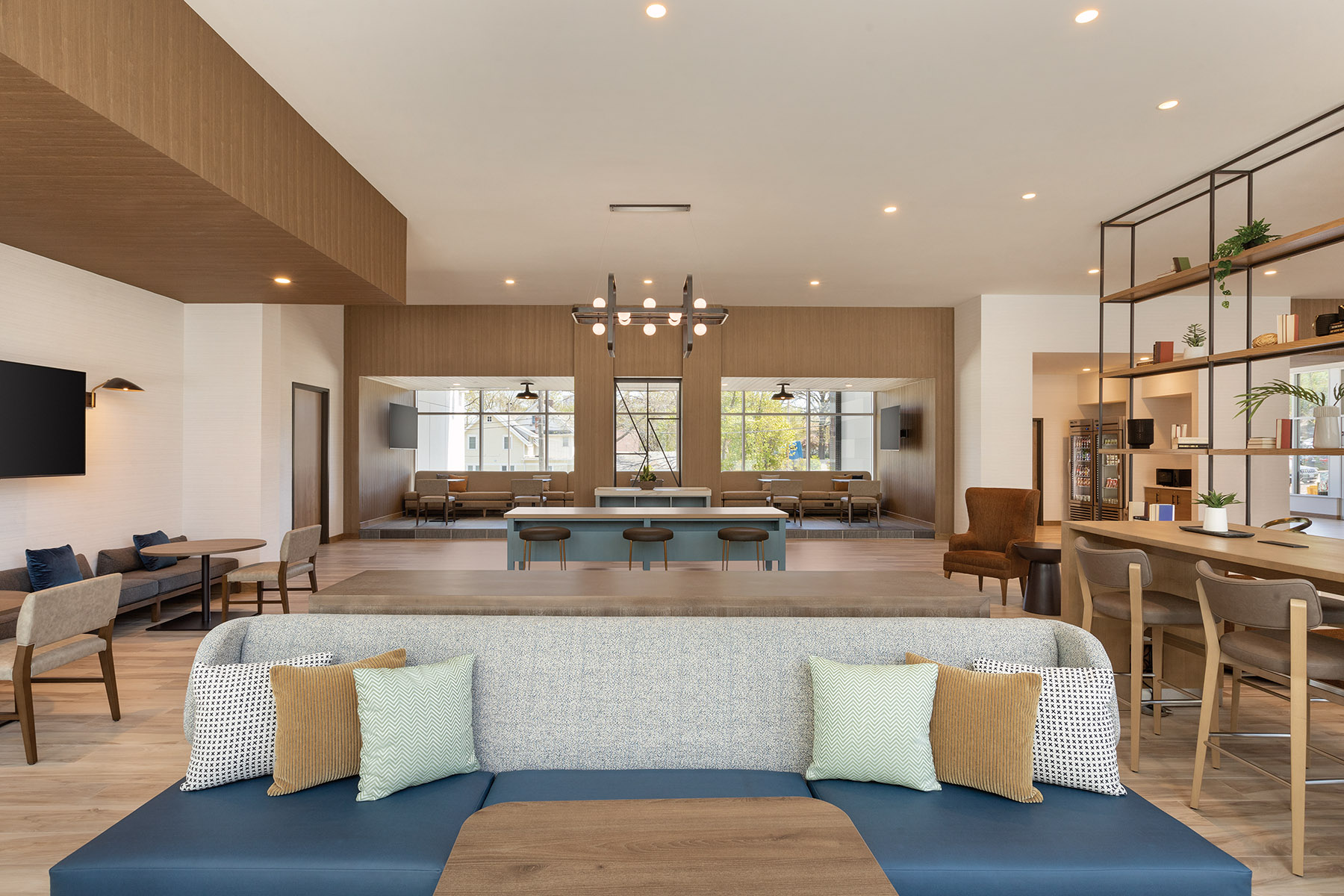 Staybridge Dining
The dining area design feels like a kitchen island, with breakfast nooks, rolled into one. Soft seating, benches, and stools let you pick the most comfortable arrangement for breakfast or to catch a game or show.
Staybridge Suites Guestroom
The Staybridge guestroom is a home away from home with a comfortable bed and the convenience of an in-suite kitchen, desk workspace, and a spacious living room.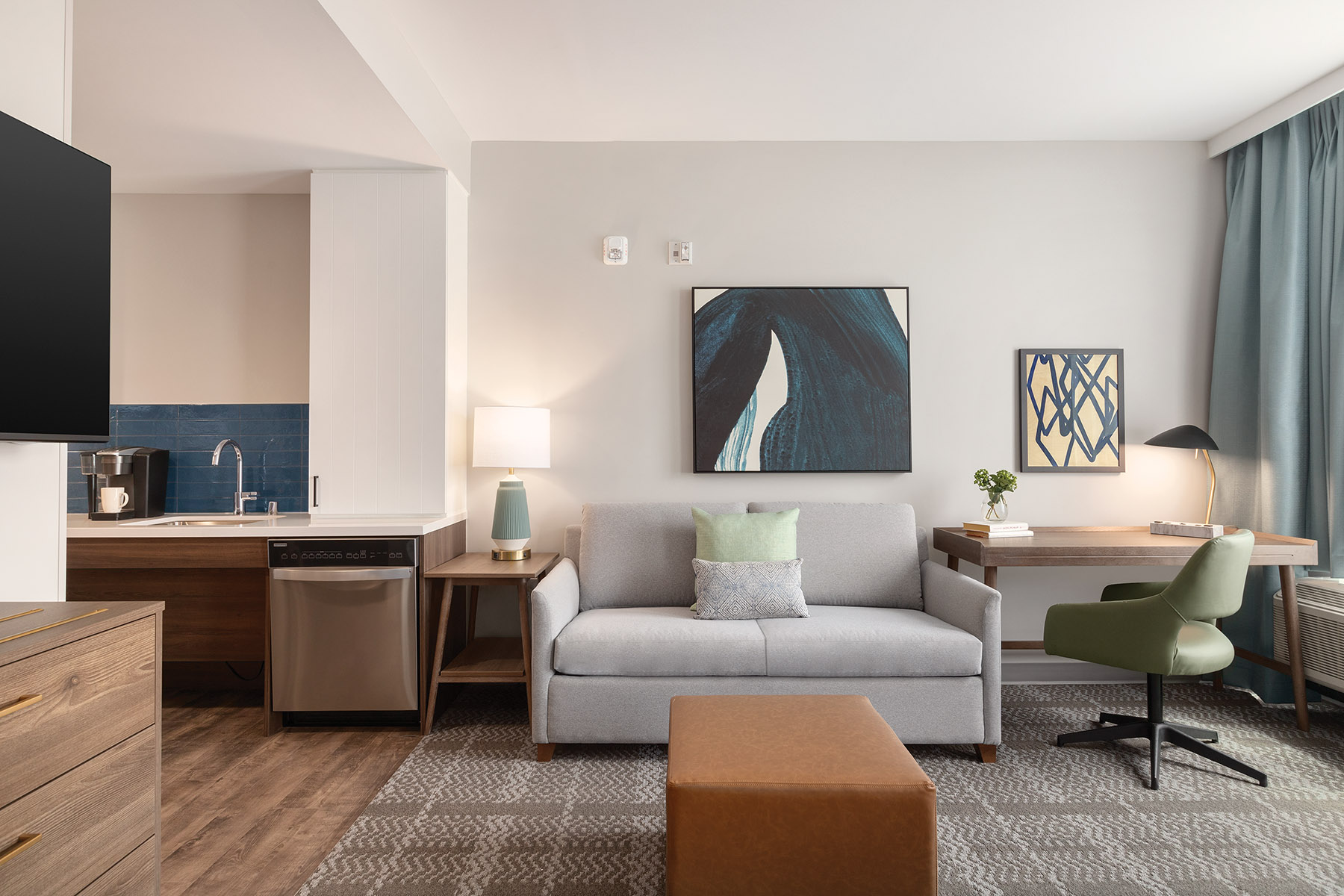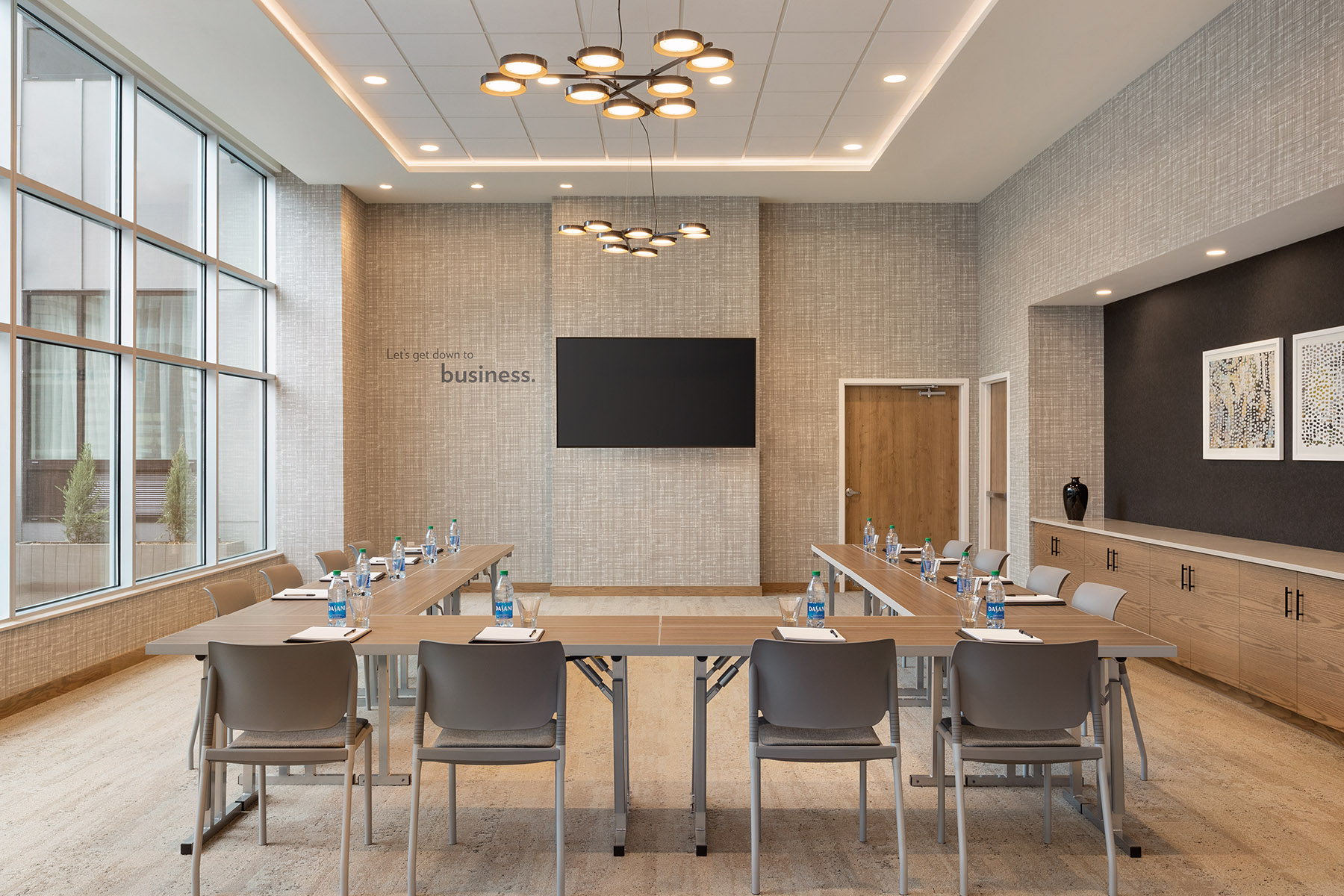 Meeting Rooms
The meeting room aesthetic is refined and comfortable. Ready for a business presentation or cocktail hour this flexible space can accommodate a variety of client needs.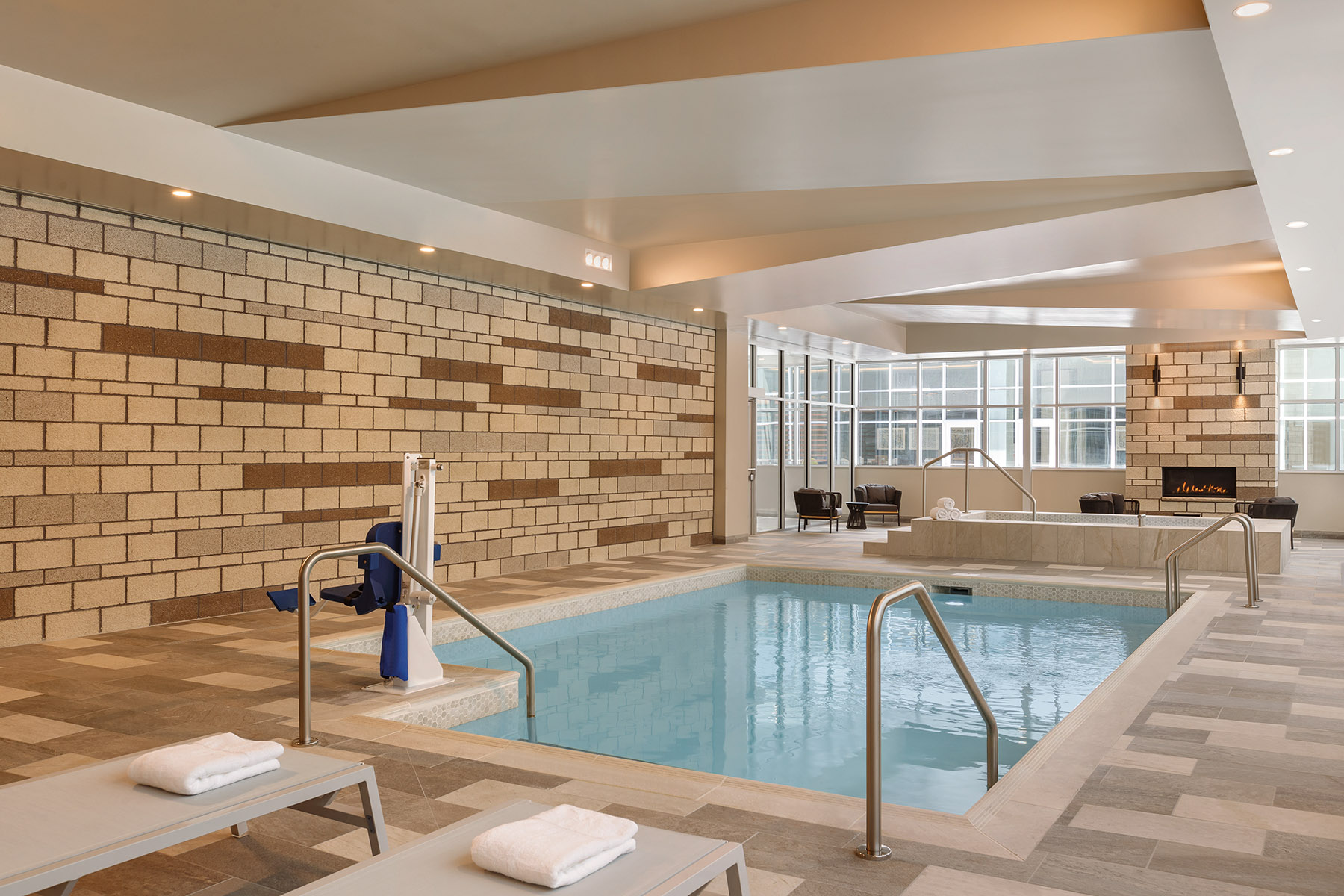 Swimming Pool
The compact pool space has all the attention to detail, from the tonal floors and walls, to the interesting triangle ceiling and a cozy fireplace seating area.