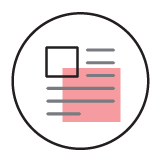 FFKR has embraced Virtual Reality and in the last year created a dedicated "VR Lounge" for engaging clients and owners. We pride ourselves in our ability to produce detailed and accurate photo-realistic renderings for the most discerning of clients. There is no question that FFKR has the skill to create at the high-level necessary for a stringent approval process required before moving forward with design and construction. Our commitment to innovation supports our clients, helps them minimize risk, increases their success thereby earning their trust has repeat clients returning to work with us. FFKR has even be hired solely for our 3D studio. Many companies know that pairing innovation with our expertise in architecture and design delivers a better product than hiring a stand-alone 3D studio.
Results of Visualization include:
Understanding of design choices in real-time
Avoiding costly project design changes in time and money
Improved design efficiencies
Educates the public and aids in raising funds
VISUALIZATION APPROACH
Our 3D Studio team exemplifies FFKR's commitment to industry leaders as they continue to make themselves the experts of visualization in the Salt Lake valley. They continually progress their skills and abilities with self-study or by attending conferences to learn about and incorporate new software plug-ins, programs, and tools.
VISUALIZATION TECHNIQUES
FFKR implements several layers and degrees of visualization depending on the needs and challenges of our projects. These techniques include photo-realistic rendering, fly-through, animation, and immersive virtual reality.
PHOTO-REALISTIC RENDERING
These are a static traditional conceptual communication for marketing purposes and primarily to communicate with the client and inform them visually of the aesthetic of the design throughout the design process.
For the Bond funding for Ogden City and Provo City School Districts, FFKR relied heavily on the conceptual 3D renderings of the schools during reach out meetings –where we displayed the conceptual images on boards for easy viewing and discussion– with the community to augment community education. The districts were both successful in passing their bonds.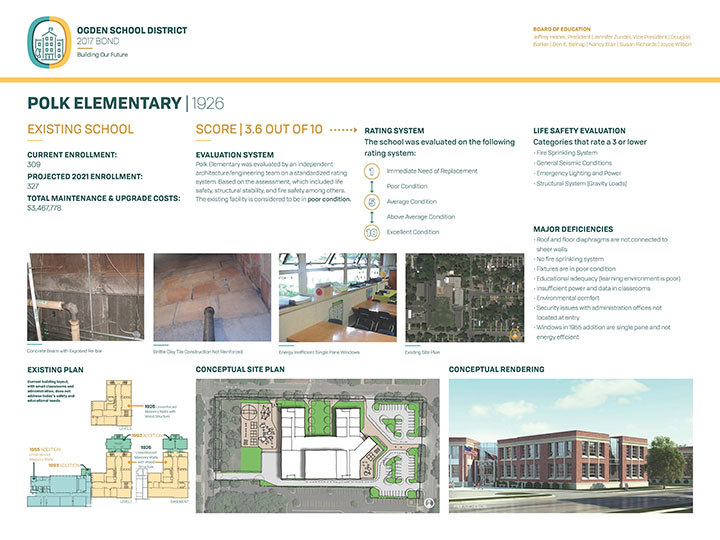 DRONES AND FLY THROUGH
Drones enable us to do fly-overs and capture video of a site quickly, where before you had to hire an aerial photographer which was quite expensive. The 3D team can track the motion of the drone exactly in world space and put it into our software where we add any 3D elements, such as a building, into the video.
The drone video removes the need to build the surrounding environment in 3D space and quickly places the context of your building on the site. It is the same method used for creating visual effects in a movie, and our team ideally wants the realness of the video and the 3D elements to mix and appear seamless. FFKR has applied this method in the conceptual phase to show a client their selected site and the potential of their structure in the area.
ANIMATION
Adding a moving camera through a batch of conceptual renderings of a built environment to tell more of a story. We use animation near the completion of a project as it can be an impactful medium to convey the idea or promote the coming of a project to a broad audience.
IMMERSIVE VIRTUAL REALITY
The newest and cutting-edge technology that we believe is also the most effective way to communicate the size, space, and materials of a conceptual project. VR has given us the ability to immerse our architects and clients in a building and even interact with and change it while moving (virtually) through the space before it exists. 
FFKR is applying Enscape software, a Real-Time Rendering & Virtual Reality for Revit, as a design tool to export our CAD drawings into a virtual reality experience within a few minutes. This quick process allows us to get our clients into their buildings. We want our immersive virtual reality experience to be so realistic and believable that every client feels familiar in their newly built structure because they virtually have been in it several times before. This software has diminished unexpected results and is aiding us in delivering dependable outcomes to our client. 
MAVERIK
FFKR met with the CEO of Maverik to familiarize them on how virtual reality could benefit their convenience stores. Initially, the brand used foam core material in a warehouse to construct models of their stores. FFKR generated virtual reality prototypes for the company that they could then customize by moving equipment or swapping out wall graphics. Maverik set up a Virtual Reality lounge at their headquarters where they can explore, create, and user-test interaction and experience in the VR environment. This modern process is quicker, cheaper, and more true to life than their previous method.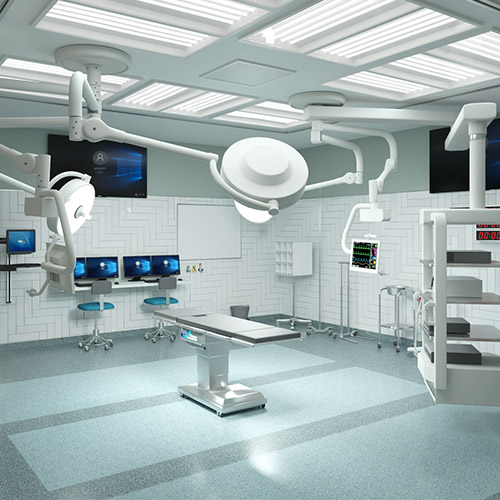 UNIVERSITY OF UTAH
Our Healthcare studio has also implemented virtual reality to communicate ideas and receive user feedback with the staff of the University of Utah. FFKR invited a large group of Operating Room nurses to come to our office and experience the VR of their future operating room. For several hours, the nurses tested out the ergonomics of the operating room, while our designers noted desired changes to the placement of equipment, location of clocks, and overall space planning. We were able to make critical revisions in the early design development stages that improved the efficiency and organization of the OR. VR is the best communication tool to present hard to read blueprints for the entire design team. It can also have profoundly positive effects and informed changes on design during the conceptual phase.
HOLDMAN STUDIOS
Tom Holdman, the artist of the successful "Roots of Knowledge" art installation at the Utah Valley University, has started on the concept for his next endeavor "Roots of Humanity." FFKR and our 3D studio are collaborating with Tom and his team to bring his idea to life, with visual renderings and experiences. These compelling representations are supporting efforts to obtain funding for the project. When Tom Holdman went into the immersive VR he described it as being in his daydreams –all his imagination created virtually– and he was able to walk through it. His permanent and complex structure is not easy to communicate in words only. With the help of our VR technology, we can transport potential donors into Tom's dreams. Amazingly, as soon as people enter the VR experience, they understand the concept immediately whereas looking at two-dimensional drawings could never capture what it's like to experience the building.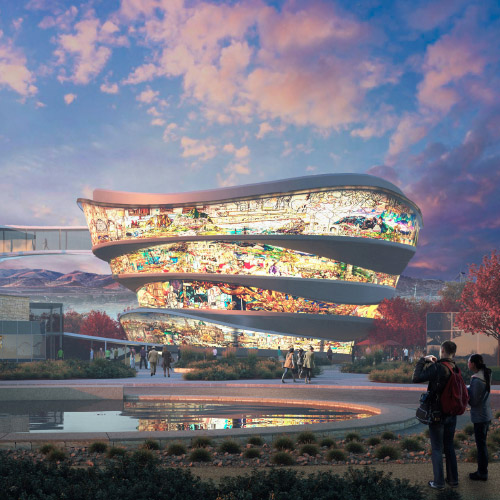 VISUALIZATION PROCESSES
FFKR applies our visualization services through any or all stages of the creation process. Some methods are used to convey concepts from the architect before plans begin, to communicate and receive feedback, and to promote and market a project.
In Conceptual Design we can show massing, size, scale, and proportions in a photo-realistic rendering. It can also show fine details like materials and lighting. This stage would also provide visuals to gain stakeholder buy-in, get support and funding, and gain consensus on design aesthetic.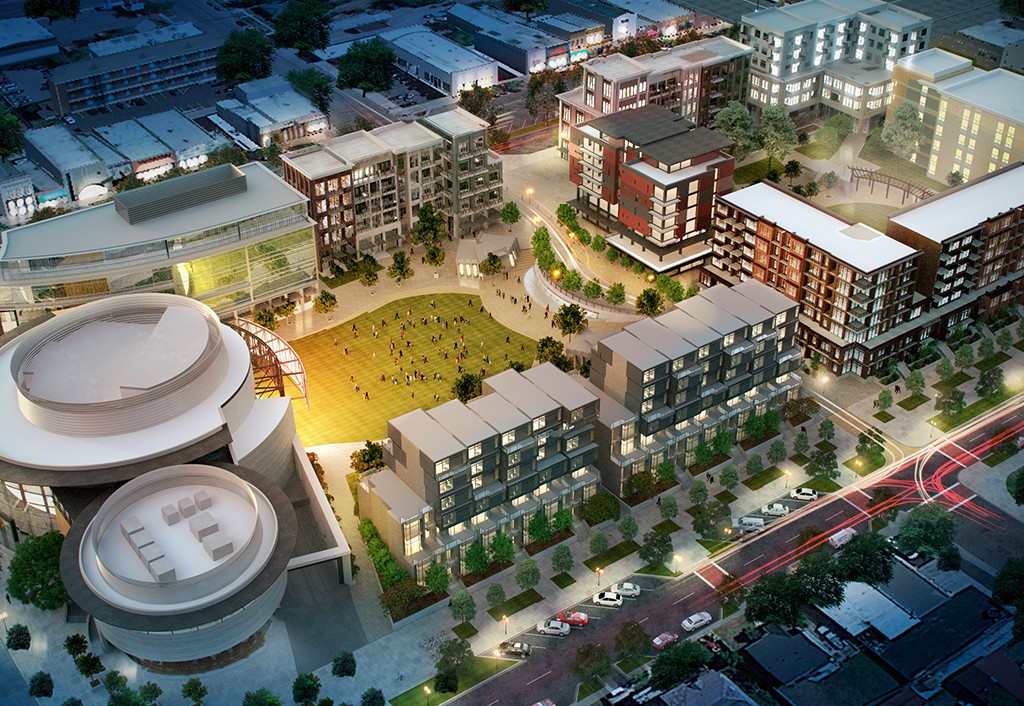 In the Design Development Phase, we can provide an iterative revision to the design as conversations with the client and stakeholders bring new ideas and rework to a project. FFKR's project architects and managers have also added a quick gray-scale Virtual Reality simulation of buildings or floor plans which are useful to gather immediate feedback from the client on updates in designs. This service is becoming routine on our projects and doesn't require much extra time or money in the design phase, but saves time and money in future steps by helping to locate and eliminate inconsistencies and inefficiencies early on or continuously through design.
For the final presentation phase a completed rendering, fly through, or animation can appear on a web-page, construction sign, or in promotional material. This phase of design is to gather interest or promote or announce a project. Even a full VR space can be applied for marketing purpose. The doctors from the Rehabilitation Hospital at the University of Utah asked FFKR to create the central portions of their new hospital in VR for a conference setting. They were able to show other academics and a national audience what the new space will be like while it is still under construction.