The Bernolfo Center for Global Vision is the home base for the Moran Eye Center's global outreach efforts. The 4,000 square-foot Center houses training lab and simulation spaces, equipment storage and staging, administration offices, touchdown stations for visiting international doctors, a team collaboration hub, and a telehealth-conference-project room designed for real-time connectivity with remote locations around the world. This space provides a co-located team environment that allows for collaborative problem-solving, quick mobilization for worldwide travel, and a platform for the cross-pollination of ideas back and forth between the center and remote field locations.
The center is designed to engage visitors and staff with the brand identity of the Center for Global Vision. The open environment, beginning with the glass entry off of the Moran lobby, invites passersby to enter and visually connect with the global outreach effort. This is reinforced through the use of bright colors, images, and objects brought back from outreach trips, transparent conference and office walls, and the minimal use of enclosed spaces. The result is a space that encourages exploration and shares the Center's mission with the broader public.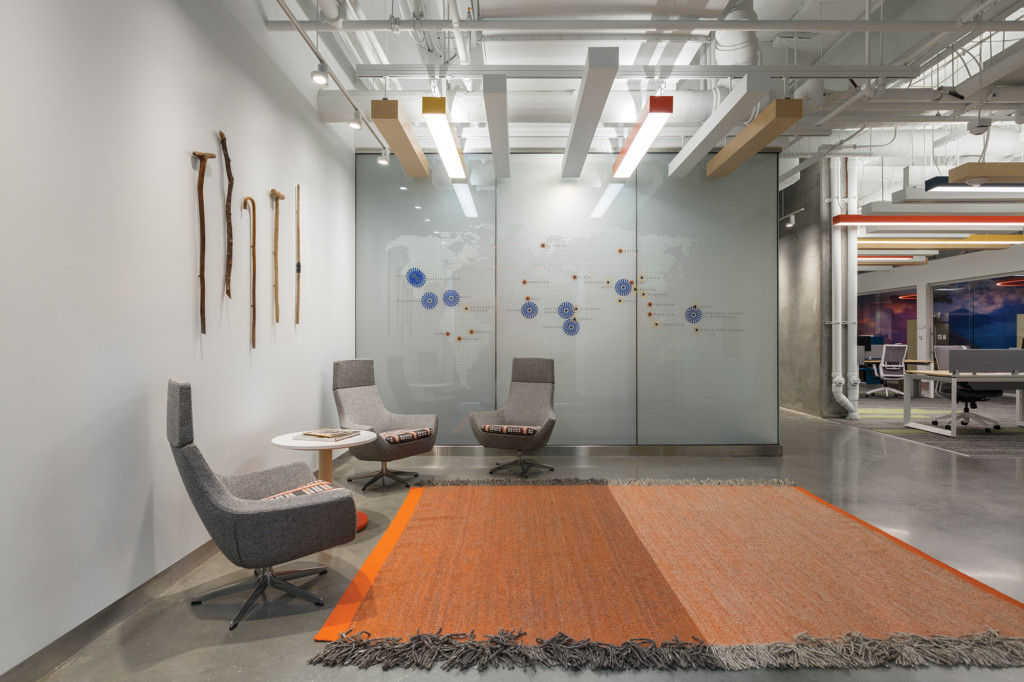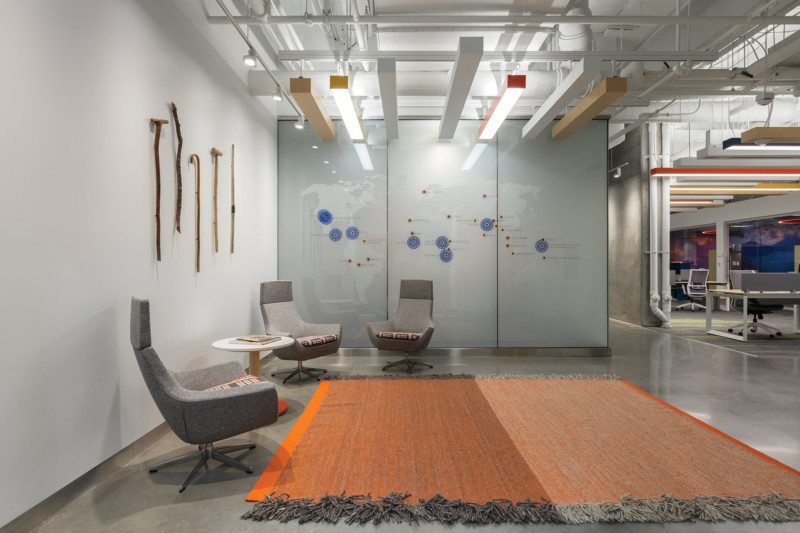 Telling the Story
In keeping with the guiding design principle of sharing the Center for Global Vision's work with the public, the entry incorporates both a graphic illustrating the Center's outreach locations across the globe as well as a wall display of discarded walking sticks, no longer needed following cataracts-reversing surgeries, collected from different missions.
Fostering Collaboration
The workspaces support the various functions performed, including private offices for full-time staff , hoteling workstations for visiting international doctors, and tele-capable collaboration hubs for team-based problem-solving with remote locations. The collaborative environment was reinforced through open workspaces and the use of glazing throughout to reinforce visual connections.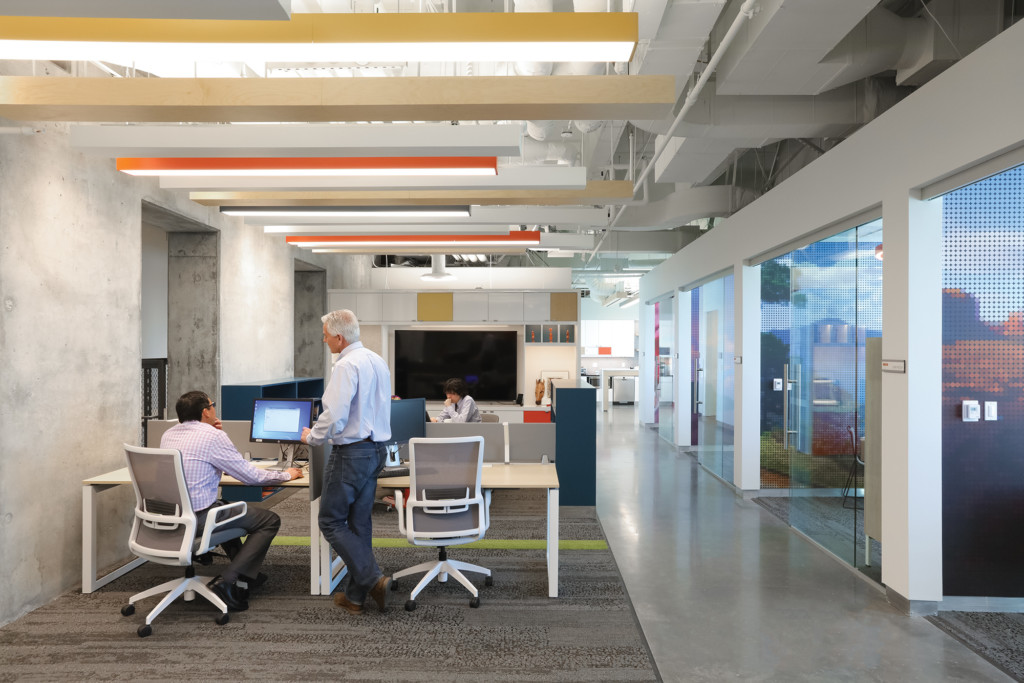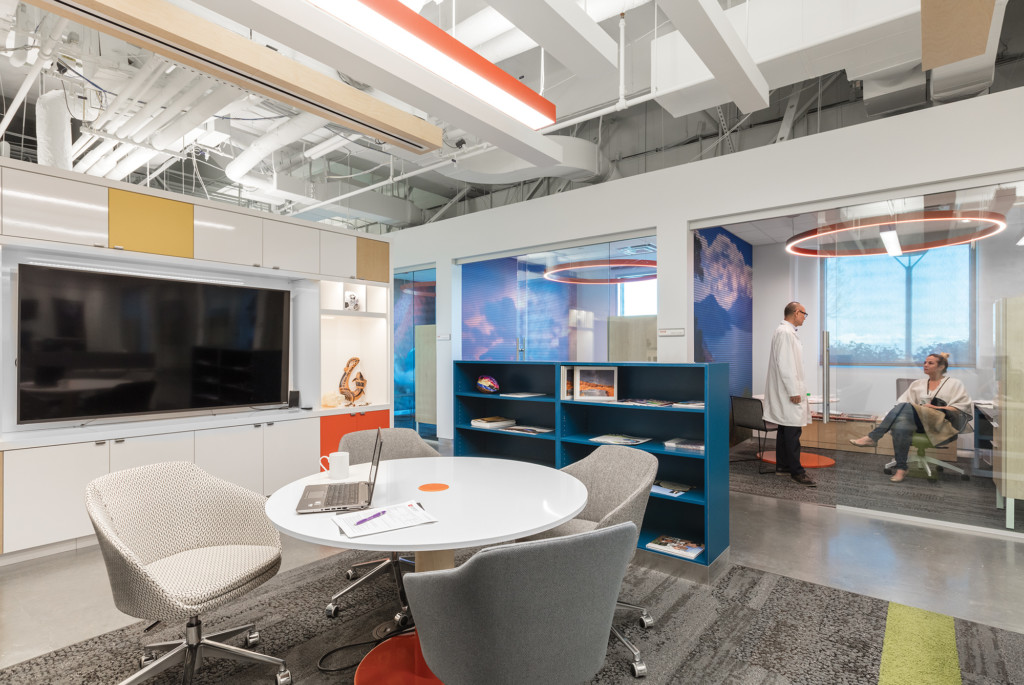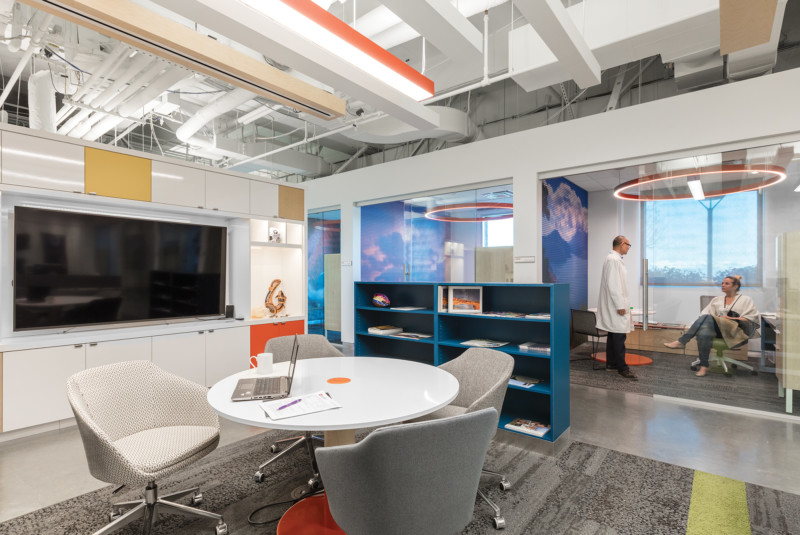 Color Guide
Colors and textiles used throughout the space further share the Center's global mission, pulled from photographs taken during outreach missions in South America, Africa, and Asia. These photographs were also incorporated into full wall graphics in each private office, creating a visual impact and sense of progression through the space.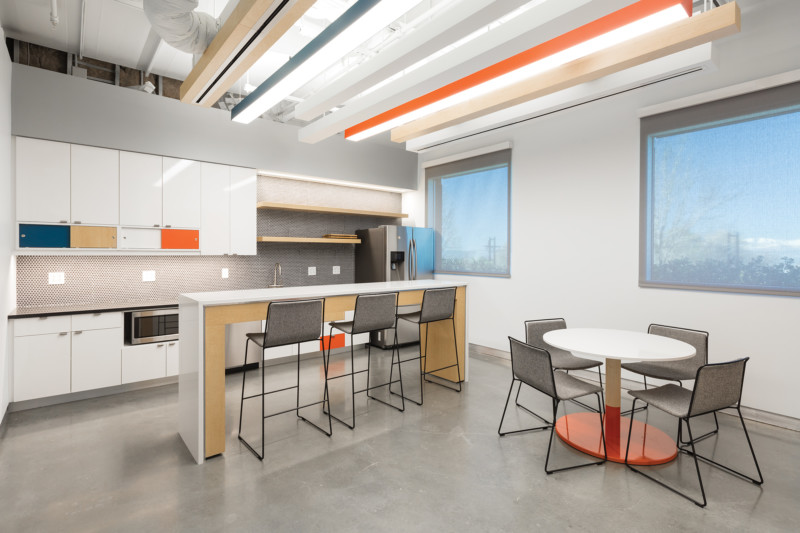 Designing for People
The kitchen serves as a staff break space as well as additional gathering space for meetings and events, offering multiple seating opportunities. The suspended linear ceiling 'clouds' of lights, air supply grilles, and millwork boxes help maintain a sense of openness to the above floor deck while maintaining a comfortable scale of space. The clouds also utilize materials and colors that reinforce the overall design intent.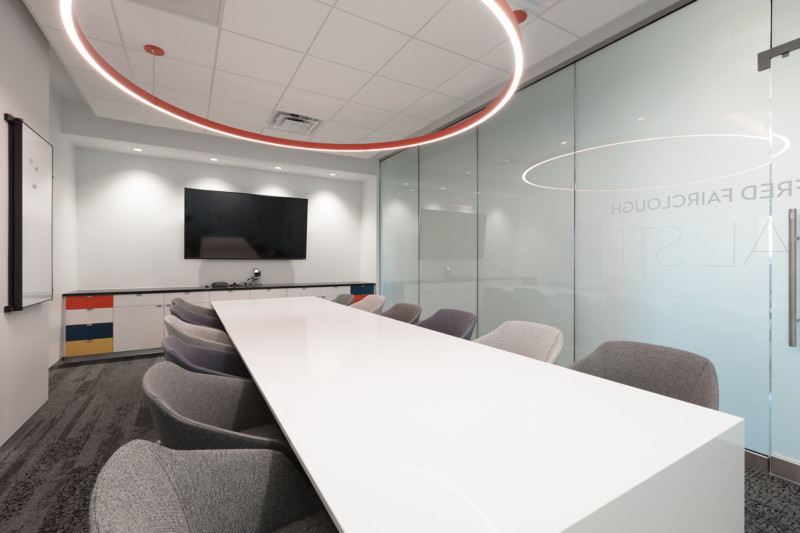 Coming Together
The Global Strategy Hub represents the heart of the collaborative effort involved in planning and executing ophthalmic medical missions across the globe. The tele-capable room allows real-time video meetings with remote locations, and the electric privacy glass can switch from transparent to opaque, allowing the room to utilized for telemedicine. Acoustic felt panels mounted on hinges along the wall pull double-duty as whiteboards when flipped.