The Huntsman Mental Health Institute is a behavioral health inpatient hospital and outpatient clinic associated with the University of Utah Healthcare. This project had three main goals; first, to double the size and capacity of the existing facility, second, to provide a welcoming and respectful patient intake process and experience, and third, to create a unified, healing facility that supports HMHI's message of hope.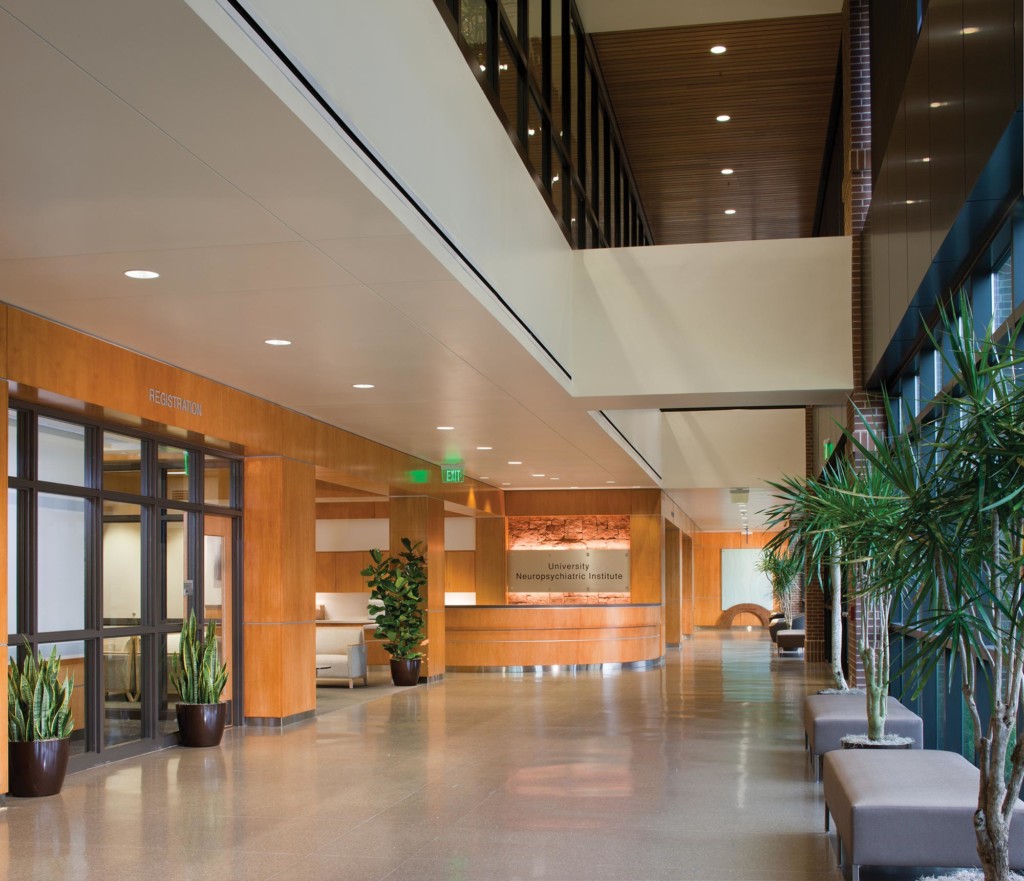 Hospital Entrance 
The design goal of the project was to create an environment which contributes to the de-stigmatization of behavioral health disorders. Upon entering the hospital the message one receives is that this is a good place. The environment is bright, warm, and friendly. There is no hint of institutionalization. Patient and staff safety are provided for, but the provisions are not apparent. Common dining space and other amenities are beautiful and inviting.
Expansion and Renovation
The addition also provided a new main entrance for the facility, reorganized patient intake functions, created staff and visitor entrances, and placed kitchen and dining facilities in a central location. Recognizing the therapeutic benefit of the natural environment, FFKR designed the building so that each space benefits from views of the surrounding mountains, hills, and valleys.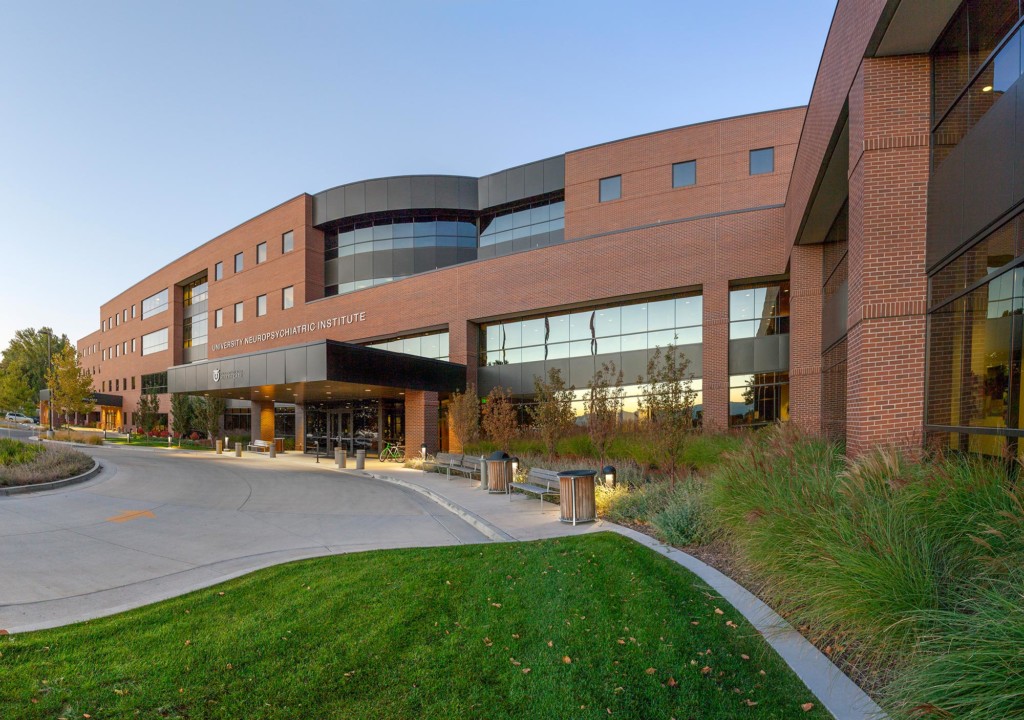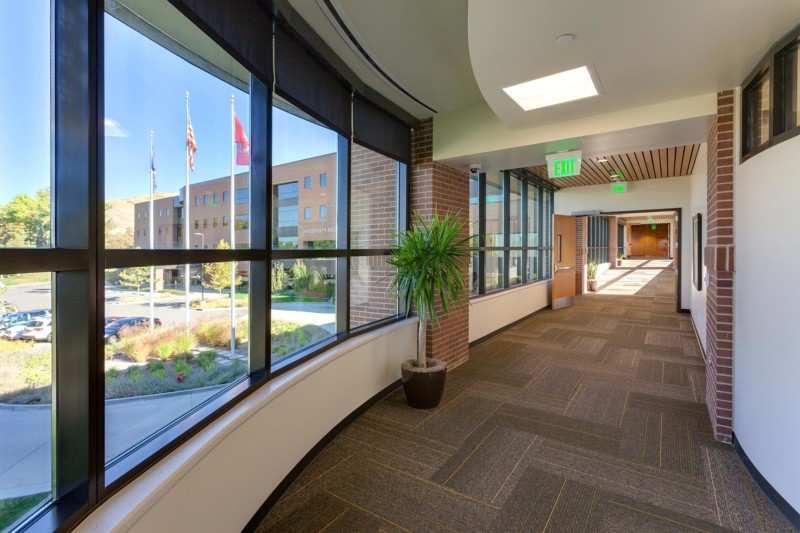 Circulation
The 120,000 sf expansion effectively created a new 80 bed stand-alone inpatient hospital. Once complete the majority of patients and staff were moved out of the original building, which was then remodeled. The existing inpatient rooms were refurbished, and other space was repurposed to compliment the function of the new building. The circulation spines of the old and new buildings are continuous, and the result of the planning and design is a seamlessly unified hospital.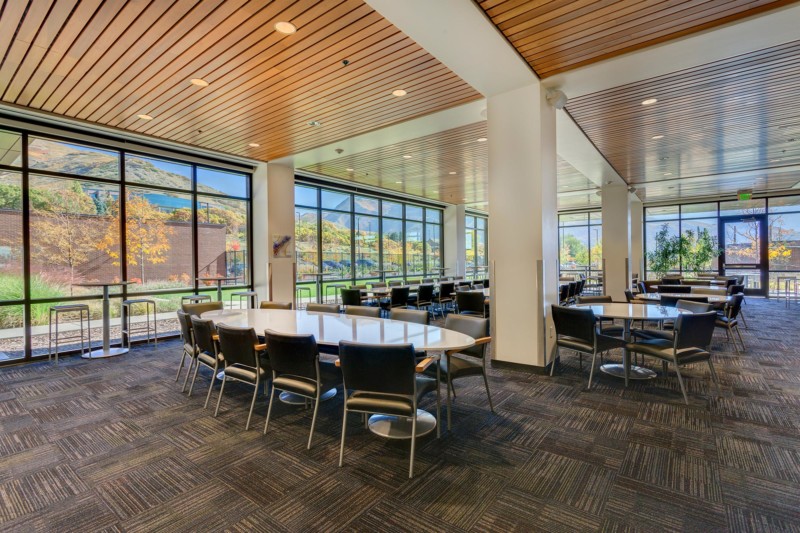 Patient & Staff Dining 
The project features a new kitchen, dining room, and outdoor garden spaces to serve the patient focal point of the complete expanded hospital. These elements were strategically located to take advantage of the sites most spectacular views and to be at the center of the main circulation spine serving the patient units of both the original and new building.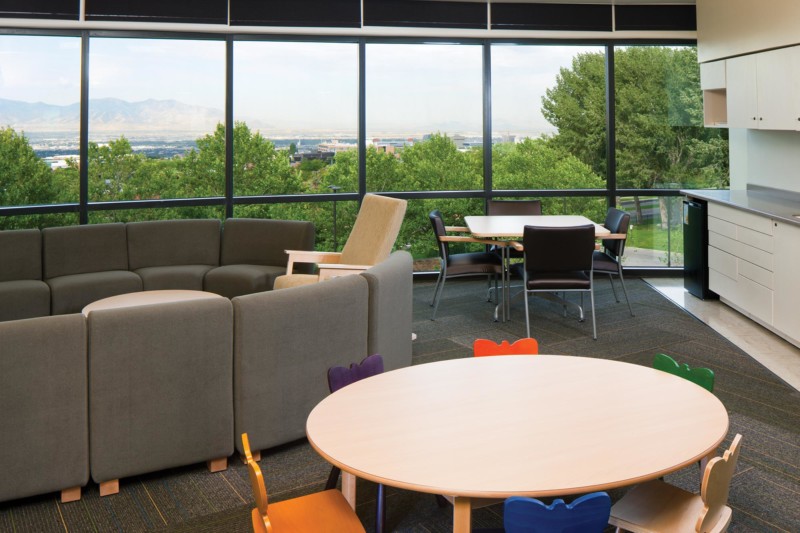 Children's Room
Patient care units of the new building are designed to provide optimal patient-to-staff ratios. Levels 3 and 4 each contain two patient care units separated by flex rooms that can be assigned to either unit depending on the patient census of each specialty unit. The driving concept of the unit design is to encourage patients to spend their time in patient activity areas with other patients, and minimize time spent in their rooms alone. The design places patient activity spaces near the nurse's desk so patients can be monitored, and cannot return to their rooms unnoticed. Patient activity spaces are located and designed to optimize access to spectacular views of nature.