As the first commercial development in Daybreak, a 4,126-acre master-planned community along the foothills of the Oquirrh Mountains, the Rio Tinto Regional Center has set the environmental standard for future commercial development in Daybreak.
Sustainable site design strategies for the project included the installation of a high albedo roof, the exclusive use of concrete for hardscape, and planting only native species in the softscape areas. The highly efficient cooling system enabled the project to exceed the energy conservation code requirements by 20 percent, and on-site renewable energy was incorporated into the project through the use of photovoltaic arrays installed on the roof.
Design of this corporate center placed special emphasis on the streetscape and the pedestrian experience. The design of the exterior skin incorporated durable and enduring materials such as metal panels and architectural precast panels.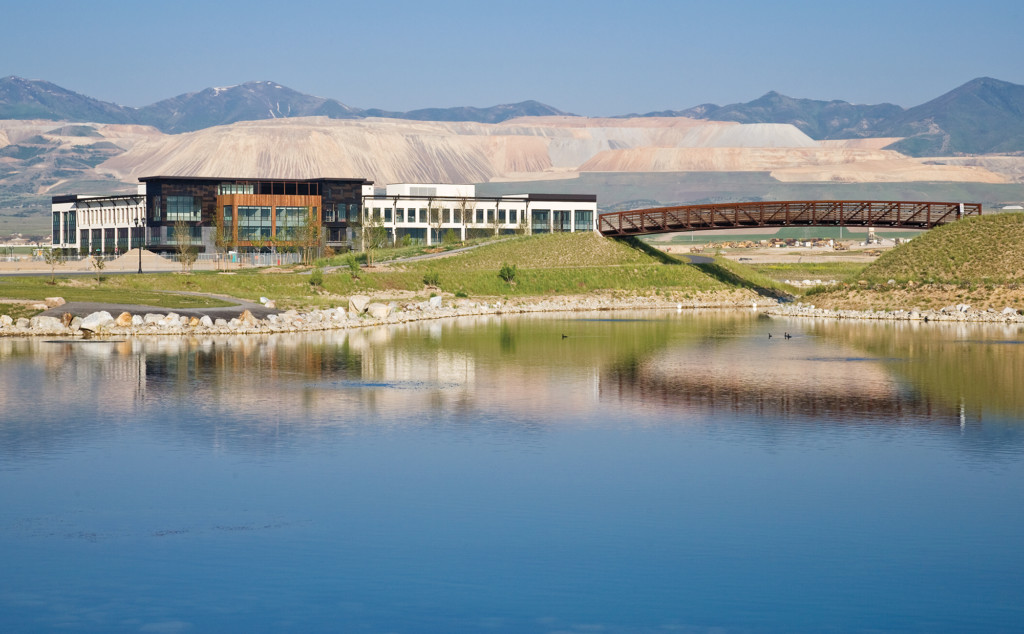 Sustainable Development
The Rio Tinto Regional Center land plan is special in that it sets high standards for sustainable development. The Center, which is the first certified LEED Platinum building in Utah, has set the standard for future commercial development in Daybreak, and has inspired other developers in the state to do the same. A primary objective was to provide a healthy and productive working environment. This was done with careful attention to low emitting materials, pollutant control, air quality monitoring, and access to abundant daylight and views of the mountain ranges that border both sides of the valley.
Walkable Communitites
The Rio Tinto Regional Center Master Plan is based on walkable communities and calls for a pedestrian scale for all development. The challenge was to bring a very large building down to a pedestrian scale. This was achieved by the placement of the building on the site and the shape of the building.  The pedestrian scale was further achieved by the choice of exterior materials and the breaking up of the massing. Several different materials were used: wood, metal, pre-cast concrete, and EFIS.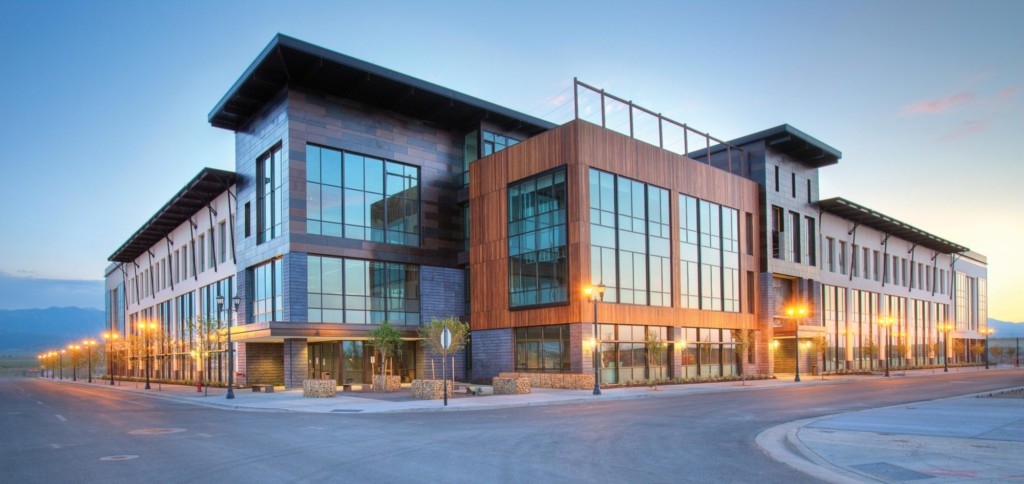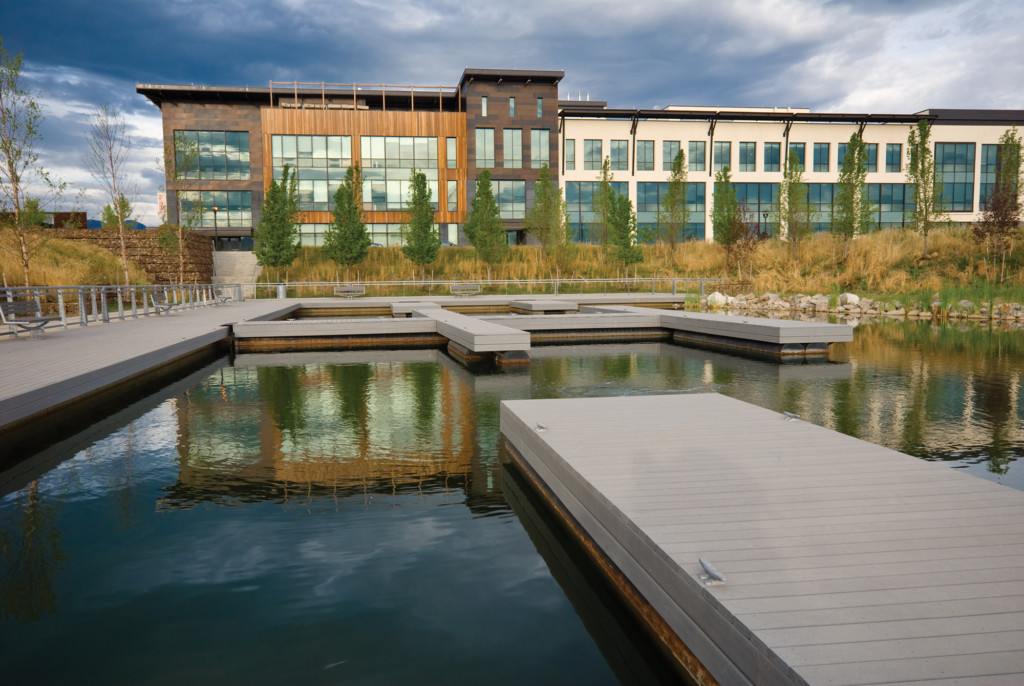 Habitat Creation
Habitat creation is also an important part of the master plan. This building responds by its regional planting and the preservation of open space on the site. Part of the site includes a large man-made lake which provides habitat for several species of birds, mammals, and fish.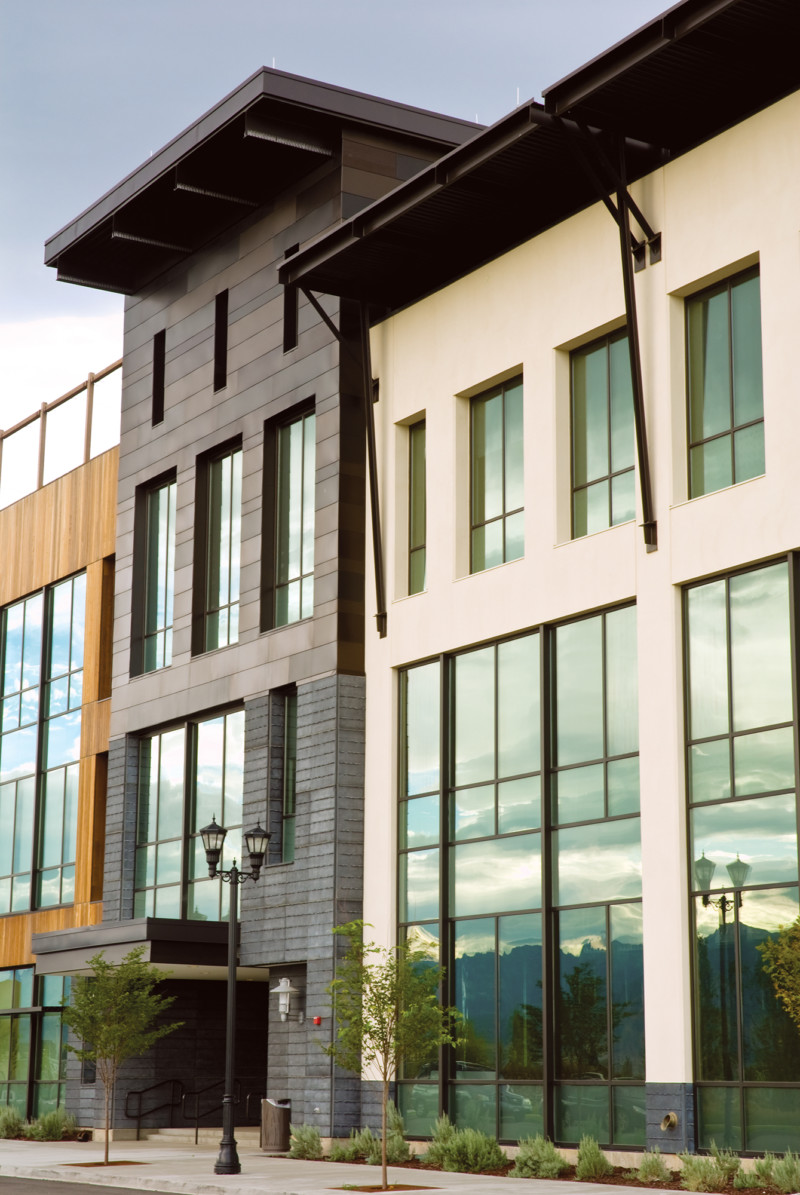 Solar Design
The Rio Tinto Regional Center corporate office building responds to the master plan of the Daybreak development, which anticipated the use of passive and active solar design. The building uses both active (solar panels) and passive (daylighting and sun shading) strategies.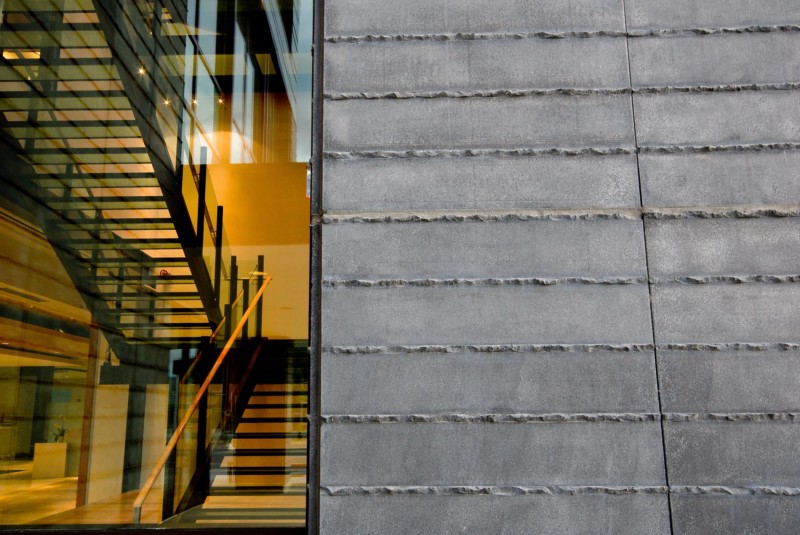 Light and Bright
90% of occupied spaces have access to daylight and views.