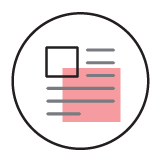 Architects and Developers have often been considered the canary in the coal mine when it comes to economic downturns, and its proving to be correct during a pandemic as well. Private developers and cities have been tasked with the difficult decision to put projects on hold or delaying them for many different reasons. The first hit by the Coronavirus was hospitality; hotels across the country shut down and developers shuttered development plans for many hotels worldwide. Beloved tourism destinations like Disney Theme Parks and most of Las Vegas are ghost towns.
Unexpectedly, but fortunately, apartment development has taken a slightly different path. Lenders are delaying funding, and investors are holding on to cash, but this is a short-term delay. The housing crisis is very real, and development is still pushing forward. The unfortunate situation is that many deals are taking slightly longer to develop, but they are moving forward. This global pandemic will have a lasting effect on development as many developers look at construction methods, who their target market is, and what amenities they provide.
To date, at least in the Rocky Mountain Region, class A market-rate housing has been the driving force in apartment development, with cities begging for more affordable options. In discussion with several local developers, this trend is on the decline, and many are anticipating a shift to more affordable developments. This trend could mean a rise in more affordable construction methods and a decrease in large podium developments. Though, in the heart of Salt Lake City, it is anticipated that vertical buildings will still be a primary means of development to meet increasing demand in the urban core and on constrained infill sites.
It is, however, unknown what this pandemic could mean for construction costs. For the last few years, construction costs have followed a steep upward trajectory as both material costs and labor are increasing. However, only a few months since the pandemic reached our shores, we have seen a significant cut in the cost of lumber. Will labor follow that trend as more Americans find themselves unemployed? Will the softening of trade wars help reduce material costs? It is too early to tell, but many developers are anticipating this, and some are holding out to see if deals can begin to pencil.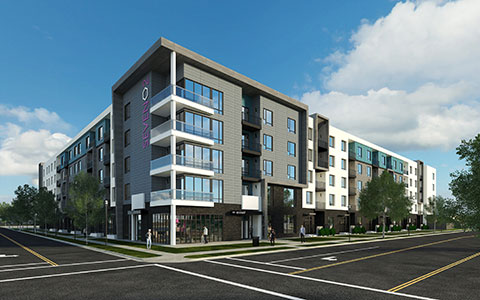 What does this all mean for Architects and Designers?
Developers have already begun to consider Social Distancing guidelines in the design of apartment buildings. Many are requesting touchless entry systems, as you would find in grocery stores and hospitality projects. Smart systems in both apartments and common areas are becoming ever more popular; voice-activated lights, occupancy sensors, and touchless entertainment controls are just a few of the many changes we are looking to implement in new projects.
Incorporating Co-working Spaces
The global "Stay Home, Stay Safe" initiative has forced many Americans to begin working from home, posing many common issues nationwide. Overtaxed broadband networks, kitchens converted to home offices, and virtual meetings are part of the new norm. For apartment dwellers, this poses an even more significant challenge as space is at a premium in smaller square footage. Today, many apartment developments provide co-working spaces. For the new "work from home" workforce, having options such as large and small conference rooms, small breakout spaces, hotel desk stations, and shared printing services are the new must-have amenities. The ability to socially distance and still feel part of a community is going to be an important part of creating a lasting effect on tenants.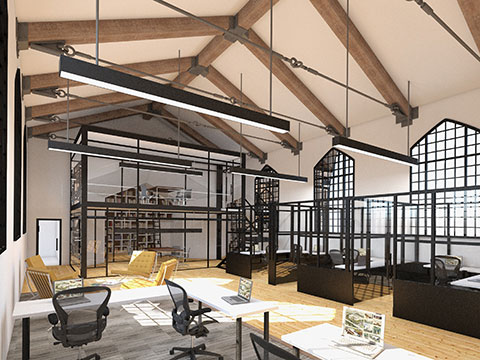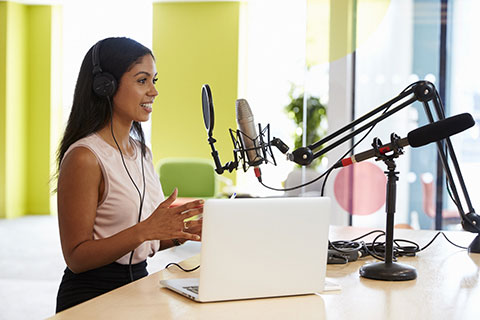 Social Media Studios
Another unique amenity that we have been exploring is the provision of a social media lounge. The stay home initiative has given rise to new YouTube sensations, podcasters, and has created a growing desire to connect socially with our friends and family in new ways. These new social media lounges are a possible groundbreaking amenity that can help provide tenants a place to film, record, and socialize in the comfort of their own living environment. Soft sound absorbing-materials, high-end camera equipment, lighting, and elegant backgrounds make for a more professional YouTube show, Zoom meeting, or podcast.
Famous faces such as Dax Shepard and John Krazinski have found phenomenal success with at home shows. Still, many young Americans are finding these social media platforms to be an excellent opportunity to connect from a great distance. Some clients are even branding these studios and creating spaces that feel almost akin to professional film sets.
Future of Fitness Centers
"Stay Home, Stay Safe" has many families, husbands, wives, and even children, finding unique ways to work out in their basements. Outdoor sports such as running, biking, and walking, while maintaining a safe social distance, give many Americans a short respite from the confines of their homes. Most of the country has begun the slow transition of opening our businesses, gyms amongst them. However, the current health scare has most Americans rethinking the spread of germs and viruses, which may affect how swiftly they return to the gym. It begs the question; will Tenants return to their buildings' fitness center?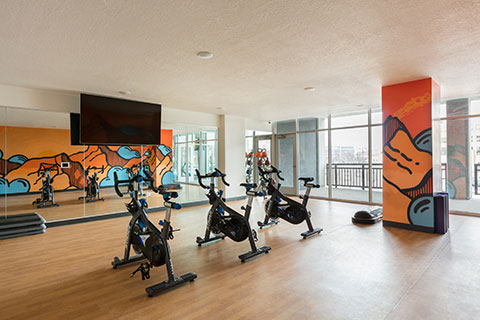 The majority of renters may, and they'll bring a new level of disinfection with them, but many people may want personal workout spaces. Many apartment communities offer large workout spaces with digital programming, but the future fitness amenity may be smaller private studios designed for personal fitness. The ability to disinfect a piece of equipment is merely one concern. Still, the heavy breathing, sweating, and release of saliva and sweat from an adjacent fitness buff may force some to seek alternate fitness solutions. Many of our clients have been exploring personal fitness spaces that utilize unique software platforms such as Peloton, Daily Burn, and Mirror fitness. This forward-thinking may make fitness in apartments a higher priority for all tenants.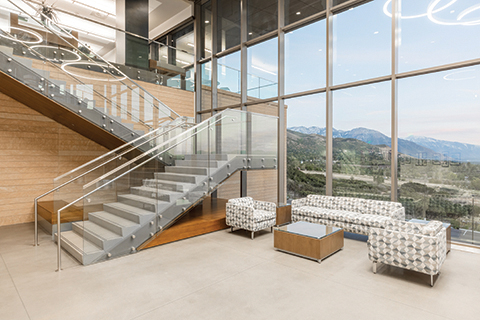 Unit Design
Developers are very concerned about keeping tenants safe and aiding in social distancing efforts during this pandemic. How do we design apartment communities that can assist developers in making these communities safer? Narrow corridors are cost savings and, unfortunately, they are a reality for most apartment communities, but with the advent of social distancing, these may become a thing of the past as developers explore ways of creating safer circulation methods. Elevators can be frightening when you are hoping to distance yourself. One option to consider is a renewed focus on designing stairways that are more inviting and elegant rather than merely secondary egress methods.
True, technology has been changing the way apartment units function for many years now. Companies such as Vivint and Dwello have been changing how we control and interact with our living environment, while companies like Amazon are developing new ways for groceries to be delivered. In a world consumed with worry about spreading germs, will these new delivery methods need to change? Many of us are taking advantage of curbside pick-up, but what if we could take the stairs to the ground level and pick up our groceries from a refrigerated delivery machine. Currently, companies such as Amazon and Kroger are providing delivery of groceries to these machines in apartment buildings. In some communities, they are developing concierge services to deliver groceries to tenants directly.
Property developers are also considering unit mixes in their new properties. Many clients are looking at increasing two-bedroom units to provide a home office for tenants. Others are looking at more unique plans that integrate a den or study nook for the same purpose. Studio apartments are becoming less open to provide tenants smaller break out spaces for privacy when working from home. Some developers have even begun exploring the option of co-working spaces on each floor, while others are looking into adding built-in desk space in kitchens and entry corridors.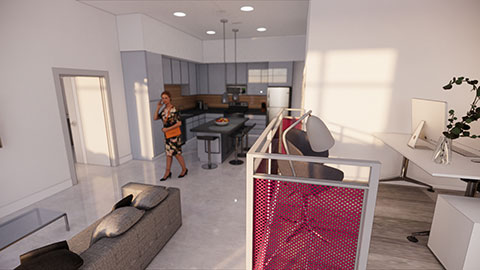 Regardless of when the Stay Home Orders end, the new normal is going to look much different, and architects will be thinking outside the box to develop unique solutions to multifamily design.  Social distancing may linger, many employees may adjust their work schedule to include several days of working from home, and, for the foreseeable future, tenants are going to be concerned about spreading germs. Working together, developers and architects will address these concerns and produce the next generation of housing solutions.