This 27,000 square foot Miwok Tribal Administration building is an important project for the Shingle Springs Band of Miwok Indians located in Shingle Springs, California. The scope for the work started as a utilitarian building to house administrative functions for the Tribe. As FFKR began to work with the building stakeholders and users, it became clear that the Tribe needed and wanted more. They became aware that the Community lacked a place to tell their story to the community, a story of history and culture. With the support of forward thinking Tribal Leadership, FFKR was able to help them enhance the original project program use to tell their story from a unique cultural perspective through the architectural plan, elevation, and material selections.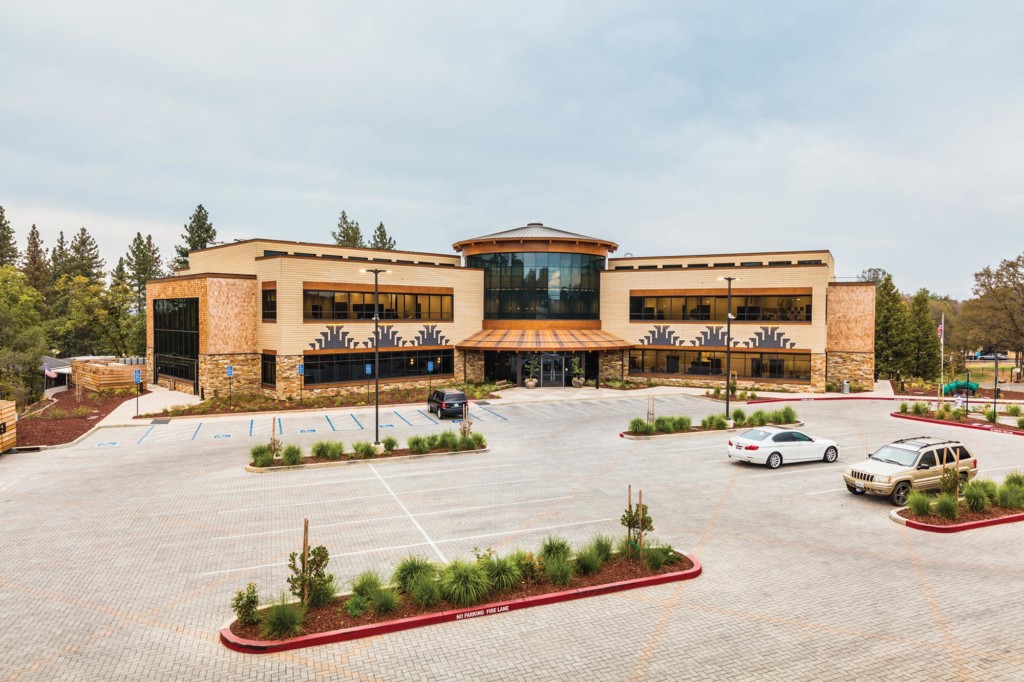 Warm Exterior
The exterior materials are warm in color and texture, to create a comfortable, natural feeling. The shingle pattern at the stairs is inspired by historical Miwok architecture.
Cultural Elements
The pattern at the main façade echoes the ancient pattern for the 'Maidu Mountains', which is a reference to their ancestral tribe. In addition, the use of fritted glass and variegated wood siding at the rotunda entry is used to interpret the 'Flicker', which is a sacred quill headdress used in ceremonial dances.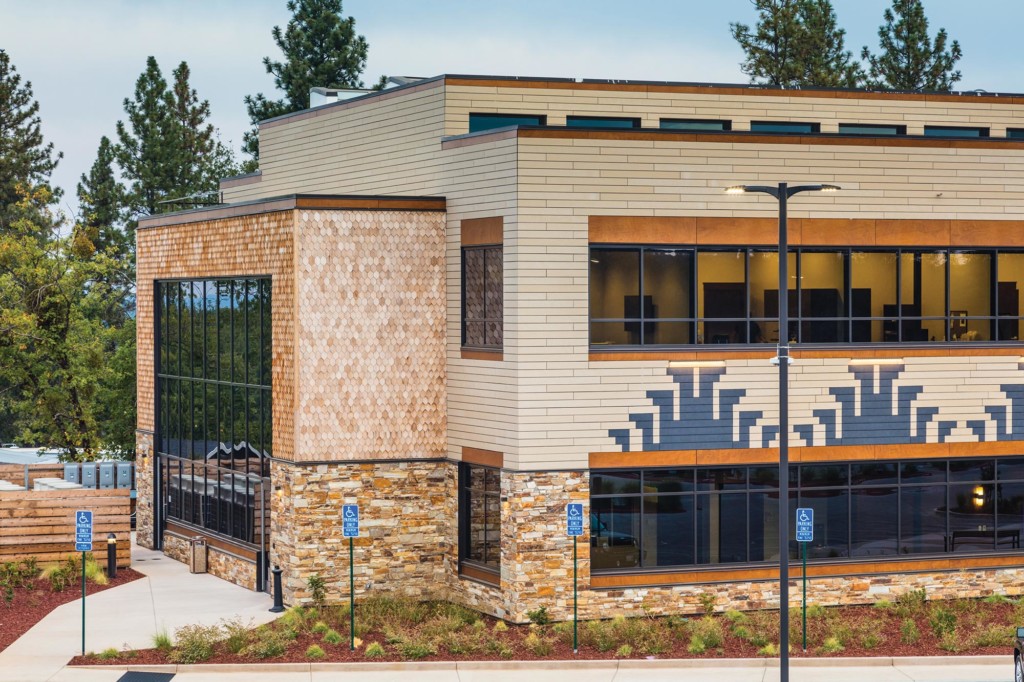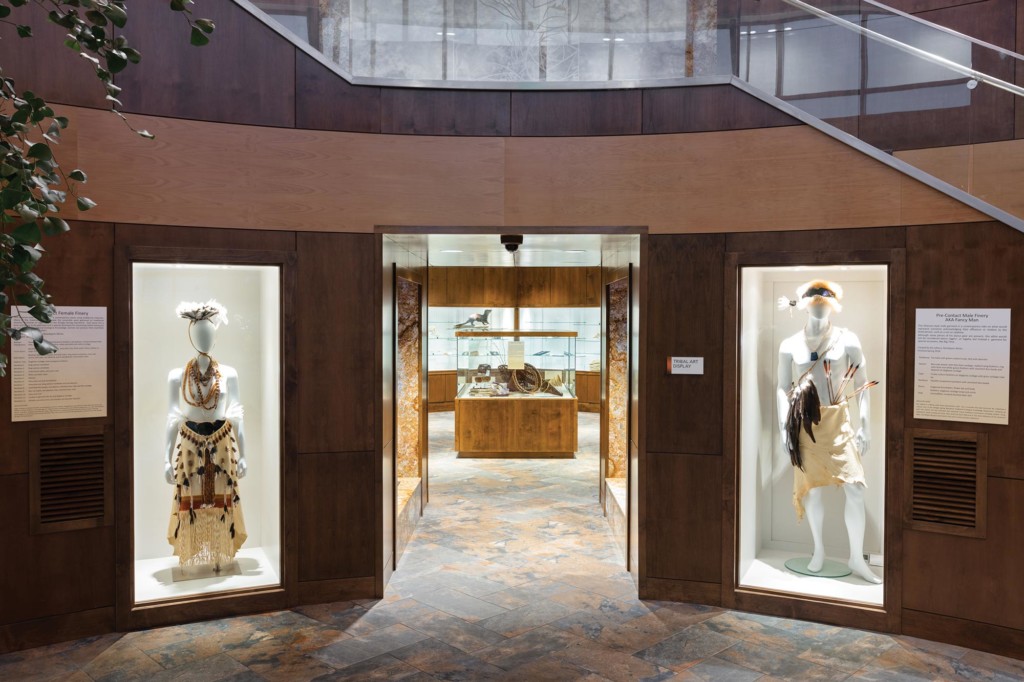 Heart Center Display
A Tribal Art Display to display artifacts was added to the 'heart center' of the building, placed in a public area so that native users feel a sense of heritage and ownership of the Miwok Tribal Administration building, as it is a place that operates specifically for their people.
Gathering in the Rotunda
Once inside, the user walks into a large rotunda, which is a nod back to historical Miwok architecture with circular gathering spaces. A waterfall at the landing of the circular stair is adorned with original artwork from a Miwok tribal artist, describing a scene from the creation story.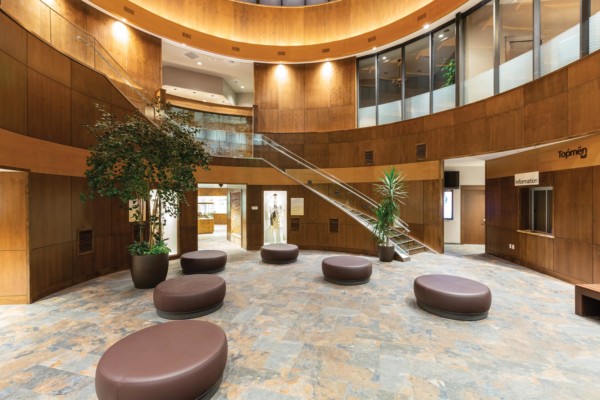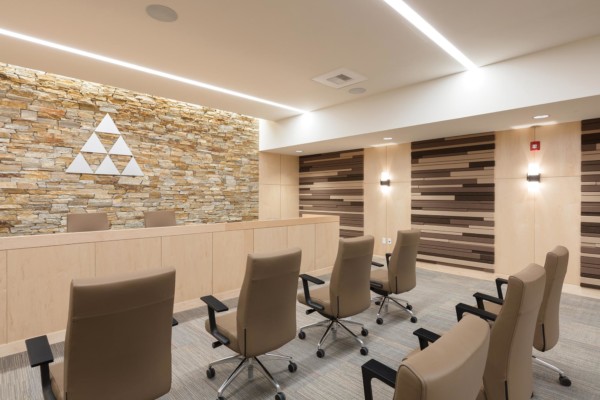 Tribal Council Room
The council and conference rooms throughout the building also represent important cultural elements, such as earth, water, obsidian, and the tule plant. Materials and furnishings are meant to describe the specific nature and significance for the Tribe for each of these elements.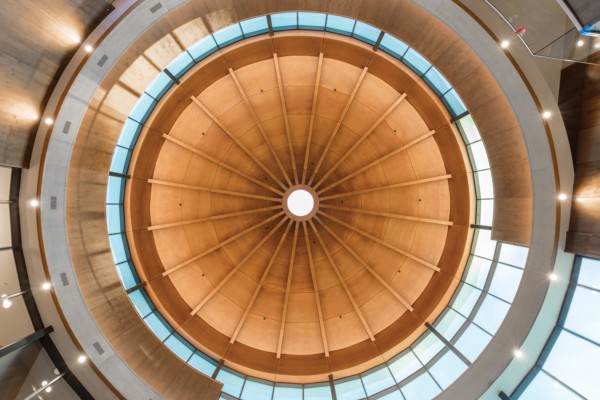 Rotunda Ceiling
Working with this tribe was a beautiful learning experience in culture and history. We feel fortunate to be able to incorporate heartfelt meaning into the spaces that the building users will inhabit.