The new Olympus High School comprises a complete rebuild on the campus of the original 1952 school in Holladay, Utah. At only 27 acres, the site calls for a concise, efficient design and creative phasing. The school stayed in session in the original building while the new facility was constructed.
Features include:
A community-specific design befitting the architectural context of the neighborhood.
Space for 1,750 students and 76 teaching areas.
Labs to accommodate a forward-thinking curriculum, including a pre-engineering lab, a prototyping lab, and a computer design technology lab.
State-of-the-art auditorium and black box theater to support the school's strong tradition of performing arts.
'Student commons area designed to capture inspirational views of Mount Olympus.
Three-story classroom wing that integrates academics with career and technical education.
Natatorium with a 25-yard competition pool and a 250-seat gallery.
Outdoor student amphitheater and plaza adjacent to the student commons.
Six tennis courts, and new baseball, softball, and soccer fields.
Updated eight-lane track, artificial turf football/soccer field, and a new stadium.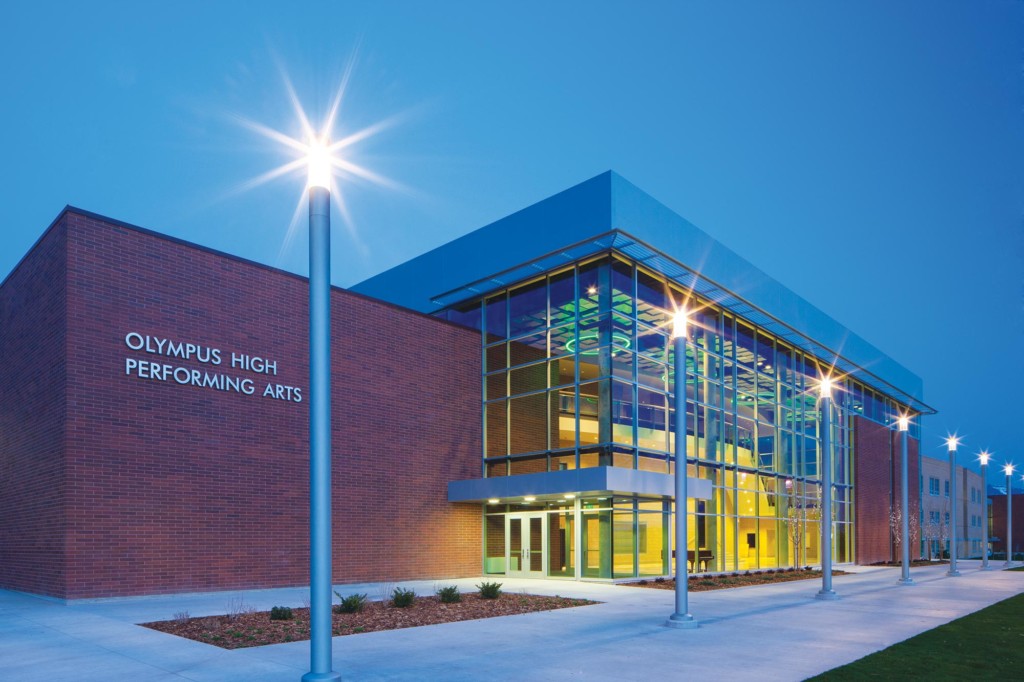 New & Improved
The new Olympus High is a complete rebuild on the campus of the original 1952 school in Holladay, Utah. At 27 acres, the site called for an efficient design and creative phasing. In collaboration with an enthusiastic community and faculty, the design solution is a tailored reflection of many voices. Architectural details and the material palette emulate the much loved original school in a modern way. 
Student Commons
The student commons is a multi-use space designed to enhance students' social experience. Located adjacent to student parking and gymnasiums, the commons encourages students to congregate, promoting school community and spirit. The commons extends outdoors to a courtyard amphitheater, thoughtfully connecting students to the environment. The bright, vibrant commons frames a stunning view of Mount Olympus; the school's namesake.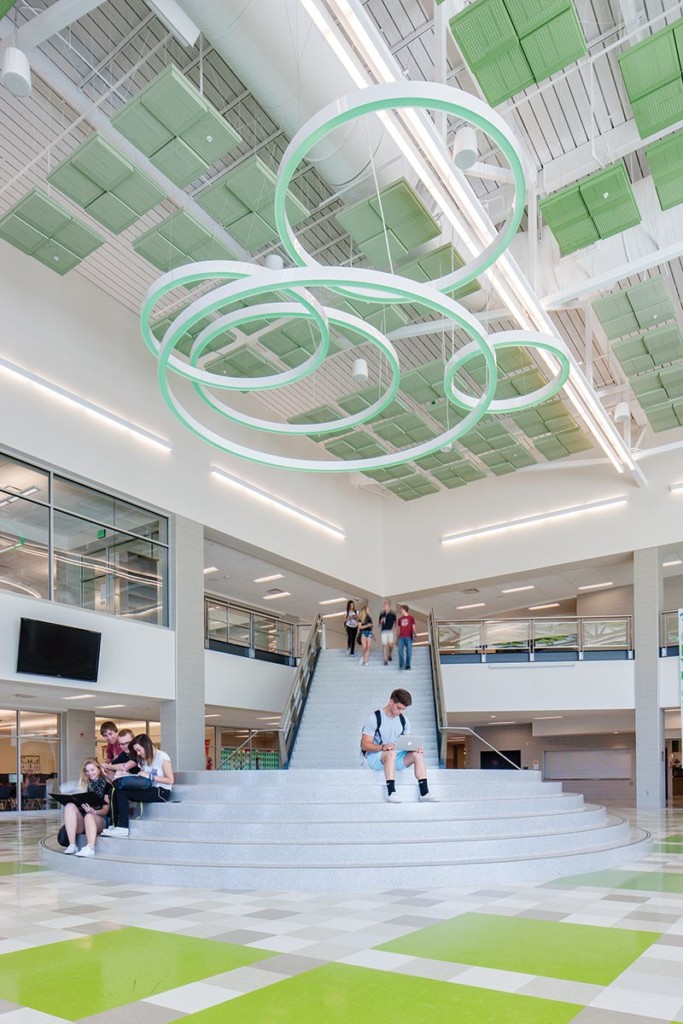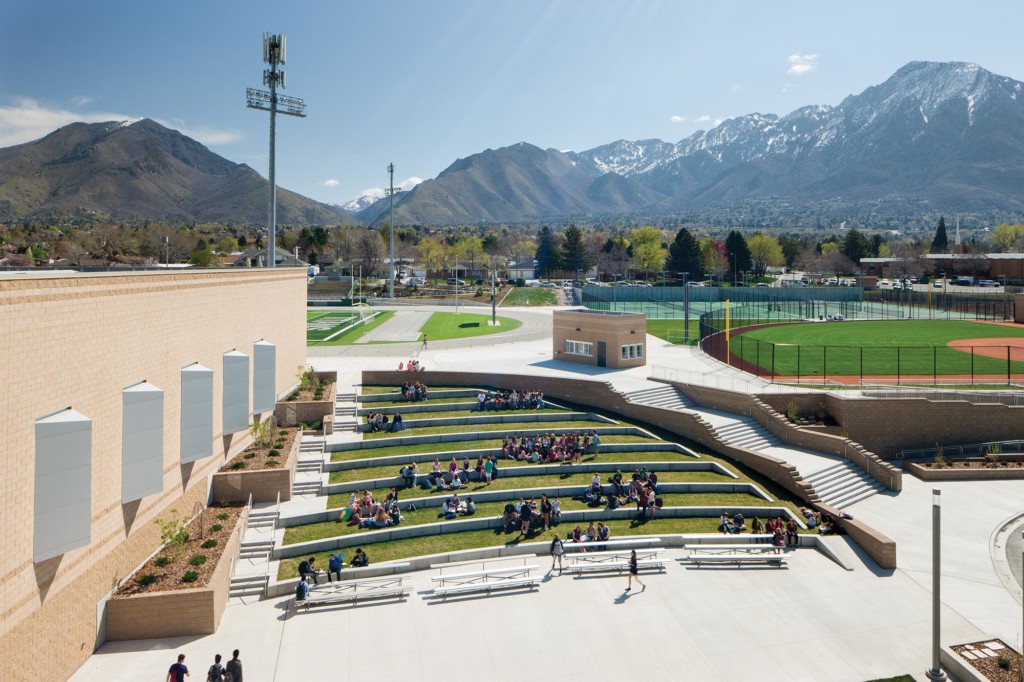 The Campus
Student specific areas such as the play fields, commons, and student parking are oriented to the residential neighborhood end of the site, effectively creating zones on campus.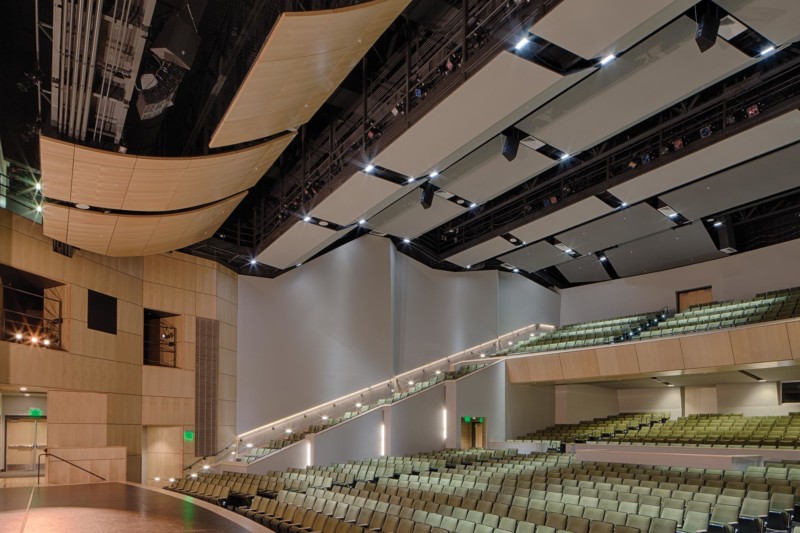 Auditorium
A state-of-the-art auditorium was designed to support a strong tradition of performing arts at the school. The Performing Arts building is anchored on a commercial corner of the site to garner community recognition.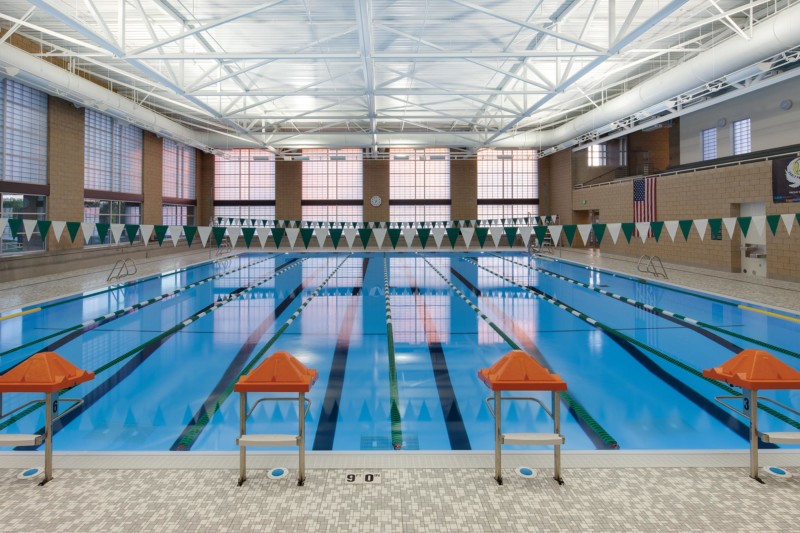 Innovation
The Natatorium is a replacement competition pool designed for student and community use. At 14,000 square feet, the freestanding structure features an eight-lane, nine-foot depth, and 25-yard pool. A gallery located above the locker rooms provides elevated seating with unobstructed views for 250 spectators. An acoustic roof deck ensures an audibly clear space for coaching as well as for lively swim and polo meets. The introduction of glare-free natural light through the use of Kalwall windows delivers a tranquil and inviting space for daily training. Constructed of modular laminated steel panels, the Olympic-quality pool tank is a low-maintenance solution for Granite School District staff.