Utah's emergence as a player in the high-tech sector—with a cluster of information technology, software development, and hardware manufacturing for enterprises such as the NSA Utah Data Center, Adobe Systems, IM Flash, and SanDisk—has resulted in a new name for the south end of the Valley: the "Silicon Slopes." The strong growth of this sector has driven a high demand for housing for professionals in the area. The Riverwoods South Apartments comprise a mix of multi-family townhomes: one-, two-, and three-bedroom units across from a popular local shopping mall and adjacent to several bike trails. 
Amenities tailored to the professionals who want to live and work near the tech cluster include on-site parking, bicycle storage, and maintenance spaces, a pool, a dog grooming area (as well as a dog run on the property,) a clubroom. and a lounge. It's the details that make this housing development attractive to active people. The development will also include a number of retail pads and a pharmacy space.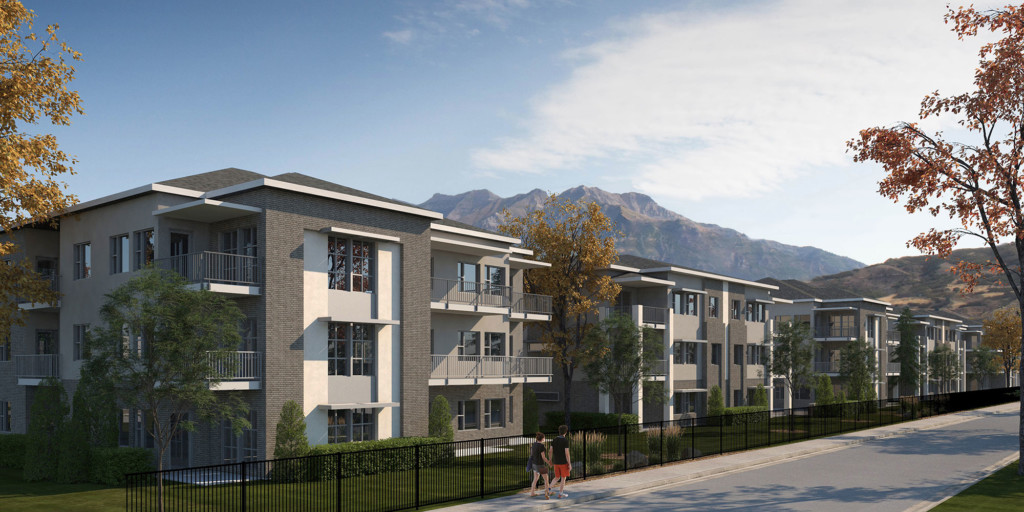 Apartment Village
The original design began with a row of elegant townhomes that allowed a soft transition from the neighborhood community to the more dense apartment village. The design has since been replaced with single-family lots that do much the same thing at a smaller scale.
Centrally Located
The Riverwoods Apartments sit on the corner of 4800 North and University Ave, in Provo, Utah, and creates a gentle transition from the residential neighborhoods to the south and the Riverwoods shopping center to the north. It houses 216 apartment units with a rich variety of amenities.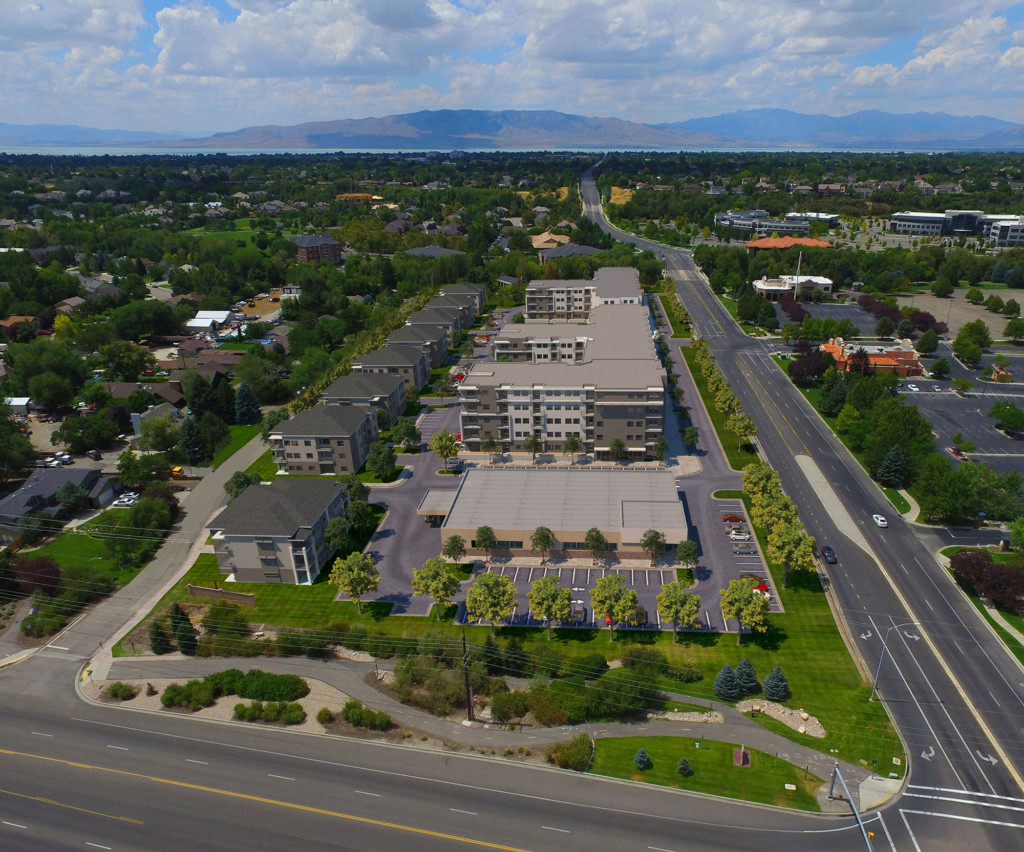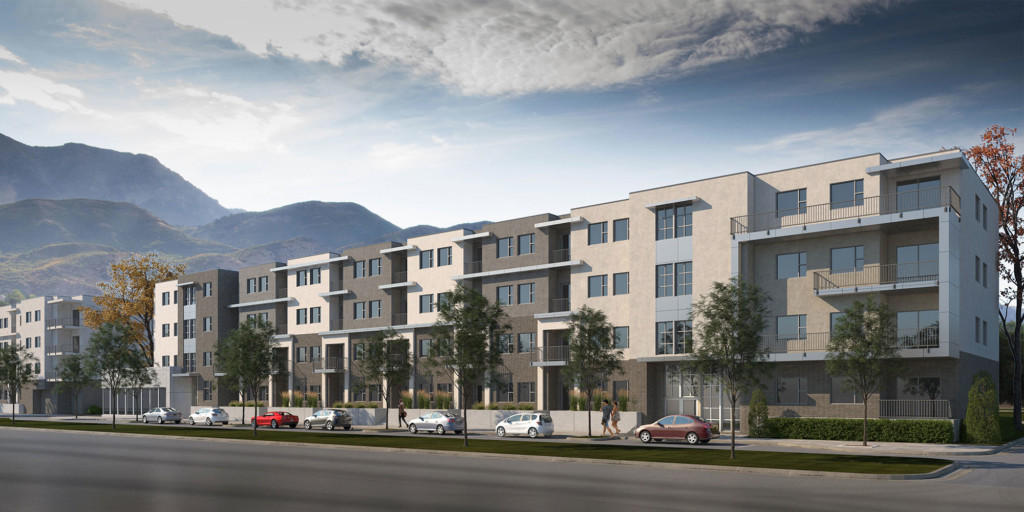 Modern Suburban Living
The original design of the Riverwoods Apartments exteriors was aimed at a more modern approach to suburban living and focused on a series of interlocking planes.  However, during the design process, we simplified these forms to create something that would compliment the neighboring community.
Modern Aesthetic
The exterior aesthetic of the Riverwoods apartments is designed to be a modern complement to the Riverwoods shopping center. The floor to ceiling glass giving the units a more open and urban feel.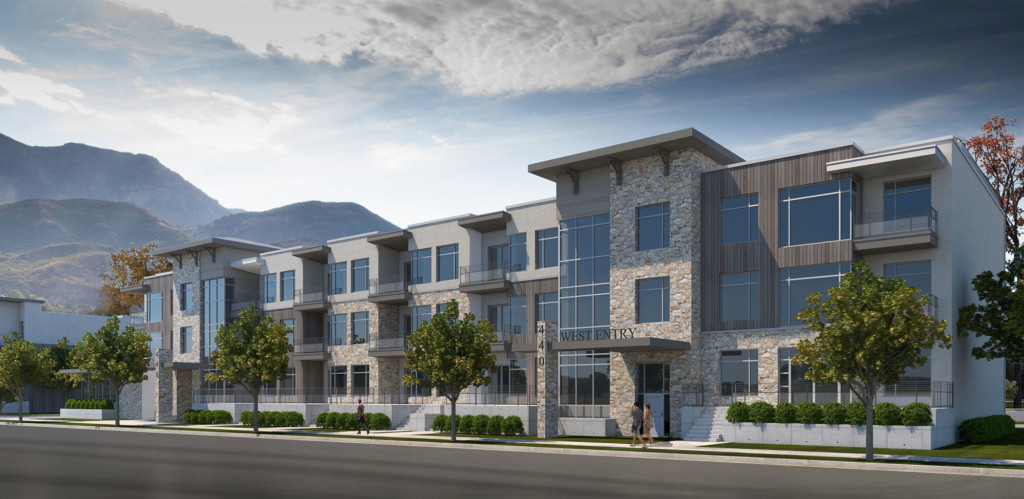 Riverwoods Apartments Site Plan
The Riverwoods apartments maximize density on the site while providing a park-like setting in which to live. Our team focused on creating a walkable community with outdoor amenities and ties to the local trail systems.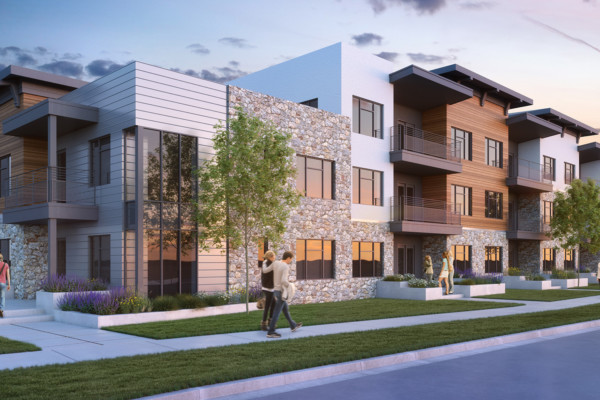 Final Exterior Rendering
The final exterior of Riverwoods uses a refined materials palette that helps to create an active urban environment that is both welcoming to tenants and appealing to the community. The balconies and patios are set forward to help reinforce community engagement and encourage social interactions.