FFKR Architects was selected to complete the buildout of the 5th-floor fitness center in Salt Lake City's newest downtown tower. The project's goal was to provide a fitness center that could accommodate various activities, from standard equipment to yoga and spins studios. The experience needs to be a Class-A space to fit the office building. Adjacency to the rooftop patio allows for activities to also expand to the outdoor space. Aspects of the fitness center include:
Beautiful full windows for city views
Class-A shower and locker rooms
Vending and towel services
The design is light, bright, and minimal to be cohesive with the existing lobby
Raised pedestal system floor to absorb sound and vibration so as not to disturb tenants surrounding this space
Community classes include a dedicated spin room and another multi-purpose room with full windows
Baffle design helps acoustics in an otherwise noisy space and provides dimension to the ceiling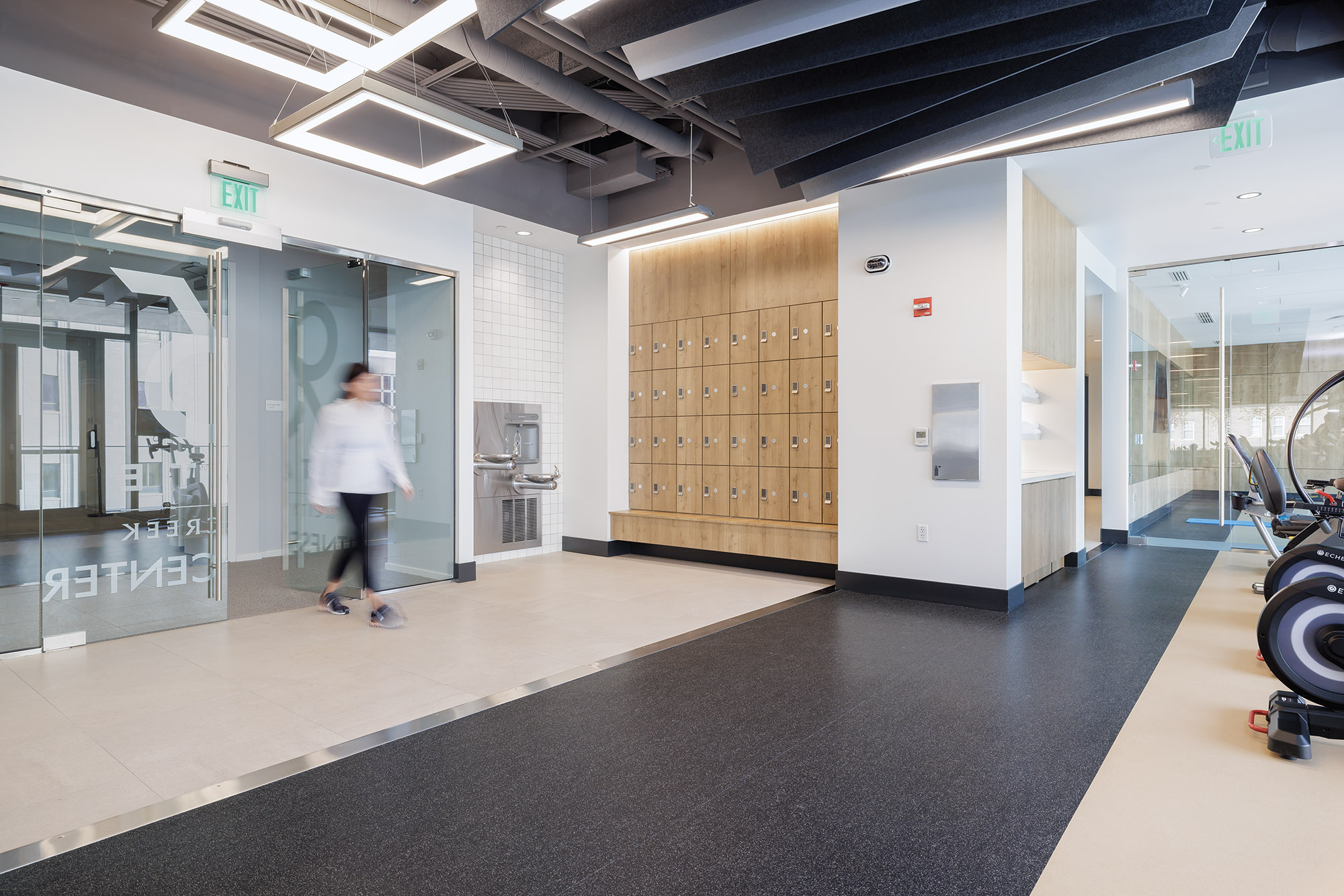 Class-A Hospitality
95 State is the newest high-rise office tower in Salt Lake City. The owner's goal was for the fitness center to be top-of-the-line and the best in Class-A offices. The feeling is spa-like, with high-quality materials, millwork, and specialty fixtures.
Signage and Recognition
The fitness center continues the 95 State branding with a continuous color and material palette. Wood elements soften the aesthetics against the elegant black and white walls. The square element of the 95 State logo is carried throughout—with square lockers, square tiling, and large square wood paneling.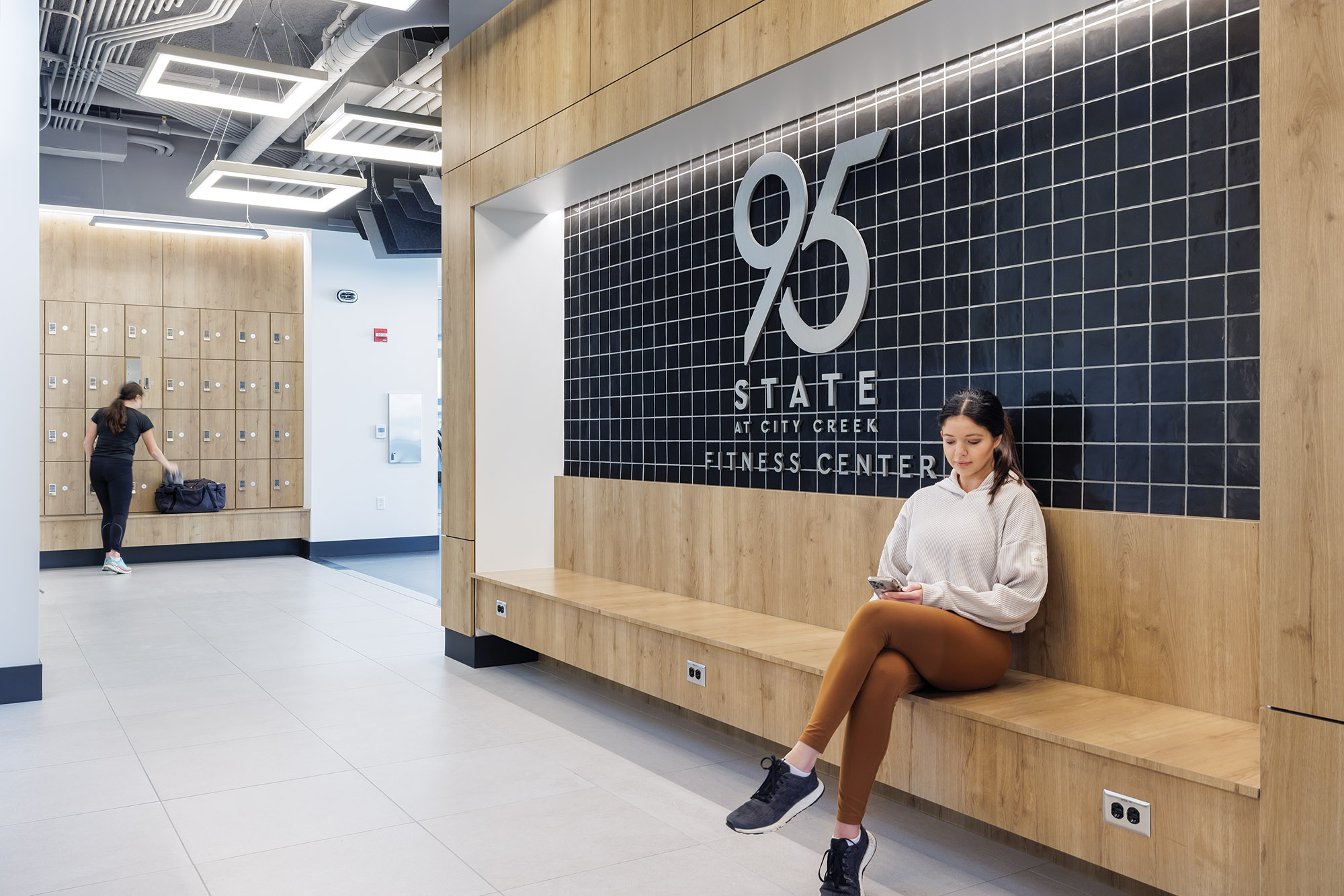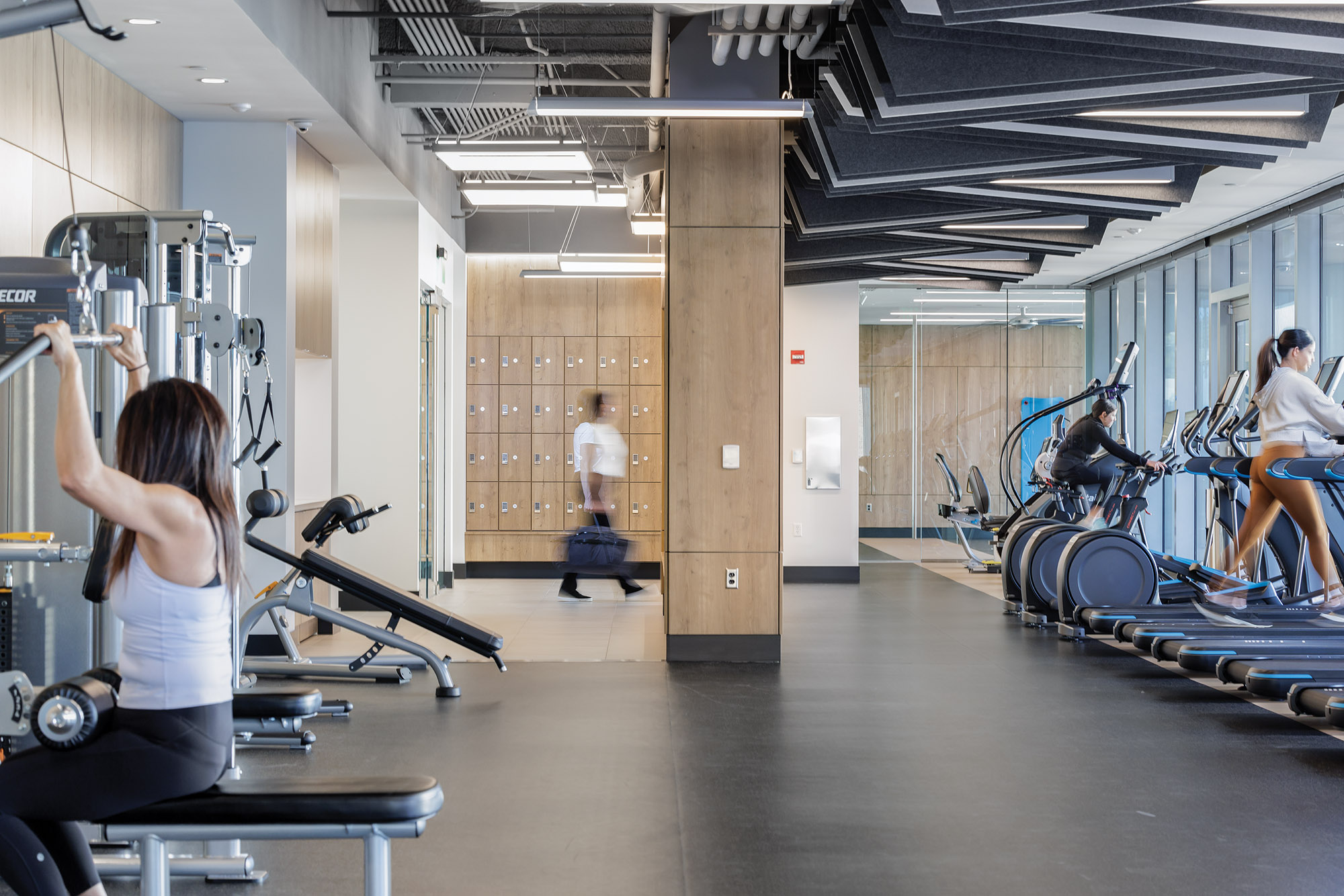 Sound Absorbing Baffles
The artful installation of the acoustic baffles on the ceiling assists with dispersing sound within the space and limited sound transfer to the floor above. They also add visual interest and break up the lighting fixtures.
Continuation of Materials
The wood material is used as an accent throughout the fitness area. The pattern in the square wood panels on the main wall was replicated from the stone pattern found in the main lobby of the building, continuing the thread of consistent mood and branding throughout the common space.
Addressing Acoustics
Being on the 5th floor, sound and acoustics were addressed with a recessed, spring-isolated floor. This floor design, placed under the equipment and spin room, prevents sound and vibration from traveling to the floor beneath and within the building's structure.
Quality Equipment
For the Class-A fitness machines, we worked with a consultant to coordinate the components and space of each piece of equipment —with them facing outside for the views of the city.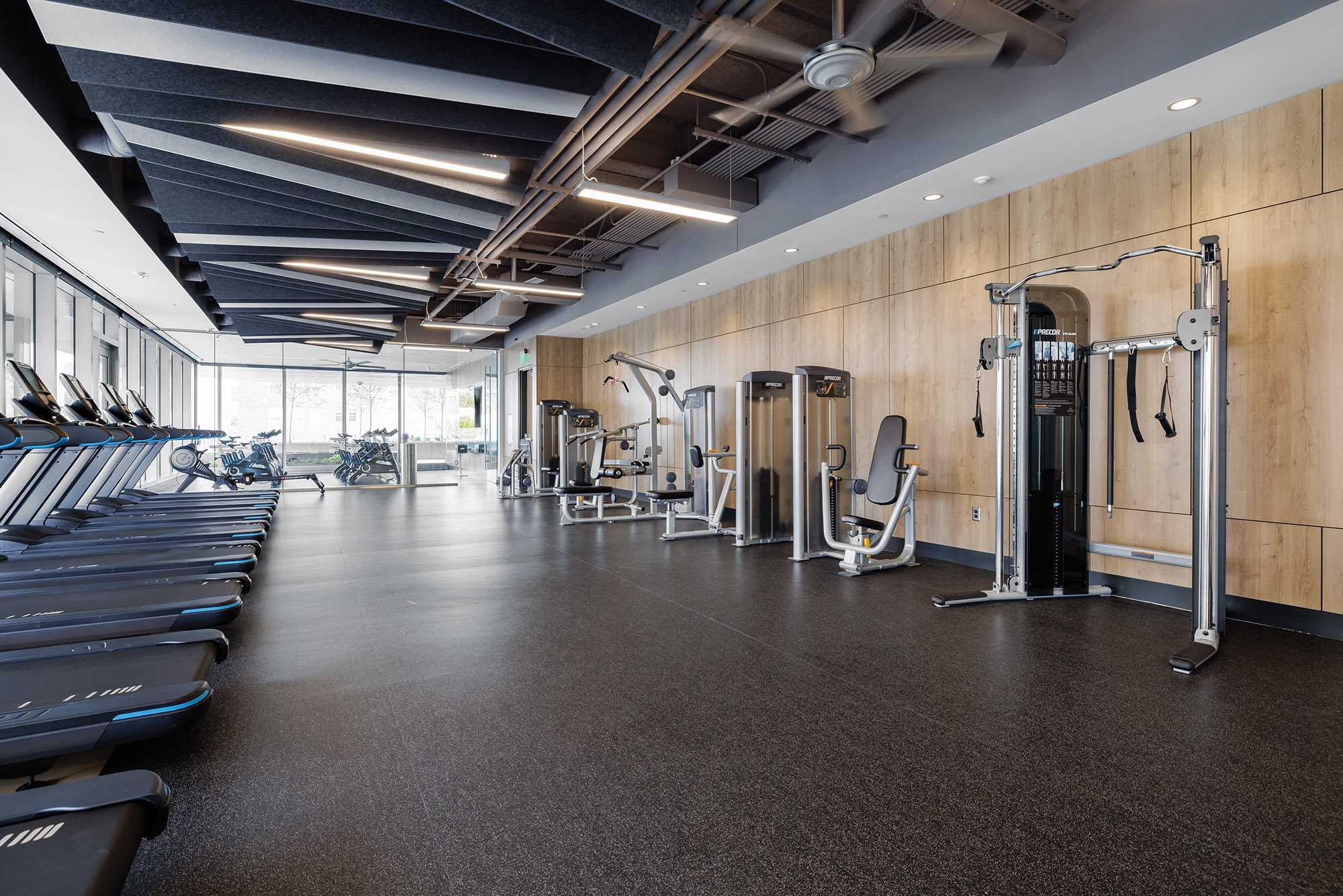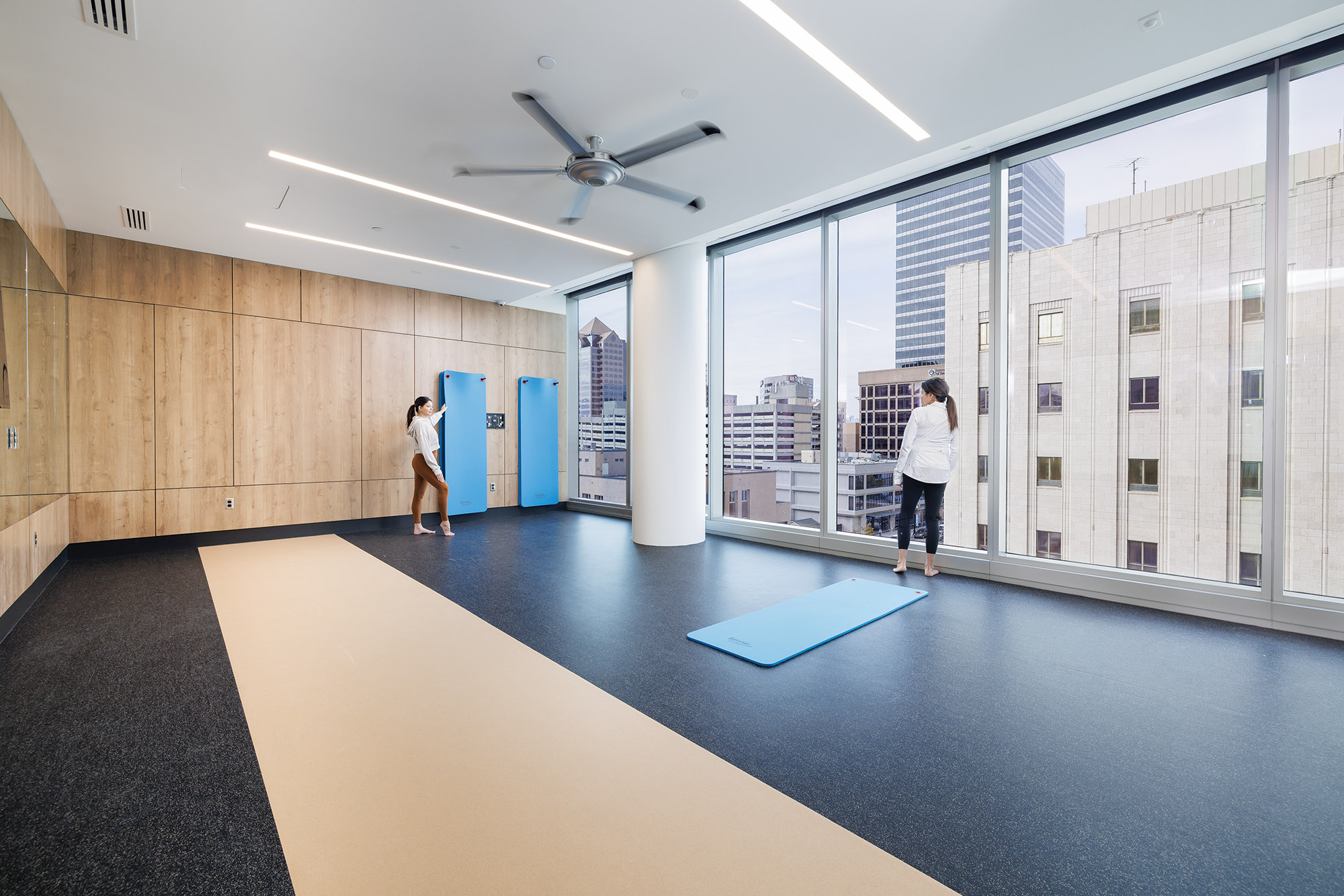 Multi-purpose Space
One-of-a-kind space with views over Main Street in downtown Salt Lake City, this multipurpose space is reservable by tenants of the building to host high-fit classes, aerobics, or an autonomous, on-demand yoga class.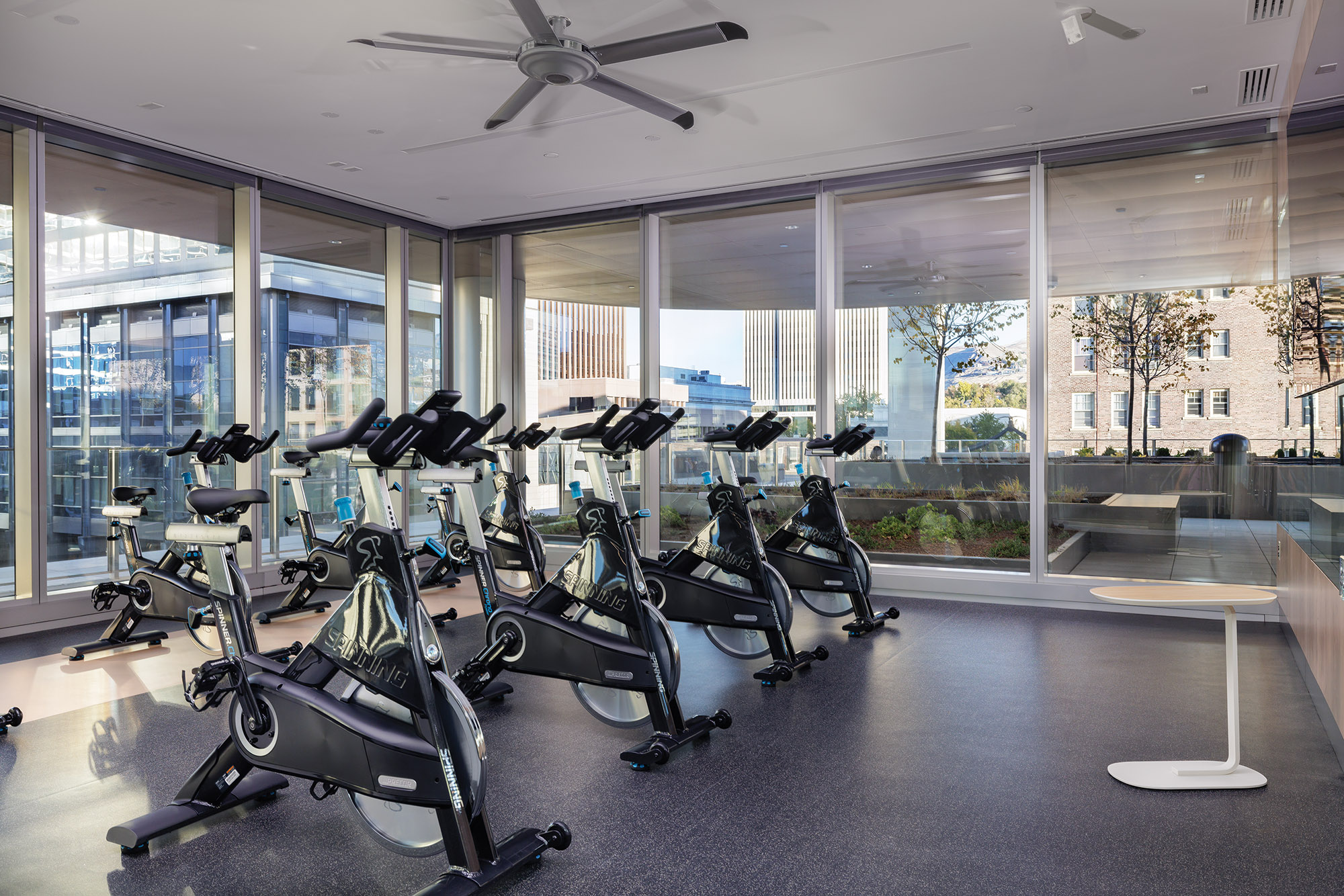 Spin Cycle
The spin room offers on-demand classes and access to the balcony for an indoor/outdoor experience.