The BYU-Idaho Center is a 435,000-square-foot multi-use facility in Rexburg, Idaho. The two primary components for
the new facility are a 15,000-seat auditorium that provides a gathering space for all students and faculty for weekly devotional services and a new physical fitness sports center to support the school's intramural sports program. These two functions are connected by a light and airy three-story atrium that serves not only as circulation for the auditorium but as study and contemplation space for the students and faculty. The lobby also houses a collection of religious artwork
that centers around the school's Christian roots.
The auditorium is designed to provide space for devotionals, graduation, convocations, musical performances, dance concerts, and other student productions. Two cantilevered balconies allow for unobstructed views for those seated on the main level. The 106-foot wide stage is large enough to accommodate a vast array of production types and is supported by a simplified fly-loft and catwalk system. In conjunction with the auditorium are a smaller studio and state-of-the-art broadcast center that includes an array of audio, production, and video control rooms. From this facility, BYU-Idaho can broadcast edited programs across the world.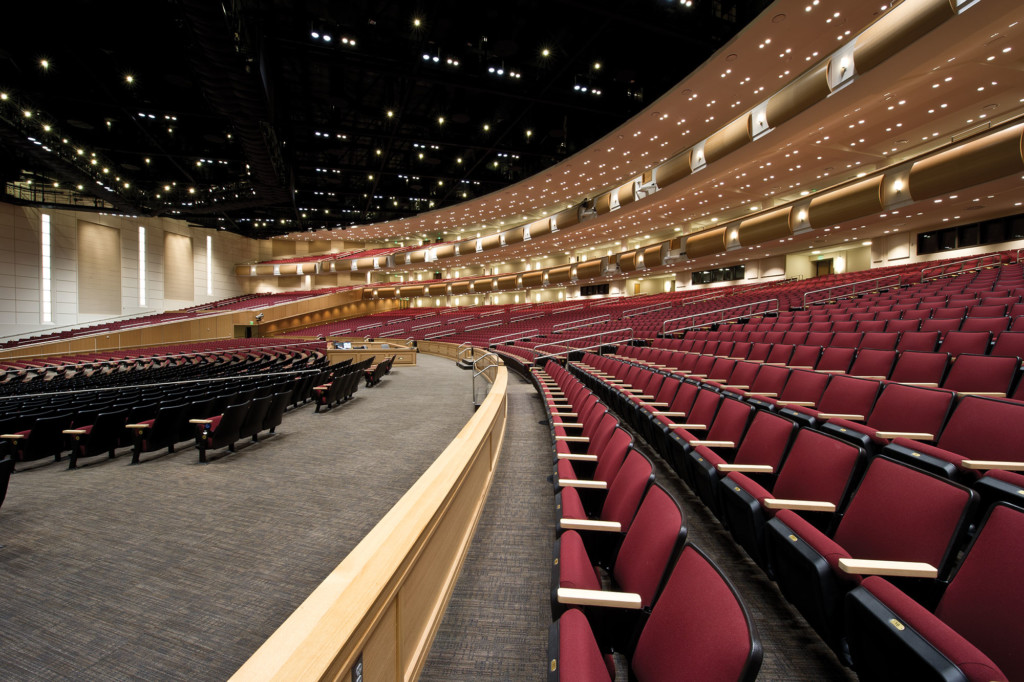 Auditorium
The auditorium, like the lobby, relies on the creative use of simple and functional materials to create an efficient space with an inspiring effect. The auditorium has a main floor with two cantilevered balconies overlooking a 106-foot wide platform with a network of catwalks above the audience, as well as a large forestage grid to handle production rigging and special winches for left, right, and center speaker line arrays.
Sophisticated Rigging
Over the stage itself, a full production gridiron with computerized winches manages an architectural "orchestra shell" surround that may be retracted above grid level for storage without the use of fly space when secular events are presented. A full drapery surround may be flown out or tracked into storage pockets. Actuation, as with all rigging, is computer-controlled and tied to the fire suppression system.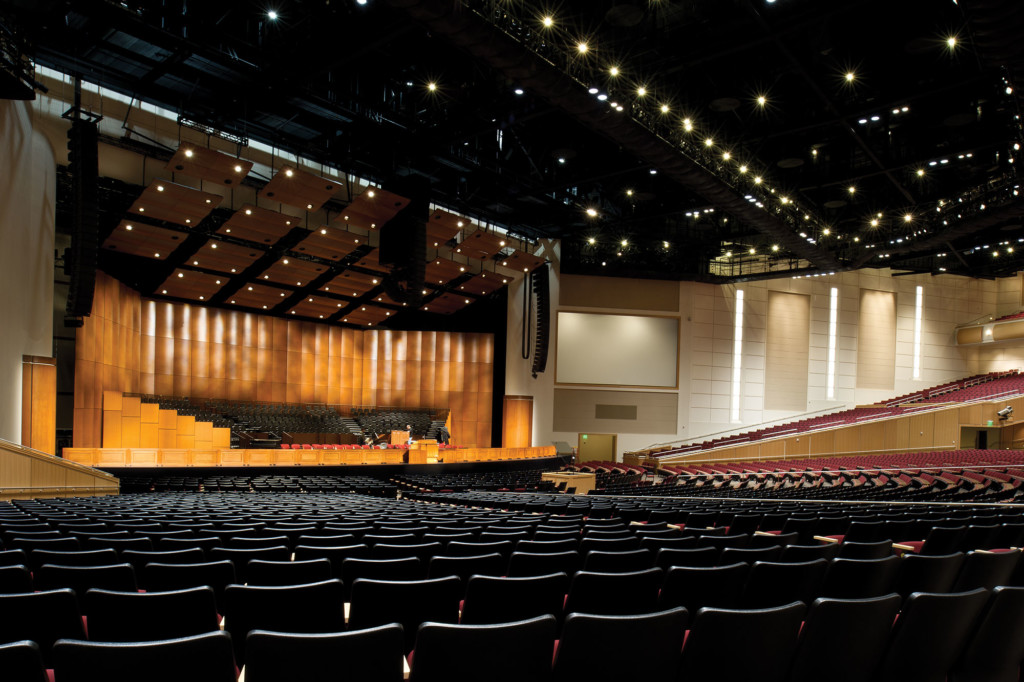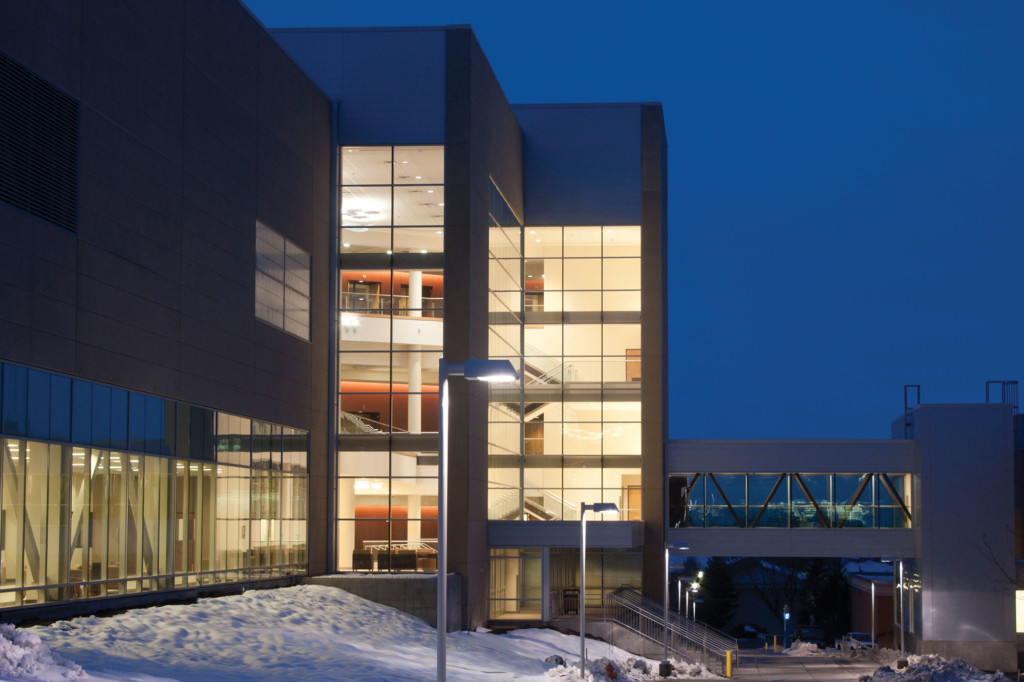 Exterior Details
On the exterior, careful attention was paid to keep the building simple and to use materials and colors in harmony with other buildings on campus. For this project, the large insulated precast-concrete panels allow subtle articulation of the facade as well as economies in cost and schedule. To downplay the true size of the building, which would otherwise dwarf its neighbors, the form was broken into smaller masses.
Lobby
The architecture of the lobby is intentionally limited to what is required for circulation in and out of the 15,000-seat auditorium; the rest of the volume is left open and is filled with natural light. The result is an inspiring, comfortable space for study and conversation.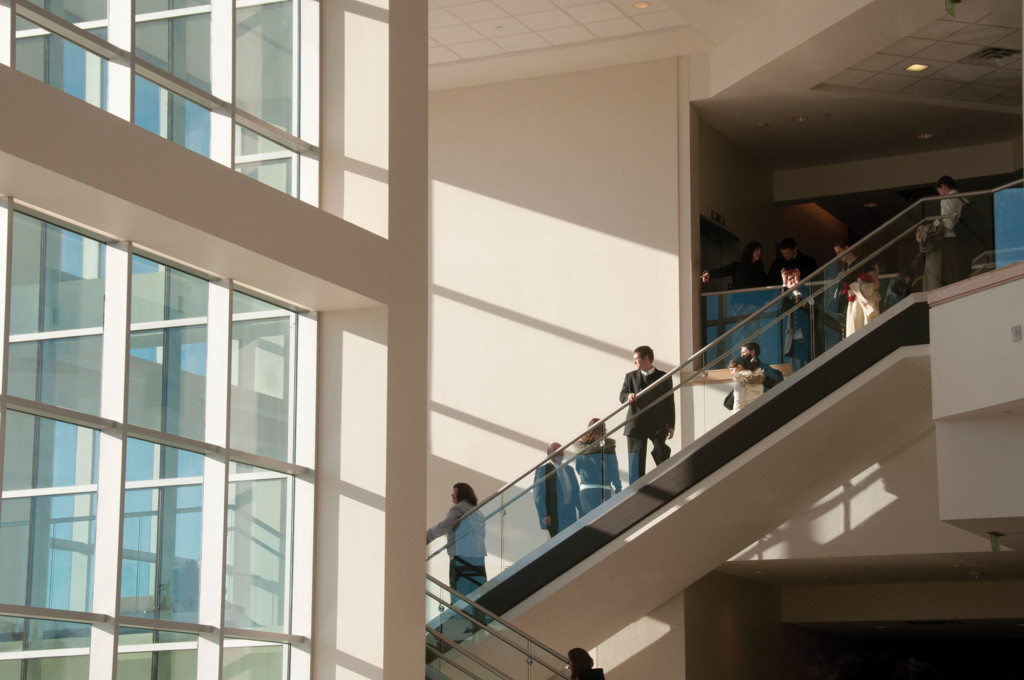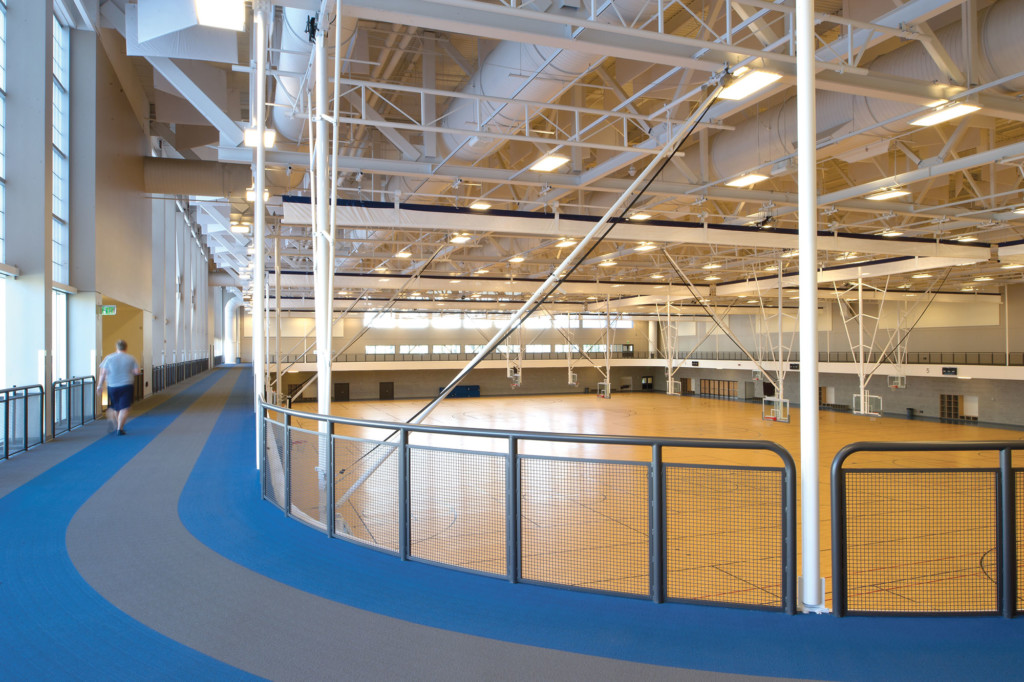 Multi-Purpose Fitness
The physical fitness center is sized for 10 basketball courts and can also accommodate volleyball, tennis, and indoor soccer. Above the court area is a four-lane elevated running track. The new sports courts area expands the schools' impressive intramural program and supports their commitment to the physical fitness of its students and faculty.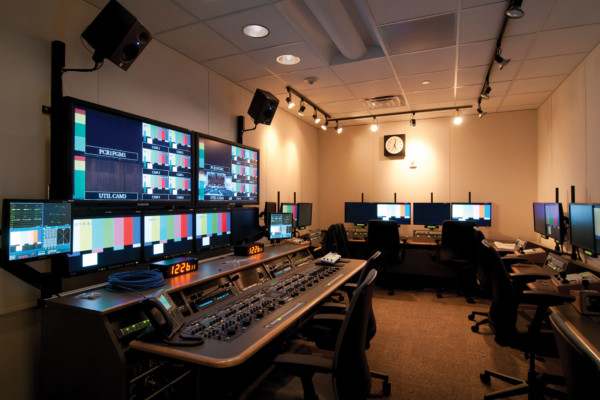 Broadcast Center
The facility is supported by a state-of-the-art broadcast center associated with BYU TV. Facilities include an array of audio, pre- and post-production, and video control rooms, as well as a smaller production studio complete with green screen, rigging, and lighting systems capable of supporting setups for smaller events and in-house produced "fireside" broadcasts.